Monkey bread: A bundt pan of heaven!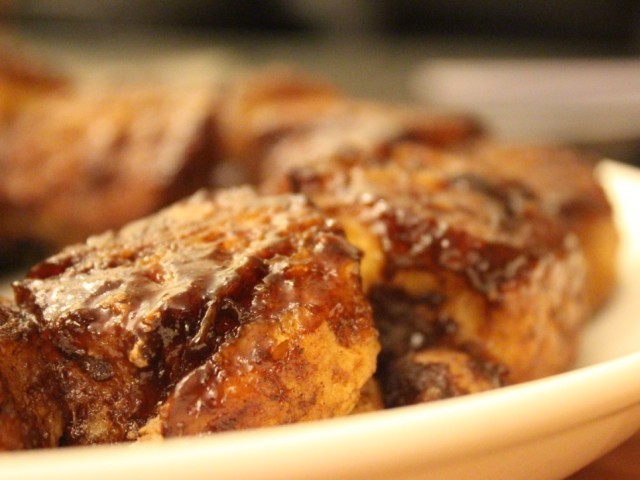 Have you ever had monkey bread before?
You will fall into one of the following two categories:
1. Those that have eaten it and love it.
2. Those that have no clue what it is and probably think it involves monkeys (I did too).
If you fall into the latter category, let me try to explain what this amazing-ness is. Monkey bread is akin to a giant cinnamon roll, only it's a whole bunch of little rolls clustered together.
Sweet, sticky, gooey pastry in the form of little balls of dough rolled in cinnamon sugar and baked together in a bundt pan. You can have it for breakfast, brunch, or dessert – or dinner, or a second dessert, or lunch, or as a snack…
Imagine the rain howling outside. It's winters; you are in your warm comforter and you want to eat something, something warm and gooey that you can tear apart. Monkey bread is the ultimate winter comfort food. You'll be licking your fingers clean and grabbing more and more from the big pile of cinnamon sugar goodness.
This is an incredibly easy recipe. Pretty much fool proof.
Ingredients:
For dough balls:
Flour – 3 cups
Butter – ¼ cup (melted)
Oil – ¼ cup
Yeast – 1½ tsp
Salt – ½ tsp
Sugar – 3 tbsps
Milk – 1cup (warm)
Egg – 1
For coating:
Butter – ¾ cup (unsalted)
Sugar – 1¼ cups (granulated)
Ground Cinnamon – 1 tbsp
For syrup:
The remaining melted butter (from the quantity listed above)
Light or dark brown sugar – ⅔ cups (packed)
Method:
1. Knead dough. Leave aside for approximately one hour for the dough to rise.
2. For the coating, melt ½ a cup of butter in a small bowl. Combine the granulated sugar and cinnamon together in another small bowl. Set aside.
3. Spray a 10-12 cup bundt pan with cooking spray. Set aside.
4. Punch the risen dough down very gently to allow the air bubbles to release. Pull apart pieces and roll into balls.
5. Dip each ball one by one in the melted butter and then generously roll in the cinnamon-sugar mixture to coat them. Cover the pan and allow dough balls to rise again for about 45 minutes at room temperature.
6. Melt the remaining butter and whisk in the brown sugar until combined. Pour over the coated dough balls.
7. Preheat oven to 180⁰C. Insert the pan for 20-30 minutes.
Monkey bread tastes best served on the same day, but it will stay fresh for three days if it is covered and stored at room temperature or in the refrigerator.
A bundt pan of heaven. Once you smell the ooey gooey cinnamon sugar bubbling in the oven, you'll know you made the right decision. Enjoy!
All photos: Arhama Siddiqa