Has the Australian team forgotten how many times they have been whitewashed by their South Asian counterparts?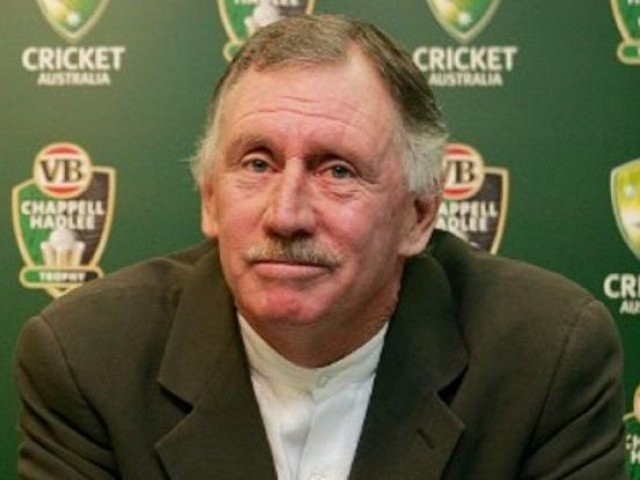 Recently, Ian Chappell passed a comment, telling the Pakistan cricket team to either improve their game or stay at home. The former Australian captain went on to say that until the struggling side does not up their game significantly and provide some sort of a challenge to the home side, the Pakistan team will not be invited for any future series. According to Chappell, 
"Pakistan have now lost 12 Test matches on the trot in Australia, and somebody's got to give them a kick up the bum. Cricket Australia have got to start saying 'listen if things don't improve we will stop with the invites."

"You can't continue to [play poor] cricket. You can't bowl poorly, have conservative field placings and field sloppily and expect to play decent cricket in Australia," he added.
I, for one, find Chappell's comments inappropriate and arrogant, stemming from a lack of background knowledge.
What if India, Pakistan and Sri Lanka pass a statement of their own, stating that they will not be playing any future matches with Australia in the sub-continent anymore? As for performance, perhaps Chappell and the Australian cricket team have forgotten the times when they were whitewashed against South Asian teams in the last three years? I still remember how India hammered Australia by 4-0 in 2013, Pakistan by 2-0 in 2014, and Sri Lanka by 3-0 in 2015.
Furthermore, perhaps Chappell needs to take a look in the mirror and be reminded of the UAE match where Australia looked clueless when Misbahul Haq smashed the fastest Test century and Yasir Shah ripped them apart with his guile.
Where was Ian Chappell then?
I agree that our team's performance has been dismal lately, case in point the recent tour of Australia. But the most unpredictable team also drew a series with England in 2016, in the same country where Australia faced a humiliating loss. Furthermore, the Aussies reached their embarrassment pinnacle when Australia were shot out for a meagre score of 60 in the first innings of the Nottingham Test, courtesy of Stuart Broad's magnificent bowling spell.
By suggesting not to invite Pakistan, Chappell is setting a precedent that no team should play on fields other than their own home grounds as the record of nearly all Test playing countries on foreign grounds is unsatisfactory.
Interestingly enough, Australia is scheduled to tour India in February. It is predicted that India will whitewash Australia, given their form on home ground. If the said prediction comes true, will it be wise for any senior or former player from India to ask the Board of Control for Cricket in India (BCCI) to question their decision of inviting Australia to tour in the future?
Not only does Chappell's statement make no sense but it also does not meet the standards of someone of his stature. Never in cricket history has any captain come forward and passed such a statement. When did one team's disappointing performance qualify as a criterion for revoking invitations for future tours? If the Australian team had been performing remarkably throughout, Chappell's arrogant statement would somewhat make sense. But how can you point a finger and question a team's participation based on a few dismal performances?
Chappell should not only review his comments but also tender an apology not only to Pakistan but to the International Cricket Council (ICC) as well, which has been striving to promote cricket all around the world.
Pakistan cricket is passing through tough times. No team has toured Pakistan for the last eight years. In this dire moment, Pakistan needs support from the ICC and other Test playing countries. Unfortunately, the power houses of cricket have always found reasons to side-line Pakistan, and Chappell just gave them another one.
In fact, in 2000, Australia was the first team to show reservations regarding touring Pakistan based on some flimsy reason. However, their decision did not stop other countries from touring Pakistan, until the attack on the Sri Lankan cricket team in 2009.
On the contrary, Australia did not abandon its tour to England in 2006-07 even after the 2005 London bombings took place. Similarly, England continued their tour of India even after the disastrous Mumbai attack in 2010. In 1993, when the Tamil Tigers were terrorising Sri Lanka, the New Zealand cricket team did not abandon their tour, even after the bomb blast outside their hotel. But the same country, Sri Lanka, had a different approach for Pakistan when their team packed the bags and immediately left Pakistan after the attack in 2009.
Pakistan's overseas record fares much better in comparison to other Asian countries. Pakistan is the only country to have won ODI series' South Africa, along with setting remarkable records in England and New Zealand. However, Australia is the only venue where Pakistan's record is poor. But this is simply because Pakistan does not tour Australia that often and are not familiar with their ground conditions. I am confident that if Pakistan were to tour Australia frequently, not only will their performance improve, but they might even win the series.
Furthermore, Chappell did not stop at the team but also took a jab at Misbah's captaincy skills, stating,
"A lot of their struggles were because they had no leadership. There was no inspiration from Misbah, so things have got to change in Pakistan."
Commenting on Misbah's future as the skipper, Chappell went on to say,
"If I had anything to do with the selection then that will be it for Misbah as the captain, but in Pakistan they do some very strange things, so I wouldn't bet on it."
I, regrettably, agree with Chappell's observation of Misbah. Pakistan did indeed lack inspiration and ingenious captaincy which failed to deliver its fruits even after experienced players in the squad.
Misbah should have thought out his strategy thoroughly after the first Test, especially when it came to using Yasir Shah's talent. Shah continued to ball on the leg stump line to left handers and hence got hammered. A player that was meant to be the team's ace player with his magnificent bowling skills was not resourced appropriately due to poor strategy and planning.
Pakistan cricket has certain flaws that are damaging its potential growth. Our selectors lack vision and keep recalling old war horses instead of grooming talented and skillful youngsters for the future. However, even with its flaws, our team has competed courageously with its mightier opponents from the very first day, and I am confident that we will overcome all hurdles and continue to perform better in the future.
I hope Pakistan prepares itself tremendously before future tours to Australia, if there will be any, so that critics like Chappell are proved wrong and do not even dare pass such absurd statements in the future.
Team Pakistan Zindabad!