Why is it so easy to kidnap a child?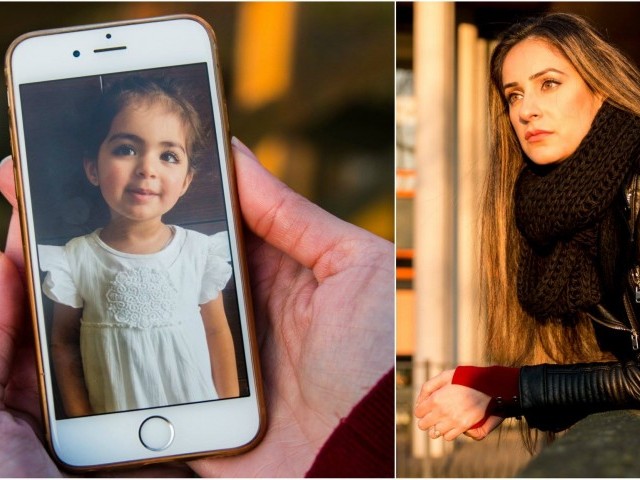 Imagine going through an abusive marriage while holding up to be an inspiration to your daughter simultaneously. Imagine your three-year-old daughter, your angel, being kidnapped by your very own husband and taken away to a country across the globe. Imagine doing everything you can in your power to get her back, yet failing at every turn. Imagine living for months without hearing any news of her, without knowing if she's okay and being taken care of. Imagine her continuously crying profusely for her mother yet you're unable to hold her in your arms and soothe her.
This is what my friend, Nadia Rashid, has been going through for the last three months. Yet, she wakes up every morning with immeasurable courage and strength, determined to get her daughter back.
Nadia is a resident of Amsterdam who married an Indian businessman, Shehzad Hemani. From being a perfect gentleman, Shehzad's attitude took a 180 degree turn after their marriage. According to Nadia, he slowly changed from a loving man into a dominant husband who would tell his friends that she was an abusive wife and only married him for his money.
In the fourth year of their marriage, Nadia got pregnant, and after her daughter Insiya was born, Shehzad proved to be a terrible and negligent father.
"When I gave birth to Insiya, he left me alone with the baby. Travelling with a new-born is exhausting, and by the time she was six-months-old, we had travelled to India over six times," said Nadia. "I was taking care of our daughter alone. He never fed or changed her diaper. I felt like a single mother in a marriage."
Nadia claims that Shehzad would physically abuse her, but she stuck around because she wanted to keep the fairy tale of her marriage alive and kept giving him chances until she realised that 'enough was enough' and filed for divorce before the Dutch court in 2015.
"When the judge decided that I become the primary and legal custodian of our daughter, it damaged Hemani's ego and as a response, he started telling people that I was mistreating our daughter," said Nadia.
On September 29, 2016, Nadia professes that Insiya was kidnapped from Amsterdam by four men hired by Shehzad.
"In my absence, a few men came to my mother's house pretending to be government officials. When one of the strange men saw Insiya, he grabbed her and took her to his car. When I got home Insiya was already gone," Nadia says, tearfully.
For two weeks after the violent kidnap, Nadia was unaware of where Insiya was. As far as Nadia knew, Insiya was hidden in Shehzad's apartment in Mumbai.
"He has hired one of the best lawyers of the Netherlands to defend him. I haven't spoken to my daughter since she has been kidnapped. I have tried to contact him so I can speak to my daughter, but all my efforts have been in vain. He (Hemani) has even challenged the Amsterdam police that no one can bring any harm to him. He will go to all lengths to defame me, extort me and intimidate me and will always tell you more lies to cover up the lies he has said before. But I will not be intimidated, I will not be blackmailed and I will not give up. I will go on until I have my daughter back."
Nadia's courage continues to inspire thousands who have read her story.
Shehzad Hemani had already made a failed attempt to kidnap Insiya in January 2016 with an ex-commando of the British Army.
As soon as Insiya was abducted on September 29th, 2016, Nadia filed a complaint. An AMBER alert was issued in Europe by the police. An AMBER Alert is an emergency measure to save children in life threatening situations. Photos of Insiya and the kidnapper were circulated at all airports and news channels in Europe. Despite the issuance of this warning, Hemani conveniently managed to flee to India. Nadia has Insiya's passport, which means that either Hemani got Insiya's documents forged or used his contacts to smuggle her to India. Either way this is an act of child trafficking and a violation of national border control laws in India and international law.
There are four kidnappers who tried to help Hemani and are already in jail in Amsterdam, waiting for their sentence.
According to The Logical Indian, Hemani already has a criminal record, with more than 10 complaints filed against him by his company Conros Group and other companies about forged documents and funds embezzlement of 65 million euros. Soon after kidnapping Insiya, Hemani was put on the Interpol's watch list.
Nadia has contacted the Dutch embassy and consulate in New Delhi and Mumbai. The Ministry of Foreign Affairs in Netherlands has contacted the Indian Ministry of external affairs and lodged an official request to return Insiya back to Netherlands to her mother. Nadia has even reached out to the Indian Minister of External Affairs, Sushma Swaaraj, who is known to be a human rights activist, but so far no action has been initiated by the ministry or the Mumbai police to arrest Hemani.
Don't let #Insiya suffer.Kidnapper Shehzad Hemani guilty of child abuse&trauma!What is the largest democracy @PMOIndia doing?@SushmaSwaraj https://t.co/kXeNrZct38

— Nadia Rashid (@NadiaRashid20) December 24, 2016
''Some people think that I haven't been clever with the diplomatic bits," Nadia tells me, "but I have been in regular touch with the authorities in the Netherlands. Proper institutions like the Dutch and International Police, the Judicial System in The Netherlands as well as Ministry of Justice and Foreign Affairs know the facts, have all the documents and therefore are taking actions against the kidnapper. They are making sure my legal rights are reinforced. They are doing everything that they can.  However, their efforts will only be effective if their counterparts, the Indian authorities, take action. Every day from morning until night I am working on this. I will not stop until I can hold my daughter again," Nadia says, with determination.
Nadia has begun an extensive campaign on Twitter and Facebook with the motto #bringInsiyaback.
The response and support, she says, 'are inspiring and encouraging. I know that Insiya is not alone. You are all with her. You are all helping Insiya get back to where she belongs, here with her mother. Thank you for your support and please keep supporting. I am still tweeting Sushma Swaraj and hopefully she will respond. Hope and faith will keep us going because justice will prevail!"
The high court in Netherlands had already given Nadia the legal custodianship of Insiya for they thought that it was in Insiya's best interests to stay with her mother. Hemani, by kidnapping his daughter, by crossing borders of countries without thinking of her well-being and by not letting the mother contact her daughter, has clearly indicated that he does not care the least about his daughter, nor is he fit to be her guardian. He is an insult to all our fathers who fight hard to look after their children, who go to lengths to give them a beautiful childhood. Men like Shehzad Hemani are a danger to our children. I hope we all agree on how a man who harms our children should be punished.
What horrifies me the most about this incident is the convenience and ease with which Insiya was kidnapped. Is it this easy to kidnap a three-year-old girl from a country ranked as one of the nations with the best security and safety? Is it this comfortable to not think about the consequences if you're caught? Is it that simple to go through all those lengthy queues, customs, and security checks at the airport that all of us go through and still emerge to the tarmac victorious, your illegal act not being found? It is mind spinning to even imagine how Hemani managed to hide his heinous crime at every check point at the Dutch and Indian airport.
When one hears about incidents like these, you literally find yourself thinking about the rant that countries create about border security and the sham that border security actually is in reality. Despite the assurances and superficial notions that our governments give about how safe and sound are our borders, it is scary to think how unsafe, vulnerable and exposed each and every one of us is. It is imperative for all countries to strictly reinforce the laws laid out by the United Nations Office of Drugs and Crime (UNODC), which has declared trafficking to be 'a force of fraud, deception and exploitation of human beings.'
I shared Nadia's story with a younger cousin, who incredulously asked,
 "Why is that bad man free then? Does he have the right to do this under the law? Why isn't anyone in India doing anything about this?"
I hated to expose him to the cruel reality that in this world, power, money, position, and social stature are so much more important than a mother being forced to stay away from her child. It's completely fine to have kidnapped a three-year-old, but live as lavishly like a monarch, safe, hidden, without a care in the world. It is pitiful and poignant, the growing lack of morals and conscience in human beings. Incidents like these reaffirm the sad fact that we have failed to give our children a world with happiness and no sorrow – a world where they can cherish their adolescent years to the fullest without their parents being worried about their safety.
It is difficult to believe that despite having institutions, non-governmental organisations and activists who are dedicated to the cause of advancing human rights, it is still so simple and convenient for someone to kidnap a child. And Nadia's story is just one of the thousands of cases of child trafficking that we know of. According to the UNODC, in the span of the last three years, the percentage of children being trafficked has increased from 20% to 27%. Every day, children are abducted from their mothers by powerful and strong men, taken to alien countries, brought up in an alien culture, never to see their mothers again and grow up with a void in their lives that never ends.
Despite the existence of charters like the United Nations Convention on the Rights of the Child, 1989, which promises 'participation by children in decisions affecting them; protection of children against discrimination and all forms of neglect and exploitation; prevention of harm to them; and provision of assistance to children for their basic needs', we must ask ourselves, why is it so convenient for criminals to exploit children? Where do our faults lie in our failure to protect our children? Why is it so difficult to implement the countless child protection acts that have been passed internationally over the years? Or are our governments and decision making bodies so occupied with policies that they believe are of utmost importance that they have failed to give us our basic rights as citizens of a country?
Being a daughter myself, I cannot fathom the thought of living without my mother as much as I cannot fathom the thought of another girl forcibly living without her mother. Yesterday, when I spoke to Nadia, upon asking her how she was, she replied,
"I am alive."
It truly is heart-breaking. I urge you all, my sisters, mothers, daughters, fathers, brothers, to pray for Nadia, to spread her story as far as you can, to officers and ministers in the top tiers of the Indian government, to every nook and cranny, to every media outlet, newspapers, embassies. Let us give Nadia faith and hope .Nadia's struggle is our struggle. Her fight is our fight. Her search for Insiya is our search for the happiness of thousands of mothers whose children have been taken away. Together we can bring Insiya back. Together we can restore the happiness of a family. I urge the Indian government to take action against this kidnapper, so conveniently sheltered in Mumbai, and #bringinsyiaback.