A domestic helper is not a slave. A child is not a servant. #JusticeForTayyaba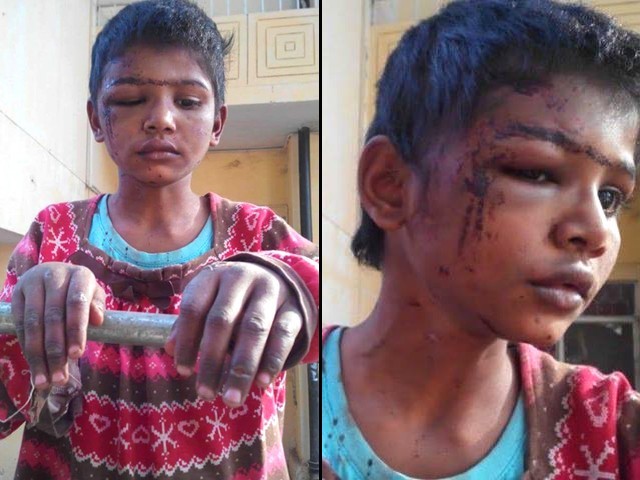 Exactly one year ago, a man heard a little girl cry out from the cold floor of a washroom in Rawalpindi. She is a 12-year-old domestic worker in Rawalpindi Cantonment. As the man tries to contact the police, he realises there is no proper method to save a child like that from a family that refuses to understand that such treatment towards young children, or any person, is nothing but inhumane. The man who heard this little child's cry wrote about the incident in a piece published on January 01, 2016, with the hope that by this year, she would be with a loving family.  
In January 2016, a professor tortured and sexually assaulted his 15-year-old maid. The incident took place in Lahore's Defence area; a place where the rich, educated and affluent class reside. It is unfortunate that even in areas such as these people treat their servants worse than pets. In the same month, another piece of news surfaced where residents of Askari-9 in Lahore had tortured a 10-year-old girl to death. The girl was tied with ropes and was beaten to death with a plastic pipe.
My heart is constricting as I write this.
How could anyone carry out such brutality onto another human being, let alone a helpless little girl who was paid Rs2,500 a month to serve you all day and night? The practices of burning them as punishment, torturing them over petty theft are common. One child said his employer would hit his feet with his golf clubs if he did not fetch his master's shoes fast enough. If that doesn't spell out ironic brutality, I don't know what does.
In May 2016, a 17-year-old girl named Sadia was tortured in Chakwal. She was not allowed any form of contact with her family for eight months, and was beaten and threatened on a daily basis. When her brother visited her and saw her miserable condition, he wanted to bring up the issue with her employers and take her back home. However, he was paid 'hush money' as compensation and was warned with prison threats and told to never come back for her. This is common practice in Punjab, said Fayaz Butt, the assistant director of Child Protection and Welfare Bureau (CPMB) in Punjab.
Another girl in Gujrat was tortured for five days because the employers thought she had stolen a gold chain. The couple took turns in beating her with sticks and even put a sword to her neck.
What era are these people even living in and who do they think they are to treat another human being like with such savagery? What kind of sick power trip is this?
In 2015, an ex-MNA from Punjab, Liaquat Bhatti, tortured maids regularly. The 12-year-old orphaned maid was eventually recovered by the Child Protection Bureau last year. What's worse is that, a few years earlier, another brother and two sisters were recovered from the same MNA's house.
Now is the first month – nay – first week of 2017 and here I am writing about another incident that flashed across our television screens and smartphones. This time, the employer cum torturer is allegedly a sessions' judge. Judge Raja Khurram Ali Khan allegedly tortured a 10-year-old girl named Tayyaba for failing to repay a loan of Rs6,000. The incident came to light when pictures of her bruised face and hands went viral and hash tags like #JusticeForTayyaba started making rounds on Twitter and Facebook.
Guys, We are going to run a trend #JusticeForTayyaba at 10 30pm to help this little girl who has suffered the worst from influential people pic.twitter.com/fMHBZEgbQh

— Farhan Khan Virk (@FarhanVirkPTI) December 29, 2016
Ten year old Tayyaba was brutally beaten by a sitting District & Sessions Judge in Islamabad after her family couldn't repay a Rs 6,000 loan pic.twitter.com/xSQMWJqSSF

— omar r quraishi (@omar_quraishi) December 28, 2016
@Arslan_Sadiq Our kids will be Victimize Until we don't Give a irony legislation against Those who use Childs abusively.#JusticeForTayyaba

— Abdul waheed afridi (@PukhtunZalmae) December 29, 2016
#JusticeForTayyaba
Where will we stand?
Even we haven't ability to give protection our flowers like little children

— Arslan Sadiq (@Arslan_Sadiq) December 29, 2016
According to Tayyaba, her employers would starve her, beat her and shove her hands onto a burning stove. The judge, however, responded to the allegations by calling them "fake" and "made-up". One can only wonder how a 10-year-old child managed to injure herself this badly or make up such fantastical lies that go as far as producing injuries to her face and body. The judge was so adamant on bashing all criticism and blame that he even lodged a complaint against Pakistani stand-up comedian, Junaid Akram, who was only doing his part as a citizen of the country in saving Tayyaba.
Each year brings us new and harrowing details of various children abused and brutally tortured by their 'employers'. I use the word 'employers' in quotation marks because this hardly qualifies as a job. What happens in Pakistan in the name of domestic help is hardly a "job" – it is nothing short of slavery. Young children, sometimes as old as 10 or 12, are 'bought' from struggling, broke parents who have nothing to offer to the world but their offspring. Young girls are taken in by the "mem sahabs and bajis" of the elite society and are provided with nothing but bare minimum necessities such as food and shelter in exchange of gruelling work.
According to the International Labour Organisation's (ILO) survey conducted in 2012, 12.5 million children in Pakistan are involved in child labour; 264,000 of them are employed as domestic servants, as per ILO's 2004 report. Since these figures haven't been deduced recently, we can all be assured that the numbers are much, much higher today.
The terrifying part about these incidents is how rich, educated, well-placed people are the ones behind these criminal acts. If one cannot expect the privileged to respect the rights of those less fortunate than them, what hope does the struggling class have? More importantly, if these people want to use their money, education and influence as a weapon instead of a tool to facilitate less fortunate human beings, then it is the utmost responsibility of the state to take strict action against such individuals.
A domestic helper is not a slave. A child is not a servant. And no human being deserves the treatment some of these 'elite' individuals have meted out to these helpless, powerless young boys and girls. And if all your money and all your social and financial successes can't teach you this, you might as well go back living in the caves and killing each other like Neanderthals.