The smog is here to stay and there's nothing you are doing about it, Punjab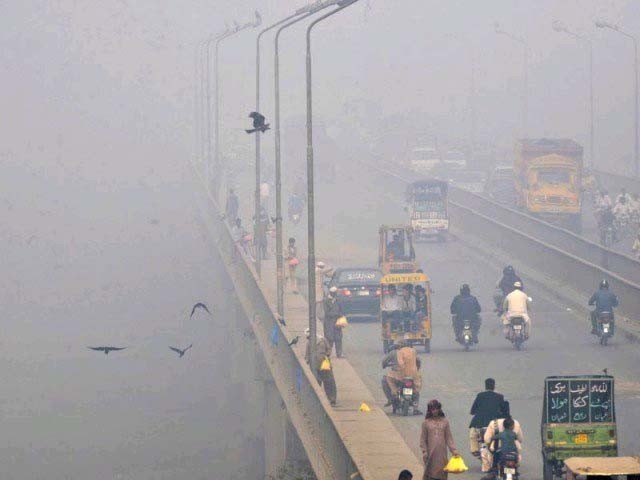 We have a fairytale relationship with development, mainly because it includes building wide boulevards and skyscrapers in cities as a sign of prosperity. While in reality, it is a slow process which should include both urban and rural populations. As Kamil Khan Mumtaz said during a recent conversation,
"You develop something or you develop into something and we have not defined this 'something'!"
This lack of definition has resulted in a development rat race that has now started to frequently slam us in the wall of environmental issues. The recent haze that has engulfed upper and central Punjab is a case in point. Earlier this week, Lahore witnessed the descent of this haze and initially mistook it for the seasonal mist or fog and started romanticising the onset of the Lahori winter, only to be rudely jerked back into reality when ENT irritations started.
By the end of the first day, the Pakistani social media's verdict was out: it is smog and not fog!
For those still confused, here is smog 101 round up: Smog is a combination of air pollutants that combine with sunlight to form ozone. Now, the ozone's position gives it the status of our hero or villain. The ozone layer, high above the Earth, in the stratosphere is our hero, as it acts as a barrier and protects us from excessive solar radiation. When trapped on the ground with weather conditions and pollutants, which results in smog, our hero turns into a disease causing villain.
Smog is not a natural phenomenon, the blame for it, as the majority of environmental issues, falls on humans. Some key contributors include: air pollution caused by vehicles and industries, indiscriminate cutting of trees in general and vanishing green belts in urban centres, massive construction projects, and the age old practice of burning garbage and crops (specifically rice stubble to prepare farms for the wheat crops) to name a few.
In 2014, a survey conducted by Deutsche Welle (DW) Germany listed Lahore and New Delhi among the top ten cities of the world which are adversely affected by smog each year. The recent bout of smog shows that this condition can no longer be swept under the carpet as business as usual. The current spell of poor air quality in multiple areas of Punjab, including Lahore, is proof enough of the worsening situation. According to the Director General of the Pakistan Meteorological Department, this spell (although probably not as extreme as last week) is expected to stay for the next two months.
The scale on which this issue of air quality is growing, preventive measures by individuals, like minimising outdoor activities, wearing masks, stocking up on green tea, and keeping oneself dehydrated, will only have a limited impact. Sustainable solutions at macro level are the need of the hour. It is high time that concerned authorities act beyond setting up committees to look for causes that are already well established and end their findings with 'let's pray for nature's intervention to get us out of this mess' attitude. We are stuck in this mess because our interference with nature has backfired, leading to a visible imbalance.
Let's not make this another finger pointing debate, where environmental groups shout 'we told you so' and authorities retort with slogans about the need for development and divine intervention. Nobody's a winner here.
This issue of deteriorating air quality and smog is going to translate into health issues from basic ENT infections to serious respiratory diseases. News outlets are already reporting around 17 deaths due to various incidents related to the smog. Around 70% of our population lives below the poverty line, possibly even more (with the last census conducted in 1998, we don't even have our basic stats right). These people will be at the front line of those affected because there is no system in place to provide them with the required preventative measures and they don't have the means to get the necessary medical help. Their only resource is government hospitals and you don't have to be a genius to understand that these institutes are under-staffed and under-resourced. Dealing with any sort of epidemic will end up straining our already faltering economy.
This vicious cycle requires sustainable solutions and not cheap hand-me-down coal energy and power plants.
Air quality is constantly deteriorating around the globe as well. New Delhi measured at 999 on air quality index in the last couple of days, while the safe limit is 150. This just shows that along with local solutions, countries need to join forces to look for solutions which offer collective benefits as well. According to a recent UNICEF report, 300 million children are breathing toxic air. With the unsustainable development path that we are on, we will go down in history vilified by the next generation for the poor choices we are making today.