I was assaulted by the Rangers for taking a picture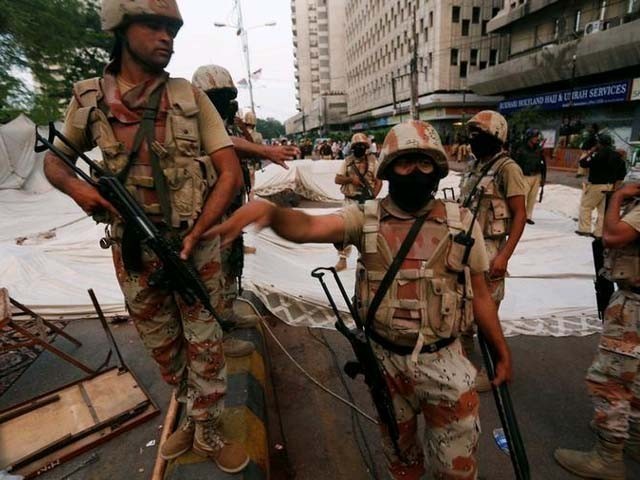 On October 24, 2016, on my way to IBA University for a class, I encountered a horizontally parked ranger's mobile on Shahrah-e-Faisal (at co-ordinates 24.851588, 67.032374). The flow of traffic had halted, and I was running short on time. I decided to take a picture of the scene so I'd have evidence to prove why I was late, to my teacher.
A ranger's official, upon witnessing this, rushed to my car immediately, grabbed me and started pulling at me. He dragged me out of the car and snatched my phone. More Ranger's personnel gathered around me and without any justification, they proceeded to kick and shove me, with their guns pointed at me.
I asked them what I had done and why they were afflicting such violence on me. I told them that they could search me. They sneered at how I had the audacity to take a picture. I started to shout, explaining why I took the picture. I told them that as far as I know there is no law that prohibits taking pictures in a public space. But that went unheard – in fact, it infuriated them even further. They started beating me like animals on their prey.
I began to plead. In a state of helplessness, I begged them to delete the pictures and just let me go; all I wanted was to get to my class. But they continued to strangle me, punch me, kick me, shove me, and hit me with the butts of their guns. Even after deleting the picture, they refused to let me go. They threw me in their mobile and took me to their headquarters.
An officer appeared and, after assessing the situation, he instructed the Rangers to let me go. The Rangers quickly disappeared, leaving me unaccompanied to walk back to my car, which by then, had been impounded by the traffic police.
The fact that I had left the vicinity completely free of all charges was a testament to my innocence and their unjustified advances against me. If the officer had seen me as a threat or believed I was at fault, he definitely wouldn't have freed me. I sustained injuries on various parts of my body: one on my forehead (possibly from a gun butt), on my back, knee, leg, and bruises on my arms and shoulders. Moreover, marks of strangulation were also visible on both sides of my neck. My whole body was in tatters and immense pain.
I acknowledge that the rangers have done great work in Karachi for law and order, and as a responsible law-abiding citizen of Pakistan, I respect and admire the work of the Pakistani Security forces. However, this does not give them any right to treat a Pakistani citizen in this inhumane and animalistic manner. Their acts were a violation of civil and basic human rights, and the laws of these security forces cannot condone such brutality. Even if they perceived me to be a threat, they could have addressed this issue in a civil manner. I was ready to present myself for checking and an investigation as per the law. But they had no right to beat me. I could only note down the name of two officials, Zafar and Nazar, while the other four to five soldiers had ammo jackets wrapped over their nameplates. I can still identify them by face.
I hope that the top officials of these security forces will investigate this matter, and take notice of this incidence (one of many) where civilians are mistreated by their personnel. These incidents raise a question and taint the good-work that our security forces accomplish. Civilians do not pay for their heavy budget, so they can boss people around and exploit ordinary citizens. The irony behind all this is that the institutions made for our safety seems to have become a threat to us.
I will fight for justice. Please share this post to support the fight for our legal and civil rights #StopTheBrutality.