Of the push-up controversy and our collective intelligence quotient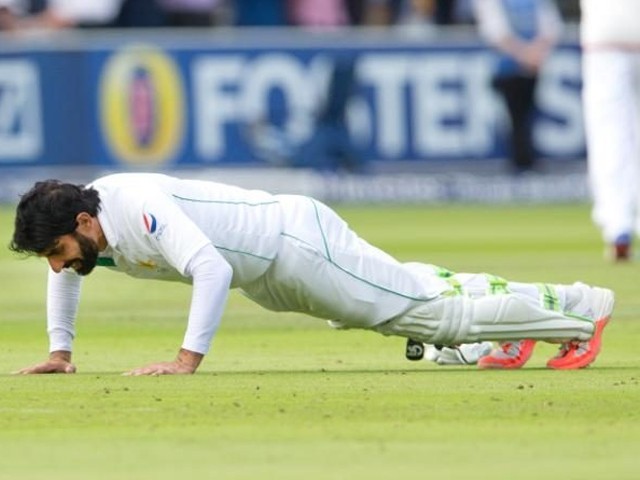 News flash just in: Oxford dictionary has added a new meaning to the word push-up.
"A grave national security threat".
Wait? What? Push-ups? Did I hear this one correctly? Well apparently, yes!
Over the years, we have all read some ridiculously dense statements coming in from our law makers, but this one literally took the cake. Instead of focusing their energies on the recent Quetta carnage, one of our legislators was still fixated with the in-vogue celebratory style of the Pakistan cricket team.
Chaudhry Nazeer Ahmad, a ruling government MNA during an Inter-Provincial Coordination Committee meeting came up with the wise idea that while physical movement was a healthy activity,
"It would have been better if the players offered nawafil (special prayers) instead of doing press-ups on the victory."
Another lawmaker also questioned Team Misbah's unusual post victory revels during the same meeting, and wondered to whom the team was signalling this suspicious secret code and why do they send these cryptic messages only when the team wins?
"Who were Misbahul Haq and other players giving a message to by doing push-ups?" asked PML-N, MNA, Rana Muhammad Afzal.
Jeez maybe all the players are covert members of the 'yahoodi illuminati' and the push-ups were merely a sayhoni warzish, oops, sazish bowing down to their Judaic over lords to come and take over the Islamic Republic.
Perhaps, it was the mere act of sending a message across to their on field opposition to bring it on, the similarity between the exercise to a certain word rhyming with duck is quite uncanny, so it kinda makes sense… right!?!
Or maybe Misbah and Co. were simply hinting at how exactly the ruling brothers and their cronies should get their fat bums in gear and shed off those extra pounds which they have oh so mercilessly gained by gorging on all those grease filled payas and niharis .
On a serious note, with a war waging within and beyond our borders, the best our ruling class can come up to preserve national security is ban push-ups. So frikkin' ridiculous that it's not even funny. Just let this sink in for a minute; a day after Quetta is attacked so brazenly, a member of the ruling elite is questioning an innocuous and harmless looking victory celebration.
The push-ups were first performed by captain Misbahul Haq while completing his ton on the opening day of the first Test against England in July, and the gesture was repeated by the entire team upon their triumph at Lord's.
The green caps were at an army boot camp before the England tour and according to the skipper in his post-match presser, he was simply appreciating the fitness training facilities of the Pakistan army. He said,
"That was my promise to the army guys."
Najam Sethi though did finally manage to convince them otherwise and said,
Oh for God's sake, there is no ban on pushups! In fact I think players should do 100 pushups when they score a century!!

Long story short, the push-up controversy has yet again managed to give our rulers a chance to somehow further pull-down our collective intelligence quotient. May the Lord have mercy on us all!