Yes, you can actually go turtle-watching in Karachi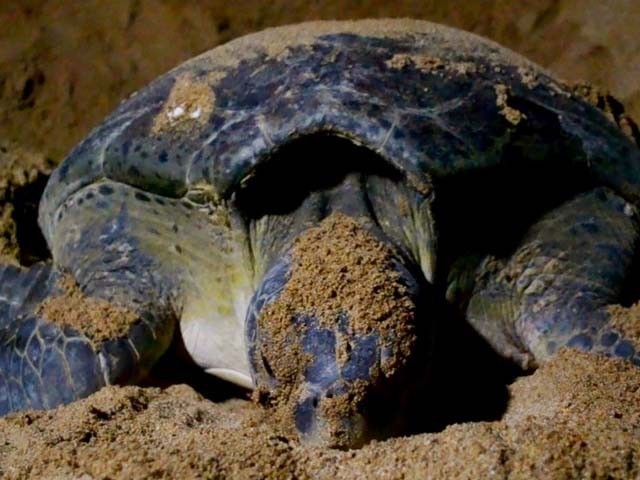 Whenever one thinks of travelling within Pakistan and prospective vacation spots, the northern areas of the country are what come to mind. Scroll down your Facebook wall and Instagram feeds and the pictorial storyboards will corroborate this stance. Unfortunately, with the prime goal of running away from the heat and the general lack of interest in exploring our diverse culture, heritage, environment, and wildlife, we often ignore the treasures that our southern region has to offer.
Science has proven that there is a delicate balance between the wildlife and their habitat, climate change and humans; disturbing any one of these will have a negative impact on the other. From the snow leopard population, which is an indicator of the health of high altitude ecosystems, to turtles which serve as cleaners of our water bodies, all species play an important role in maintaining the environment. This natural network determines our own survival and quality of life and, therefore, it is important that we educate ourselves and take ownership of the environmental issues around us.
Recently, I was a part of an exposure trip (organised by WWF-Pakistan) for a group of digital media representatives to their Wetland Centre at Sandspit, Karachi. The visit aimed to show participants nature that is close to the city and enable them to experience turtles nesting first-hand. The trip also included a boat ride through the mangroves, turtle watching (given that the green turtle nesting season is underway), and opportunities to hear how the local fishing community has turned into protectors of their habitat and wildlife, as well as what the organisation is doing on ground.
After bracing a traffic jam that broke our expectations, we finally reached the Wetland Centre, with just enough light to head out straight for a boat ride through the mangroves. The light was not as much as is expected at dusk, thus hampering our ability to take awe-inspiring Instagram pictures, but, thankfully, grey scale filters came to the rescue.
During the boat ride, Umair Shahid (North Indian Ocean Coordinator from WWF-Pakistan) briefed us on the important role that mangroves play in the ecosystem, the various species that exist in Pakistan and their current status. Mangrove plants mature in about five years and their wood is inherently resilient. The roots of these specialised plants grow above the ground and one hectare of mangrove plants can absorb 1.5 metric tonnes of carbon dioxide. One of their key roles is to act as the first defence mechanism against natural disasters like cyclones and storms. Furthermore, they act as soil binders and prevent the fast rate of soil erosion. As for their connection to marine life and the local fishing community; they provide nursery grounds for small fish species, crabs, and shrimps. One hectare of mangroves can support the growth of 500 kg of fish and 250 kg of shrimps. Mangroves are also a roosting ground for migratory birds.
Pakistan has the seventh largest mangrove forest in the world. We were home to eight sub-species, however, due to our ignorance, only four of these are left; Avicennia marina being the dominant species.
By the time we were done with the boat ride, it was already dark. We headed to the WWF-Pakistan Centre for an interactive session on the key issues threatening the ecosystem and the role of the local community as defenders of these natural resources.
The transformation didn't happen overnight. A lot of time and energy has been invested through various training programmes of WWF-Pakistan, whereby communities have been educated about the benefits of sustainable fishing practices and alternative fuel sources to help protect plantations in the area.
The role of digital media and the potential it has to help spread awareness was also discussed. As this tool is not confined by boundaries, it can help highlight topics to national and also international audiences. Pakistan generally makes headlines for all the wrong reasons, but there is a lot more happening in our country that deserves to be broadcasted by the media. A recent video of a local fisherman trained by WWF-Pakistan releasing an olive ridley turtle, which he saw entangled in a wasted fishing gear, was a heart-warming sight and something the international community appreciated greatly. It got 13 million views on the WWF International's Facebook page alone, with comments that ranged from appreciating the successful rescue to the humane aspects of protecting animals. Again, reinforcing the fact that there is an inherent balance between the environment and the animals, and that it is natural for us as residents of the same environment to protect them.
Later on, the local fishing community that works closely with the organisation served us a home-cooked meal of fried fish and prawn biryani – it was delicious, and definitely left me wanting to come back for more.
By the time we were done with dinner, the watchers informed us that two turtles had come to the beach and were in the process of digging pits to lay eggs. Pakistan is home to five different species of marine turtles. The green turtle is the only species that nests in the country. They mature at the age of 25 and their average life span is approximately a 100 years. Around 2,500 to 3,000 green turtles come for nesting every year to Sandspit during the season, which starts in August and goes up to December, sometimes even till January. These turtles lay about 120 to 150 eggs at a time. Due to the low probability of these eggs hatching, coupled with their low survival rate, the increased incidents of being caught as by-catch and their illegal trade, they are now marked as an endangered species in the IUCN Red List of threatened species.
The two turtles that came for nesting were approximately 50 and 65 years of age respectively, as suggested by WWF-Pakistan's marine expert. During this stage of nesting, the turtles are not to be disturbed, even by the use of light or excessive noise. However, once they had settled in and began laying eggs, the group went across to Sandspit beach and observed them nesting and closing their pits with their flippers.
This visit was a unique experience. But when it comes to increasing your knowledge about the local ecosystem that lives close to a large metropolitan city like Karachi, it was just the tip of the iceberg. It left me realising how little I know about Karachi and how revolutionary this short visit really was in highlighting that. So next time you are planning a trip, do consider going for a turtle watch. Get in touch with WWF-Pakistan through their social media and they will happily help you organise a similar visit.
All photos: Fatima Arif