Tooti, saari ki saari mein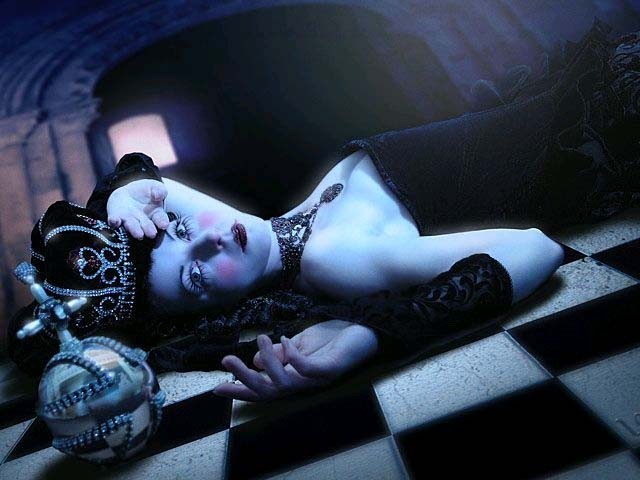 "She sat there, a queen on her heavenly throne, radiating beauty that I had never witnessed before. She seemed flawless, perfect, an embodiment of purity yet powerful enough to evoke awe and wonder.

Her hair is a rich shade of black, short but swaying because of the light breeze coming through a slightly ajar window. Those luscious locks complimented her beaming skin. Her straight-edged nose made her look regal, as if any moment she'd place a tiara on her head and walk around with authority. She commands respect; there is an aura of sensuality about her. I can smell her; I can feel her and I can breathe her.

Her eyes, a shade of mahogany, enclosed by long lashes seemed to brighten the world. Spaced evenly apart and sitting below trimmed eyebrows, they are intense and fierce. They can see the unseen. They are hypnotic. Those artistically plucked eyebrows formed a perfect arch above her passionate eyes. Her smile could melt a million hearts and the world would sigh with contentment. Her laugher fills the room (a bit mischievous) and gives a reason to cherish every moment that I spend with her. Had she wept, the whole world would want to console her.

I watched, following the movement of her hands and trying not to get distracted by the softness of her curves and body. I touched her, to see if her skin was as smooth as it looked. She sat on her throne with legs crossed, providing me with the opportunity to appreciate the thighs underneath that robe. I aspired to be that robe whose only purpose was to cover her exquisite form. She looked like a painting of a goddess that had been brought to life; she smiled at me and seemed confused; she couldn't understand why her form fascinated me so much.

Her plump lips were the colour of a red rose. I wanted to race my fingers along the edge where the skin met them, but when she frowned, they became slim and silent. Her honey sweet voice asked me what's fascinating me so much; she doesn't know that her untainted soul is crystal clear and I can see oceans through it. She is a woman, beautiful and lithe. With every step she took, she convinced me that she means reverence.

Her hips swayed as she got up to change into a gorgeous black dress. It jolted me like an electric current; that body hugging dress made her look divine. I wanted to fall to my knees and hold her hands. I wanted her to notice me. I would have gone to great lengths; I would have worked my charm on her by telling her how much I have suffered to get her, how much I want her, how much pain I am willing to go through just for her… but… but I had to leave."
The moistness of her intoxicated existence captivated the audience. She was clearly annoyed; the gluttonous mortals devoured even the last thread of her chunri; they were always hungry for more izzat.
"What do you want?" She hissed at them.
The louder she screamed, the more deafening their laughter became.
She was trying to preserve the last few drops of her liquor, balancing them on the tenderness of her bosom when suddenly her dried up mind forced her to bring it closer to her lips and gulp it down and smash the vessel into a thousand pieces; each a reflection of her own shattered existence.
Broken glass didn't stop her from swaying and swinging; she bled profusely, blood was flowing down the softness of her body, but she refused an early exit. She would stay there, and tell the world that she is a thousand pieces, a broken reality and a blurred, bloodied existence.
The wicked laughter only added to her misery and there was no way she would be able to escape it ever. Her only choice was to let them consume her, engulf her. And they did.
They teased her by feeling her through the thinness of her bodice. The feeling of vulnerability overwhelmed her and she decided to join them in this animated display of laughter. Hers was the loudest and it was not nervous laughter. There was pain in her laughter as it came from a place of darkness. This fearless entertainer was drowning her essence in her grief.
They had all circled around her at what seemed to the abandoned part of the stage.
"Rise!" They whispered.

"Fly!" They commanded.
She begged them for a few more drops of the holy intoxicant so she could obediently fulfil their commands, but they were brutal; they responded with a hit so powerful that it threw her off the stage.
Was she finally free?
She could escape but she became a slave to her own sorrows and decided to crawl back onto the stage. Her body hurt and tears kept rolling down the cheeks but she wanted to show the world that there's more to her than the sheerness of her costume and the thousand broken pieces that still lay on the stage.
She licked each one of the thousand fragments, hoping to find some solace after enduring such hardship. She was wrong, as she failed to surrender her lustful desires or the hunger for power, her only escape was to find some spiritual peace but that even failed to materialise as the beasts started circling her again; this time more venomously and aggressively.
She begged them to leave her but they refused. The last words she screamed were,
"Tooti, saari ki saari mein."

I'm completely broken.