Gordon Strachan – Dead man(ager) walking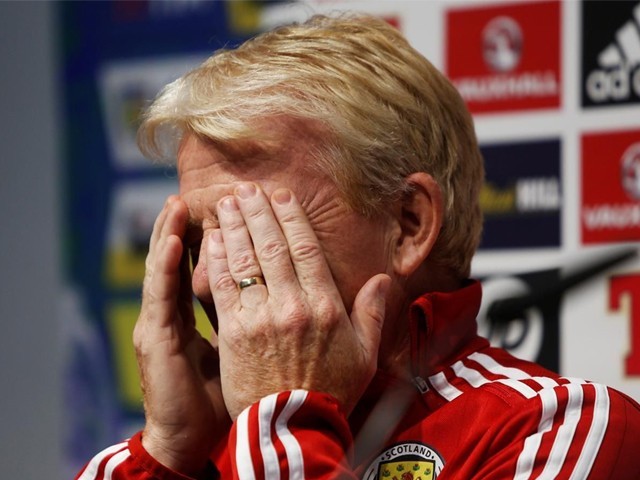 And it all started so well! Well that's the life of a football manager. Last Tuesday's result in Trnava means the Scots despite thumping Malta 5-1 in their first FIFA world cup qualifier have taken just four points from their first three matches and within this short span, boss Gordon Strachan is under increasing pressure to retain his position as chief of Scotland football team.
There is a prevalent understanding that the 59-year-old will be forced out of the job if his players do not return from the November 11 encounter against England with a victory. But Strachan is not one to shy away from a fight and he still appears pretty bullish about his team's chances even after the harrowing 3-0 loss in Slovakia.
"At the moment I just think I am the best man to go down there with the group and get a result," Strachan insisted.
He further defied his detractors putting up a fearless façade.
"Do I fear the sack? No, I don't fear the sack because I'm 59, I'm all right, I've got loads to do in my life. I have absolutely no fear of the sack because life is good for me. I live in a good world. The only thing I want to do is make people happy."
But that right there is your biggest failure Gordon. People aren't happy. The Tartan Army is openly castigating their manager on the social media.
Gordon Strachan is an embarrassment, an absolute embarrassment

— Ally Guthrie (@Super_Ally_72) October 7, 2016
Gordon Strachan is a fud, used to be funny but he's just ignorant these days

— Michael McDougall (@mcdougall89) October 7, 2016
Hey Gordon Strachan…imagine if Jock Stein or Fergie had never picked you because you were "too wee". Unbelievable comments from you

— Matthew Leslie (@mattleslie74) October 17, 2016
Gordon Strachan deserves the sack now but a hope he becomes a regular on MOTD again, this was class

Gordon Strachan

2009: 2nd to Rangers.
2010: 20th in Championship (Mboro)
2014: Fails to Qualify for WC
2016: Fails to Qualify for Euros.

— Rangers Culture (@RangersCulture) October 11, 2016

Gordon Strachan won't resign just yet, but he should. Team going backwards at a rapid rate now.

— Tom English (@BBCTomEnglish) October 11, 2016

Gordon Strachan 'I need my players to be playing Champions League'

Leaves three Champions League players on the bench.

Very poor from Gordon strachan there.

— Kevin weir (@Kevinweir54) October 7, 2016

But he still had a word or two to say on the Tartan Army turning against him.

"I've not got a problem with it. I don't sit here indignant and think people shouldn't talk about me. Of course they should. That's the nature of the game. We'd all like it to be in a manner that is civil."

Inevitably, the Scottish build-up to next month's Wembley showdown will still largely focus on Strachan.

But this is all quite the turnaround from a little over 12 months ago, at which stage in Euro 2016 qualifying Scotland had the edge over neighbouring Ireland having taken four points from six in games between the sides, results which had Strachan riding high in the critical and popular charts while rival manager Martin O'Neill's stock was at its lowest since taking over the job.

But we all know how it ended, with the Irish qualifying for the main tournament just ahead of Strachan's men.

Change in public perception came very quickly for Gordon Strachan in a sport where you're only ever as good or bad as your last result. In football, there's no rest for either the blessed or for the cursed.

As high as the good times are for football managers, the bad times can mine new depths.

People are ruthless. They are going to put you on a pedestal if you are riding high, and they're going to knock you off it when you're down, particularly in this job.

But, in general, professional sports managers and coaches understand getting sacked is part of the job. Someone once said there are only two types of managers: ones who have been fired and ones who will be fired. But since they have got contracts for a fixed period, the manager receives a nice fat severance to help ease the pain of getting sacked.

High pressure and extreme requirement for success comes with the territory and Gordon Starchan, like any other sports manager, is fully aware of the nature of the job.

So Gordon whether you stay as Scotland's manager or end up being sacked, be happy you would still be a very rich man.