Ahmed Mujtaba: Pakistan's new champion of Mixed Martial Arts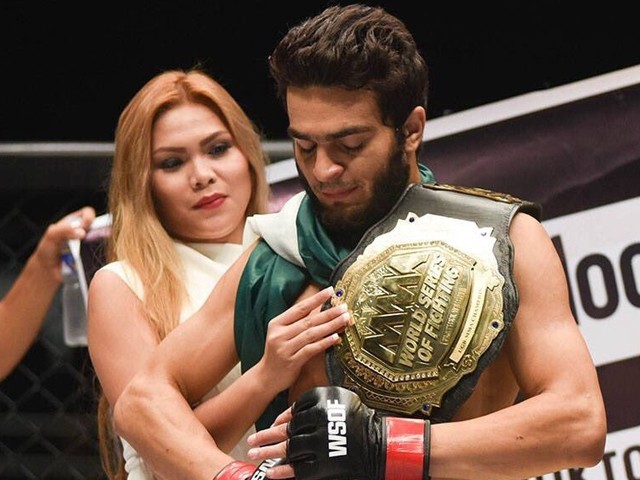 It wasn't long ago when Mixed Martial Arts (MMA) fighters from Pakistan were making waves around the world with promising passion and devotion that was bound to pay off eventually. Ahmed Mujtaba aka "Wolverine" in the MMA community just signed a contract with ONE Fighting Championship to fight against Benedict Ang.
Ang is a Singaporean fighter who, last year, defeated our very own Pakistani fighter Waqar Umar, from Lahore. Like Mujtaba, Ang also has an undefeated fighter status which has provided a lot of pre-fight hype.
In 2010, Mujtaba started his MMA training under the roof of Fight Fortress, an Islamabad based MMA training academy run under the supervision of the critically acclaimed MMA pioneer in Pakistan, Ehtisham Karim Shaheen.
Born and raised in Quetta, Balochistan, Mujtaba was kept away from the fury of the ring but his passion drove him from Quetta to Islamabad. He kept his training aside from his routine so as to not let it intervene with his personal life. In 2013, Mujtaba started his Professional MMA bouts with a victory in Lahore.
From 2014 to 2015, Mujtaba had claimed one gold, one silver, and two bronze medals in the Pakistan Grappling Championship which later became his edge. Mujtaba's ground game became so strong that he submitted an opponent in Thailand in less than two minutes of the first round. He is the first professional MMA fighter from Pakistan who has a seven-win streak in his professional bouts which has made the local star a true wolverine in the ring. Mujtaba was crowned the World Series of Fighting (WSOF) Champion in 2016 when he choked his opponent in the Philippines in the first round.
Ahmed Mujtaba signs contract with OFC to fight on November 11, 2016.
"I would like to thank my fans and everyone who has always supported me throughout my journey, my journey has just begun and InshAllah I have a long way to go in the world of MMA. I would want our generation to support our local fighters and athletes as they go out of their way to support and represent their country"- Ahmed Mujtaba (Oct-13 2016)
Bashir "somchai" Ahmed, also a Pakistani fighter from Lahore just won his stint in OFC last week.
One fighting championship is on the road to the Ultimate Fighting Championship; the world's biggest and highest grossing promotion in sports today. We wish Ahmed Mujtaba all the best for his fighting bout on November 11, 2016 which will be available on Pay-per-view (PPV) on the ONE Fighting Championship official site.