Banning Pakistani actors or Indian movies won't stop me from dancing to Kar Gayi Chul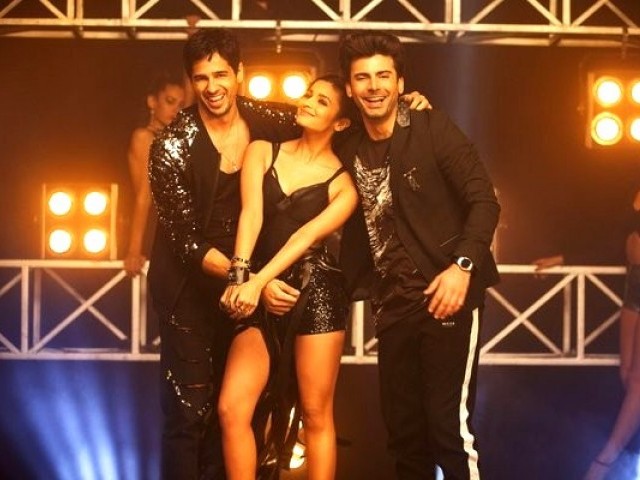 Art is art. Art does not know a nationality or a region or a religion. Does a German heart move more than a non-German heart while listening to Beethoven's symphonies?
What if nobody outside France ever saw the Mona Lisa, or the Starry night was only seen by Dutch eyes?
Art and artists belong to the world. Art is a reflection of the human condition, feelings shared by all of us universally. We all feel love, we all feel sadness, and we all feel loss.
The world was moved by the picture of a dead Syrian toddler washed up on a Turkish shore. Statuses mourning the loss of Prince and David Bowie were posted all around the world. A Beatles song playing in the middle of nowhere can create a sense of familiarity and spark an emotional connection with people you may not even share a language with.
His fight for euqality in muisc was ledgendary. RIP David Bowie #RIPDavidBowie https://t.co/Ci0NBKQdLV

— Dman

starboy to star child ⚡ #RIPDavidBowie https://t.co/Ro2EgQ7hvC

— X

#RIPPrince who always had that look https://t.co/RbSWpEqVEi pic.twitter.com/H1BJ0kp0no

— Brian P. Hickey (@BrianPHickey) September 27, 2016

RIP Prince #ripprince pic.twitter.com/56LQpzr4nW

— kathryn davidson (@kathryndavids13) September 23, 2016

India's decision to ban Pakistani artists is detrimental to their own industry. Bollywood has been made even better by the inclusion of our Pakistani talent. By the exchange of artists, our industry has been improved by the give-and-take of ideas and art.

Loading ...

It was an idiotic and short sighted decision; the kneejerk reaction by cinemas in Pakistan to ban Indian movies is equally stupid. The reason multiple multiplexes have opened up in Pakistan is because of how popular Indian movies are. The increased number of screens led to a rise in demand for movies, creating a space for Pakistani movies.

To express solidarity with the Armed Forces of Pakistan, the Management of #NueplexCinemas has decided to stop the screening of Indian films pic.twitter.com/5ctYTMFisE

— Nueplex Cinemas (@NueplexCinemas) September 30, 2016

Dear @ShivSena,

This is to remind you that Fawad khan, a pakistani actor, is working in Bollywood since 2014

Regards
Aman

— Aman (@Firki_) September 19, 2016

Indian film industry owes it to the people of India that it'll not contribute to Pak economy by engaging Pak nationals. #BoycottPakOrNot

— BS Bassi (@BhimBassi) September 23, 2016

Economically, these multiplexes now have numerous people employed and, if Indian movies are banned, it may lead towards a dramatic fall in the multiplexes' popularity, eventually affecting its profit margins. Any economic disadvantage we are looking to inflict on Bollywood will be offset by the economic disadvantage we are causing to local businesses, whereas the Goliath is that Bollywood will not be hurt. Bollywood movies screen around the world; they are one of the most lucrative movie industries.

The influx of Bollywood movies has led to the revival of Lollywood. Would we have Manto and Actor in Law if Bollywood movies were never screened in Pakistan?

Most Pakistanis grew up watching Bollywood movies. We have been shaped by their ideas and influenced by their actors. It is not surprising that the movies being made in Pakistan are similar to Bollywood movies. It is not merely a case of being influenced or inspired, but also that India and Pakistan share a rich performing arts history.

The roots of Bollywood found in folk theatre forms belong to both India and Pakistan. Part of the reason why Bollywood resonates so well with a Pakistani audience is that it stems from the same fountainhead of theatre and performance as our country.

Even if we were to ban Bollywood movies officially, people in Pakistan would still be pirating the movies on DVDs or downloading them illegally. We are not stopping the exchange of ideas; we are simply robbing Pakistanis from another avenue of entertainment.

When Star Plus was banned in Pakistan, my family would buy DVDs of their dramas.

Rules and laws cannot prevent the exchange of ideas and the flow of art. In an extremely globalised world it is impossible to even try to isolate yourself as a country. North Korea has to strictly ban the internet altogether and use the state apparatus to promote propaganda to try to isolate the country from the world and yet ideas find a way to infiltrate State controls.

For Pakistan, it is impossible to isolate Indians. People from both countries have historic familial ties with each other. We share tradition and culture. In the world of technology it is impossible to prevent people to communicate between the two countries.

In these troubling times artists should come out in support of peace, love, and understanding. It is unfortunate that regulatory organisations for artists and art in both countries are caving in to war hysteria.

Loving your country does not mean you have to hate another country. Patriotism does not have to be necessarily a hateful ideology.

The decision to ban Pakistani artists in India and ban Bollywood movies in Pakistan come from a place of hate rather than a place of love.