Degrees of reality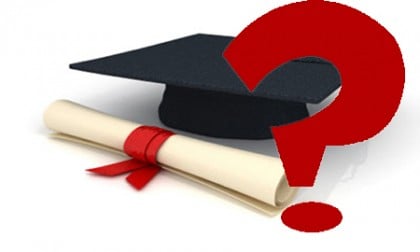 In the past two weeks, one of the issues to have gotten a lot of attention is that of fake degrees. From allegations to verifications to justifications, a lot of people have said a lot of things about parliamentarians who have made a space for themselves in the parliament to try to make a 'real' difference by using a fake degree.
I recently read an article published in this newspaper about how the Punjab government had decided to remove the academic qualification for members of local zakat committees. The day after that, the Balochistan chief minister said fake or real, a degree was a degree. Earlier this year, the director of the Federal Board of Intermediate and Secondary Education was also charged with having presented a plagiarised PhD thesis while the degree of Khyber-Pakhtunkhwa chief minister (according to a newspaper report) had to be returned for being 'not attestable'.
As sorry as the matter is, what makes it even more disturbing is not so much the fact that people with power have yet again manipulated the system for their gain but the fact that faking degrees points to the complete disregard for the importance of education as a priority in our society and for our government.
One example is the Budget 2010-11. The budget's total outlay is Rs3,259 billion. According to a copy of the budget available at the website of the ministry of finance, education affairs and services fall under the category of current expenditure, as do defence affairs and services. Both are among the top five expenditures with education being allocated Rs34.5 billion and defence being allocated Rs442.2 billion – almost 13 times the amount earmarked for education. What is even more surprising is the distribution within education spending: primary education has been allocated Rs3.2 billion while higher education has been allocated Rs25.21 billion – many, many times that of primary education spending. This lopsided allocation makes one wonder who the government thinks would enter universities, kids that never went to proper primary school?
Clearly, in such a situation, those who do enter university have little choice but to fake having graduated. Their foundation is never real to begin with.
Published in The Express Tribune, July 3rd, 2010.