Baar Baar Dekho: A boring time-travelling experience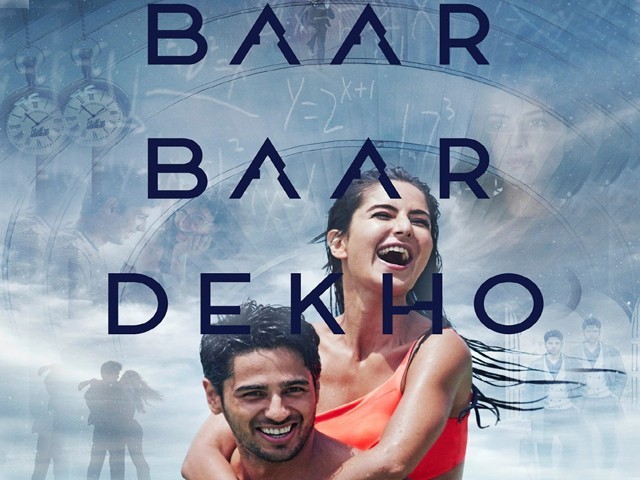 There's no doubt that Baar Baar Dekho was amongst the most anticipated movies of 2016. And we're all excited to see Katrina Kaif and Sidharth Malhotra starring together in a Karan Johar movie. There's was a lot of hype with the release of the teaser, trailer and not to forget – the song Kaala Chashma.
Time-travelling is not a common subject to expand on in a movie, we can hardly quote Action Replay (2010) and Love Story 2050 (2008) under this genre; both didn't do well at the box office. You will just have to watch Baar Baar Dekho to discover what makes it different from the others.
Artist Diya Kapoor (Katrina Kaif) and Mathematics professor Jai Verma (Sidharth Malhotra) are childhood friends who decide to get married. Two days prior to their wedding, Jai starts getting cold feet. He is unsure of whether marriage is the best option for them; he ponders over the practicality and after effects of marriage, and finally tells Diya that he isn't ready.
Heartbroken, Diya leaves him and Jai decides to drown his sorrows in wine. The next morning, Jai finds himself in Thailand on a honeymoon trip with Diya. He is oblivious to what has happened, and is absolutely clueless and cannot recall anything.
From there on, the audience get to witness Jai Verma's time-traveling experience, which fast forwards him to the age of 40 and 60 and takes him back in time as well – as if signalling that something in his life needs to be fixed.
The film rests mostly upon the shoulders of Sidharth Malhotra, and he succeeds in delivering a great performance. He's remarkable in his 60s, especially how he interacts with everyone around him. Sidharth impresses the audience in numerous scenes with his acting nuances. This is amongst the most difficult roles (since it has so many complexities involved) but Sidharth has undoubtedly done justice to it.
Katrina has performed averagely, nothing special I must say. In some scenes she has done a commendable job, but in totality, she is simply mediocre. Ram Kapoor's, Rajit Kapoor's and Sarika's performances are also worth mentioning.
Direction wise, Baar Baar Dekho is effective, but the narrative and script of the movie somehow lacks depth, preventing viewers to connect with the characters.
Viewers are mostly left confused about what's happening in the movie. The element of surprise and excitement takes a backseat which is not a good sign in the time-travelling genre. Baar Baar Dekho is not a mass appealer and loses out big-time on its script.
Unfortunately, this movie can be skipped, but if you're curious about what life in the future would be like – then sure, go ahead and give it a watch!