What's for lunch this Eid? Biryani, chapli kabab and kulfi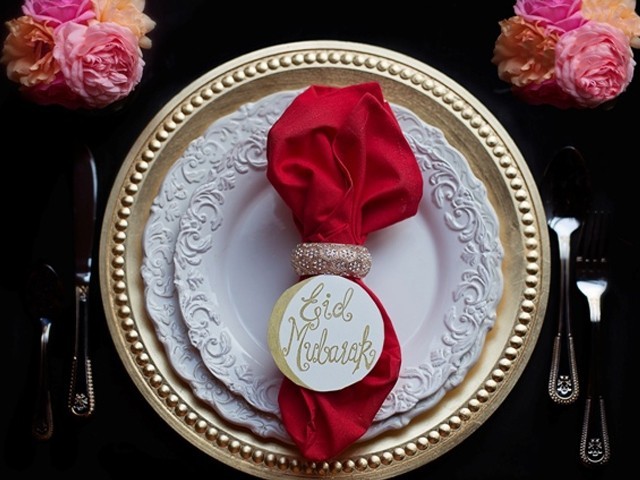 My childhood memories associated with Eidul Azha are still very clear. I was raised in a joint family household, so just imagine around a dozen people, including young boys, trying to get to the congregational Eid prayer on time. I miss that chaos, the preparations, and the presence of various butchers sharpening their knives, while all the children would surround them in anticipation.
The girls, including myself, would get ready and watch the qurbani, all the while helping our mothers in the kitchen. Laying the table, taking out the fancy china in the rooms filled with air soaked in the appetising smell of butter and roasted nuts for the sheer.
I loved how my mother made it a tradition of buying new table-cloth, serving bowls and flowers for every Eid; a little something was always added to the decor of the drawing room. I never knew that I would remember the patterns of those tablecloths years later.
But here I am, reminiscing about the Eids I had spent with my mom, be it in the kitchen or around the house for Eid preparations. It's been more than a decade since I spent Eid with my family – in the house that is still filled with people I love with all my heart.
If there was one thing I would change about it would be the chaos that ensued after the qurbani; once the meat started coming in, the rest of the day was spent taking care of it. I saw my mom and aunts taking care of meat for hours. Consequently, the dinner wasn't as festive as compared to the brunch because of the utter exhaustion. It's not an easy feat – sorting, bagging and distribution of cow and goat meat.
Fate took its course, and I got married and moved to America – where we can think of having a cow or a goat as a pet, but slaughtering those animals on our driveway will surely result in having more than a few law enforcement agencies on our doorsteps. We do get meat from one goat and it isn't much to handle. Though we do have the option of performing the qurbani at a farm but as a mother of two girls – the younger one aspires to be a cowgirl and own all kind of animals – hence it's not an easy task to make them watch a live sacrifice just yet.
Having said that, what I plan in under these circumstances is a nice family dinner, where we can sit around the table, making the ambiance a little fancy, but more importantly, satisfying. What can be more satisfying than steaming hot, fragrant mutton biryani, followed by the ice cold kulfi.
Here is a three course meal plan that includes mini chapli kebabs, mutton biryani for the main entrée, followed by kulfi and falooda for dessert.
Biryani
Ingredients:
For the mutton curry:
Mutton – 2 lbs
Yogurt (whipped) – 1 cup
Ginger paste – 3 tbsp
Garlic paste – 3 tbsp
Red chilli – 1 tbsp
Garam masala – 1 tsp
Salt – 1 tbsp
Coriander powder – 1 tbsp
Oil – 1 cup
Onions – 4 (medium-sized, finely sliced)
Cardamom – 6 (small sized)
Dried plums – ½ cup
Lemons – 2
Tomatoes – 6 (chopped)
For boiling the rice:
Banaspati rice – 3 cups
Water (for boiling rice) – 5 to 6 quarts
Bay leaves – 4
Black cumin – 1 tsp
Black peppercorns – 6
Cloves – 6
Mint leaves – 8 to 10
Saffron – 2 generous pinches
For layering the biryani:
Green chillies – 5
Cilantro – 1 cup (chopped)
Food colour – 1/4 tsp
Garam masala – 1 tsp
Lemon – 1 (juiced)
Salt – to taste
Method:
1. Wash the mutton thoroughly; marinate it with yogurt, ginger garlic paste, red chilli, coriander powder, two lemons juiced, and salt. Keep aside for 30 minutes. (You can marinate the night before; it will have more flavour).
2. Heat the oil in a large wide pot, fry onions until they are golden brown. Keep an eye on the pot, you do not want to over-fry it.
3. Remove ¼ of fried onions along with some oil and reserve it for layering.
4. In the remaining oil, add marinated meat. Stir and cook for 15 minutes on medium heat. Then add chopped tomatoes and cook until all the moisture from the tomatoes is gone.
5. Next, add the tomatoes, cook on medium heat. Stir often and cook until tender. Set aside when it's done.
Boil the rice:
6. In a large stock pot, put water to boil. Add cumin, saffron, bay leaves, peppercorns, chopped mint and cloves to the water.
7. Wash the rice and soak it in warm water. Drain the soaked rice and add to the pot when the water comes to a roaring boil.
8. Keep a close eye on the rice while it boils, it should be done in less than 10 minutes, and you can check the status of the rice by taking a few kernels out and pressing between two fingers. It should be easy to mash, but make sure it's not super soft.
9. Keep the strainer or colander ready so you can drain water as soon as the rice is done.
Time to layer.
If you prefer to continue cooking on a stove, then grab a large heavy bottomed pot and pour two tablespoons of oil on the bottom and skip to third step below.
1. Pre-heat the oven at 400ºF.
2. Grease a large aluminum foil tray.
3. First put a layer of rice at the bottom of the tray using half of the rice.
4. Scatter some cilantro and green chillies, sprinkle garam masala and squeeze half a lemon.
5. Now make a layer of mutton curry, spread it evenly over the rice layer.
6. Then layer the remaining rice and put fried onion and oil on top.
7. Mix yellow food colour in lemon juice (from the second half of the lemon) and add in it in several different spots by pouring a teaspoon every time.
8. Cover the tray with foil completely, or if using a pot then secure the sides carefully. Our goal is to lock the steam inside.
9. The cooking time is around 40 minutes. What we need is lots of steam, which is a sign that the biryani is done.
10. After 40 minutes, check by removing some foil or the lid, if steam comes up. Remove biryani from the oven/stove.
11. Keep it covered and serve hot with raita.
Mini chapli kebabs:
Ingredients:
Ground chicken – 2 lbs
Salted or unsalted butter – 2 tbsp
Garlic paste – 2 tbsp
Ginger paste – 2 tbsp
Salt – 2 tsp
Red chilli powder – 1 tsp
Crushed red pepper –  ½ tsp
Garam masala – 1 tsp
Cumin and whole round coriander, mixed,roasted and ground – 1 tbs
Eggs – 1
Flour – 2 tbsp
Green chili – 1 (finely chopped)
Tomatoes – 2 (de-seeded and very finely chopped)
Onion – 1 (medium-sized, finely chopped)
Cilantro – ¼ cup (chopped)
Oil for frying
Method:
1. Mix all the ingredients, and let it marinate in the refrigerator for two hours.
2. Heat oil in a large skillet. Shallow fry on high heat for a minute then flip and fry the other side for a minute. Then reduce the heat and fry until fully cooked.
3. If you're not serving it right away, place the kebabs in an oven safe platter, covered with aluminum foil and leave it in the oven at 200ºC until it's time to serve.
Raita:
Serving biryani without raita is a big no no at my house. The good thing is that it's easy to make even if you forget to make it beforehand like I often do.
Ingredients:
Yogurt – 1 cup
Fresh mint leaves – ¼ cup (18 to 20 leaves)
Fresh coriander – ½ cup (25 g)
Cumin seeds – 2 tsp
Salt – 1 tsp (or to taste)
Dried red chilli pepper – 2
Green chillies – 2
Method:
1. Grind all the ingredients (except the yogurt) to a fine paste.
2. Mix the paste with yogurt and serve with biryani.
Tamarind chutney:
Ingredients:
Tamarind – ½ lbs
Mint – ¼ cup
Powdered red chilli – 1 tsp
Cumin – 1 tsp
Salt – 1 tsp
Sugar – 3 tbsp
Ginger powder – 1 tsp
Method:
1. Soak the tamarind in warm water for two hours.
2. Squeeze out all the pulp and remove seeds and veins from it.
3. Put the strained out thick pulp in blender, then add all the remaining ingredients and blend for three minutes.
4. Taste and adjust the sweetness according to your taste.
Kulfi:
Ingredients:
Condensed milk – 1 can
Whole milk – 1 litre (4 cups)
Sugar – ¾ cup
Dry milk – 1 cup
Evaporated milk (optional) – ½ cup
Almonds (powdered) – 1/3 cup
Cardamoms – 2 (finely, crushed. Discard shell)
Pistachios – ½ cup (crushed)
Method:
1. Add all the above ingredients and cook on low heat for until 3/4 of the quantity is left.
2. Remove from the stove and let it cool completely.
3. Pour into kulfi mold or any small cups or containers.
4. Put the cups in the freezer for at least six hours.
5. When frozen, take out the kulfis from the molds and serve after sprinkling the crushed pistachios or you may want to make falooda
Falooda:
Ingredients:
Milk – 2 cups, full fat
Jelly – 1 packet prepared, (cubed  I used were strawberry flavoured)
Rose syrup – 5-6 tbsp. (or Rooh afza)
Chia seeds – 1 tsp. (soak in ½ cup water for 30 minutes)
Angel hair pasta – ½ cup (use falooda noodles if available)
Almonds – ¼ cup (crushed)
Kulfi or vanilla ice cream – 4 scoops
Method:
1. Boil milk until 1 ½ cup remains. Remove from heat and bring to room temperature. Add two tablespoons of rose syrup to the milk and mix. Keep it in the refrigerator once it comes down to room temperature.
2. Make jelly by following the instructions on the packet. Cut into small cubes when set.
3. Cook pasta or falooda sev by following the instructions provided on the pack. Remember not to overcook it; given the thickness of the pasta I used, it was done in five minutes. Once that is done, drain and wash in cold water immediately to stop the cooking process.
4. Soak chia seeds in water for 30 minutes.
To assemble falooda:  
1. Now you have all the ingredients ready, you just have to assemble them. There is no hard and fast rule here, I sometime arrange all ingredients on the table and the guests make their own faloodas according to their taste and wishes.
2. You add layer by layer of kulfi, milk, noodles, chia seeds jelly, some more jelly and some more kulfi perhaps, it depends on how much of what you would like.
3. Garnish with crushed almonds and serve immediately.
4. Don't forget to stick in a spoon and a straw.
Following are a few tips to follow.
– Three lemons should yield six tablespoons of juice, so if you aren't using fresh lemons and using lemon juice instead then you know how much to use.
– Try to use fresh ingredients.
– The marinating of meat can be done a night or a day before. Meat absorbs salt and spices, giving it a much better taste.
– Practice Mis en place – "putting in place" – all the way, every day with every dish, which means preparing, organising ingredients and tools needed in cooking.
– Keep your workspace clean by putting spice jars and utensils in their place once you are done using them.
– Almonds, pistachios, saffron are optional ingredients, once you have the essential ingredients, you should try the recipe.
Most importantly, I hope you enjoy your Eid, while cooking, prepping and taking care of everything else. Do include your children and family in the preparations, they will love it if you make it seem fun and the chores will be done in very little time. Now I know that, most of us are lucky enough to  domestic help but its Eid after all and each of us deserve to celebrate, so let's be courteous.
Have a happy and safe Eid,
Eid Mubarak from my family to yours!