Save your money and do not watch Teri Meri Love Story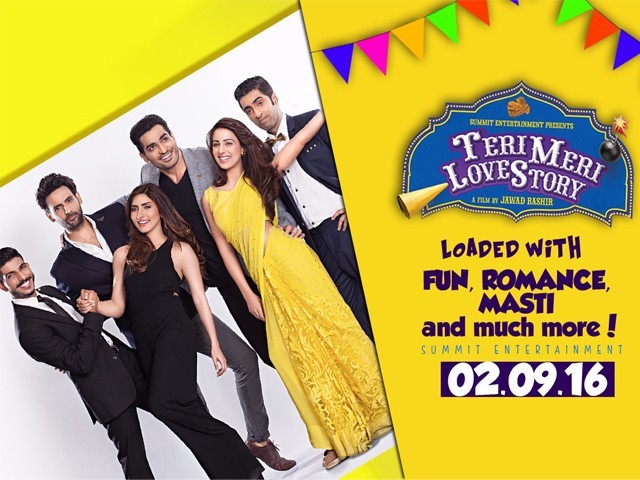 Jawad Bashir has a unique way of incorporating humour into his songs and acts, case in point: Teen Bata Teen from the mid-90s. It took Bashir quite a few years to embark on the route of film production. He made his debut with the horror flick, Maya (2015) and his latest venture is supposed to be an out and out comedy filled with an element of romance.
That being said, Teri Meri Love Story is a rom-com featuring Mohib Mirza, Omar Shahzad, Ushna Shah, Uzma Khan, Mohsin Abbas Haider, Salman Shahid, Laila Zuberi and Ahmed Abdul Rehman in pivotal roles.
The movie starts off with Esha (Ushna Shah), who is head over heels in love with Ramis (Omar Shahzad), hoping that one day he will propose to her. Esha's friends Sherry (Mohsin Abbas) and Danish (Ahmed Rehman) inform Ramis regarding her feelings towards him, resulting in him asking for her hand in marriage.
But fate takes its toll when Esha's father, Rana (Salman Shahid) announces that his daughter has already been betrothed to his friend's only son, Nael (Mohib Mirza). From there on, things take a complete turn and that's what Teri Meri Love Story is all about.
First things first, the script of the film wasn't great. The jokes were so clichéd that they're hardly capable of summoning a smile, let alone a laugh. I failed to make sense of the entire movie – to the extent that I questioned why I even bought a ticket for this movie in the first place. They could've at least had the decency of coming up with a decent plot.
The direction of Teri Meri Love Story is amongst the worst that Pakistani cinema has witnessed in the last couple of years. The blurry images and attempts to try and fit everything in a single frame made the movie into a visual torture. There were jerks in the camera movement during fight scenes; making the scenes come across as amateur attempts at movie-making.
Performance wise, nobody stood out. Only Mohib looked a bit convincing, but he still needs to stop play-acting and be a bit more natural.  After Bachaana (2016), Mohib Mirza's performance in this movie is a complete let down. Omar Shahzad is trying too hard and comes off as an overly intense actor in nearly every scene. He is forgetting that he is supposed to look natural. He needs to work on his physical appearance – not his physique, but factors such as his hairstyle and wardrobe. There's a pretty obvious wardrobe malfunction in the climax action sequence.
Ushna Shah fails at looking the part, as well as playing it. Mohsin Abbas should not have opted for such a role, especially after being one of the highlights in Na Maloom Afraad (2014). It is evident that he is trying to make viewers smile, but the stale jokes fail to illicit any response.
Uzma Khan is the glam factor in the movie, but despite all her jhatkaas and matkaas she fails because of her horrible dancing skills, coupled with second-rate choreography. Salman Shahid, a veteran actor, is a disappointment. His dialogues are painful, mainly because he is trying too hard to bring about a comic element. The same can be said for Laila Zuberi.
The movie is crammed with songs; they appear at random intervals. If you want to save your hard-earned money, skip Teri Meri Love Story because even television sitcoms have better engagement and entertainment quotients.
It might attract people with zero intellect and those who are not familiar with quality cinema. All in all, this movie is a disaster.