Dear PM Gilani, Pakistan's fate is in your hands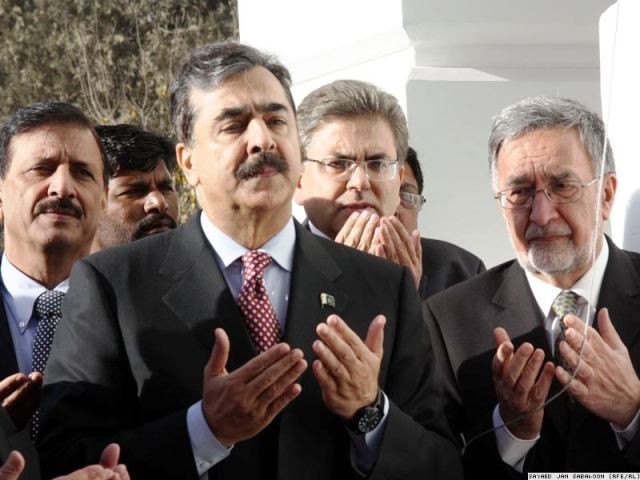 Dear Prime Minister Gilani,
I am delighted by your political maneuvering and how smoothly you have bailed out a failng government. It is smart of you to abandon personal and political egos, and pursue policy of reconciliation. The strategy has worked well and you have garnered support. You are still the prime minister of Pakistan.
The fate of Pakistan is in your hands. I hope that your recent decisions were not just an attempt to save President Zardari or your highly unpopular government. Hopefully the MQM and PML-N have reminded you of what your priorities should have been in the first place. You should consider implementing them vigorously so the country starts believing that you are a man of principle who honours commitments.
Since the elite force guard proudly confessed to shooting Salmaan Taseer for publicly expressing his views on the blasphemy law and the need for its revision, we have caught a glimpse of what can potentially be Pakistan's future. There is a large part of the population who believes that what Mumtaz Qadri did was right, they may think that the courts should have made this decision, not him! On the flip side, an equally considerable number of Pakistanis believe that this assassination was wrong and the murderer should be given exemplary punishment, so similar incidents do not occur in the future.
You must understand that the patience of your countrymen has reached tipping point, and one wrong or controversial move from your government may lead to civil disobedience, for which the religious faction of the country is preparing.
You are dealing with a Pakistan which has now been split by faith – an emotional and religious divide as opposed to an ethnic or regional one. I understand that it will not be an easy job but if you and your party really want to tackle the situation, I believe you can.
You do not have to do this alone – involve all political parties in the decision making process so the corrupt can be identified, exposed and punished, public service efficiency increased, and non-development expenditure be reduced to offer an environment of economic certainty and security.
Rest assured Pakistan is with you (so please don't mess this up.)
Regards,
Syed Ali Raza Abidi