Anonymous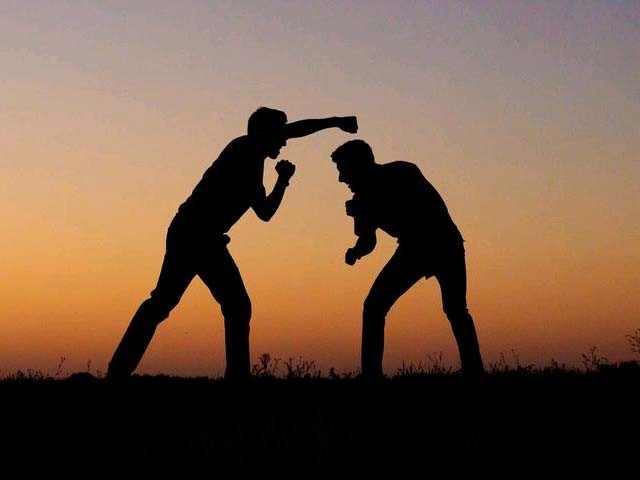 August 13th, 2005
Hello Baba,
Somewhere between home and nowhere, I write to you yet another letter in my head that I will never send. But then my heart must talk to yours for me to go on.
I arrived in Chaman couple of weeks ago. This is my beat. These days I work at a hotel at Chaman bypass near Bughra road as a waiter. Yes, as a waiter. It is essentially a driver hotel but all kind of travelers stop by to stretch on charpoys, rest a while and eat food.
The place is spread over more than two canals, of which about ¾ is an open area where Charpais are placed. It is mostly surrounded by haphazardly parked trucks. The constructed part is not more than ¼ and comprises of brick structure with thatched roofs. This is my abode now. For how long? I myself don't know.
Yes, I lied to you and mother about my job as a salesman that took me from city to city… that does not spare me time to write to you. But then, I have lied to you about so many things in recent years just the way I lie to people who, during a casual conversation, ask me about my family and I tell them I am an orphan… that my parents died when I was a kid.
I trust it will not keep you numb for long. I know you would understand my reasons.
How are you doing?  How is your work? Have you sold your wheat? I am sure you wouldn't have bothered sending anyone to PASCO office to fetch sacks to sell wheat. Were they screwed up this year too – as usual? But you can't keep selling your hard work cheap to brokers. I wish I were there with you to do harvesting and sort out things. I wish I were there for so many other things that you would not do without me… but, nonetheless, I was not there with you – again.
It's funny but you must be glad that I have grown a beard and moustache. I didn't have a choice. I couldn't afford being distinct. I have to look like everyone. But then, I look like you instead of everyone. Tell mother, I no longer spend hours, as she would say, in front of a mirror. There is no mirror in the bathroom cum toilet which in itself is a four-by-four dark room – without a ventilator. The ceiling is barely five-feet high which must not have been elevated to save bricks. I am learning, finally, how to take bath with one bucket of water in three minutes.
I wear these funny clothes… no, there is nothing wrong about clothes; it is just that I look funny to myself in this Kameez Shalwar. It is not like the Kameez Shalwar that I wore at home; it is loose and could clothe another but then, all the same, it is clothing so many me which I keep becoming every other time. No, I don't mean to be philosophical. It is just that sometimes I forget who I was once, until I talk to you again – in my head.
This is an historic place and an important one. Chaman border is just about four kilometers from here and Spin Buldak in Afghanistan, another six kilometers. There is a large cemetery nearby. Sometimes I visit it. To your dismay, I still fail in offering prayer five times a day. I am sorry. I shall try better. There are many mosques in the surrounding areas though. Most of them are named after influential men such as Haji Hasan, Haji Azam, Hafiz Abdul Zahir etc. I offer my Jumma prayers in Mar Malang mosque, it is closer to Frontier Crops Garrison. Something about the prayer leader there, I don't know exactly what, reminds me of you. Probably, it is his demeanor; he doesn't speak much to anyone.
These days, NATO forces use this route for supplies into Afghanistan. There are long lines of fuel tankers and other supply trucks transporting wheat flour, rice, sugar, cooking oil, vegetable ghee, onion, fresh vegetables, pulses, chilies and cloth. NATO officials or their contractors, beside the drivers, come to our hotel too. They tell all kinds of stories… stories which are very useful for my Agency. Many of these officials and drivers are friends with me now. I serve them well. They trust me. Sometimes they trust me with packages they want someone to pick from me. Sometimes they bring gifts from Afghanistan.
I have dry fruit, blankets and jackets packed for you in the room given to me. Earlier I shared this room with another waiter but he is on leave now. His mother got sick. How is mother? Is she well? How is the pain in her back? Did you take her to a neurosurgeon? Winter is coming. I must take her to the doctor one of my colleagues recommended. His mother had a similar problem but she got well in six months. I must make time for her. This time, I shall certainly come before winter to show her to the doctor.
You remember Shahzad? The tall boy from Rawalpindi you met last year whom I had introduced as area manager in my company? Who was married to Brig. Aslam's daughter? And you wondered how a brigadier married his daughter to a sales manager? Well, he always knew how to outgrow his means. He could always reach out to what otherwise seemed impossible. I have not yet met an idealist with his clarity of thought and purpose.
He lived in parallel worlds, just like me – in realities which just seem unreal. I met him just before leaving for Chaman and we thought, in another world, we could have been as good sons to our parents as we should have been… though he also needed to be an equally more considerate husband. Yeah, I remember what you said once,
"When you get married, never leave your family behind for anything, take them with you wherever your job may be."
But I don't think Shahzad could take his wife where his job was. I just told you, he always managed to outgrow everything for his work.
He was picked from FATA some days ago. Yesterday, his body was returned… chopped into dozens of small pieces. They were probably so afraid of him that they would not leave him in one piece lest he should haunt them to their hell. They must have cut him piece by piece while he was still alive. Do you think he would have fought till they cut his last limb? I know he would have, the stubborn man. You know, he always knew how to depart with grace and a smile. When he came to see me off for Chaman, he hugged me and said,
"You are the brother I could have wished for; I am glad we have each other."
But my brother is gone, Baba. We no more have each other. Unlike you, I don't have his address anymore. I don't know where I should post him a hug or a smile or a letter. They stuffed him in a sack soaked in blood and they left a note,
"Zaan de washarmawo!"

(You just humiliated yourself! Shame on you!)
Only if they knew, he had more honour than all of them put together. He would not have done this to the worst of them. But what does it matter now…
Shahzad was no sales manager, Baba. He was an intelligence officer, who, like many anonymous and the forgotten, dreamed of a home and he martyred fighting for it… indifferent to the songs that were sung to celebrate his courage and the insults that are hurled every now and then by whoever thinks they have a mind. Yet, he lived and died for the dream so dearly dreamt… asking for no glory or medals. But he got them all, silently, inside closed doors after they chopped him to pieces. Mother would say what is the point of dying for ungrateful people. But I wonder if he cared about that. There was some madness about him that drove him and he said we all shall die someday; I can't hide in my home, get a well-paid job and wait for death to find me. And he played with life and death every day. He must be crazy. Look what they did to him, Baba! They robbed me of my brother.
I shall not tell you all this. He would not want me to. He smiles at me from everywhere and tells me,
"I am waiting for you, brother."
I shall see him some day, Baba, but I tell him he must learn, finally, to be patient and wait.
I shall come home soon. I am sorry for all the things we could have done together if I had not had chosen to come this far. I am sorry for not being there when I should have been. But, some day, I shall find my way to home, to you and mother. Till then I shall write to you every night, the unfinished letters, in my head.
Yours,
MBV