Star Trek Beyond: An oasis in the barren desert of summer 2016 blockbusters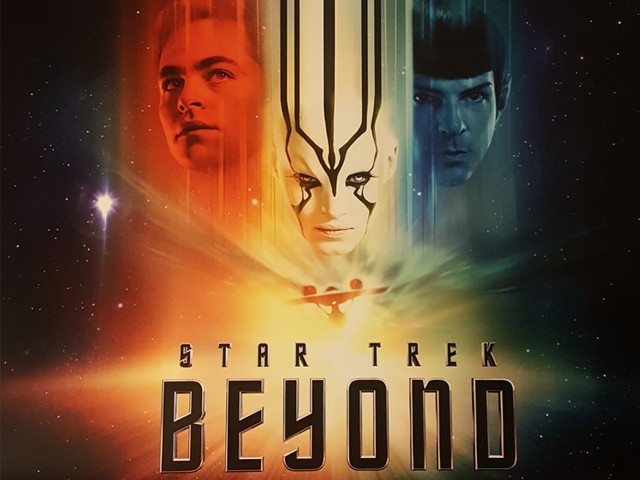 After the disappointing Star Trek: Into Darkness (2013), many people believed the future of the Star Trek franchise was in danger. Not from a financial stand-point, but rather a creative one. And let's face it, for all its excitement "Into Darkness" did feel very much like a sub-par remake of the far better 1982 film Star Trek II: The Wrath of Khan. There was a general consensus among most fans that the series was beginning to forget its roots, which were essentially about exploring space and spreading peace throughout the galaxy.
There was even more disappointment among the fan base when Fast & Furious director Justin Lin took over the helm from JJ Abrams, with the general opinion now being that the new Trek series was deviating so far from its roots that this was just going to be a Fast and Furious movie in space. The detractors can rest easy because that is not the case at all. In fact, Star Trek Beyond is not only a welcome return to roots for the franchise, but also the only film in the saga so far, with a spirit closest to the original series.
Set after the events of Into Darkness, Star Trek Beyond finds the Enterprise and its crew in the third year of their five year mission. However, things get awry when the crew answer a mysterious distress call in deep space; unaware that they are being lured into a trap set up by Krall (Idris Elba ), a fearsome alien tyrant intent on recovering an ancient artefact in the possession of the Enterprise and is willing to do whatever it takes to get it.
What's great about Star Trek Beyond is that it has a great energy to it that was sorely missing the last time around. The story definitely feels more self-contained and at this point in the series, the characters are fleshed out well enough, which means no time needs to be wasted on character development.
Writers Simon Pegg (who also plays Montgomery Scott) and Doug Jung are both fans of the series, which is probably why they are able to craft a script that stays so true to the original. And Pegg's collaborations with Edgar Wright prove his talent at comedy, something he puts to good use here as well, infusing the film with enough humour and light-heartedness to make it a joyful experience as well.
But ultimately, it's both Pegg and Jung's efforts to go back to Star Trek's core ideas of exploring space, unity, peace and the power of the human spirit that make this film both compelling and infuse it with some genuine emotional heft. The character interactions have never been better, especially those between Bones (Karl Urban) and Spock (Zachary Quinto) which are particularly humorous. And for the first time, all the characters are given something to do and the film isn't focusing on just Kirk and Spock.
I think director Justin Lin coming on board really helps the film as well. He has a unique visual style and his ability to craft great action sequences – something he admittedly picked up on during his time with the Fast and Furious franchise – help elevate the film significantly. Though, there are a couple of times when it's hard to fathom exactly what is going on, for the most part he's able to deliver some exciting set-pieces, including a particularly superb one that plays to the Beastie Boys' Sabotage.
The performances all work as well, with Chris Pine and Zachary Quinto both reprising their roles rather well, and showing a keen sense of comfort with their respective characters. Sofia Boutella and Idris Elba are also great additions.
Boutella is less in the movie than the trailers advertised, but Elba proves to be quite possibly the best villain in the franchise's history playing the ruthless Krall. His motivations and the general ideas driving him make sense. And the fact that he challenges the very ideals of unity that the Starfleet stands for makes him a uniquely interesting villain.
However, the standout for me was Karl Urban as Dr 'Bones' McCoy who has gradually become the moral centre of this franchise. His one-liners are great, but his words of support to Kirk and naturalistic chemistry with both Pine and Quinto make his performance even better.
Star Trek Beyond feels like an extended episode of the original series. At the start of the movie you even hear Kirk say how things have gotten "episodic". But believe me, it is a good thing because in between that extended episode, Pegg, Jung and director Justin Lin are able to sandwich a slick piece of summer blockbuster entertainment as well. In the barren desert of summer 2016 blockbusters, this feels like an oasis.