What went wrong for Pakistan at Old Trafford?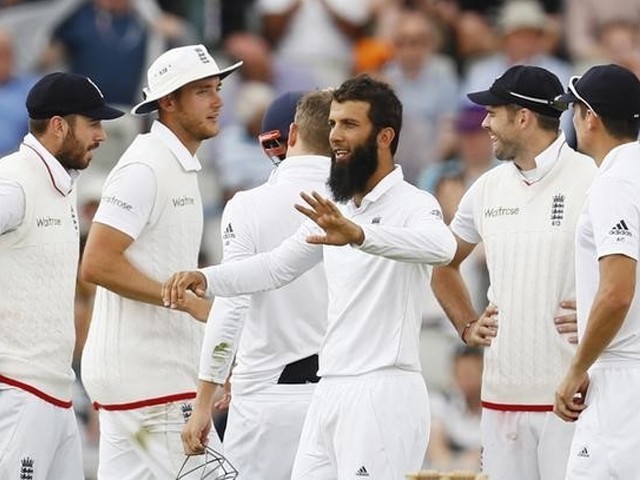 Pakistan succumbed to a distressing defeat at the hands of England at Old Trafford. England was clinical in all three departments, Pakistan were equally mediocre and the disparities were embarrassingly obvious. Surely an anti-climax after the much-awaited restoration of honour at Lord's, Pakistan was reminded that their honeymoon period was over. 
While it would be sinful to completely downplay Pakistan's valiant effort at Lord's, Pakistan was bailed out by some individual brilliant efforts and Misbahul Haq had to come to the rescue, while Yasir Shah did the rest.
Our opening partnership was a worrying problem then and it is a worrying problem now. Our fielding was below-par then and it is below-par now. Azhar Ali and Younis Khan failed to do justice to their names and batting capabilities. For England, on the contrary, Chris Woakes continued to dismantle Pakistan with consistency that we still await in our bowling attack. Joe Root and Alastair Cook regained their form and punished the Pakistani bowlers with avoidable assistance from the fielders.
In the simplest of words, everything from their fielding to their batting went wrong for Pakistan, but England experienced the complete opposite. To begin with, Pakistan was exposed for not having a fifth bowler. The bowlers were forced to bowl for longer time periods which led to them being evidently fatigued and worried about possible injuries.
Azhar and Shan Masood were called upon by Misbah towards the end of the innings and they seemed to be easy targets for the well-set Root and the naturally aggressive Jonny Bairstow.
Yasir bowled 54 overs which is naturally tiring. Meanwhile, all three pacers shared 84 overs between themselves. Besides the number of overs, Mohammad Amir, Rahat Ali and Wahab Riaz are all quick, genuine pacers, which required them to exert more pressure, that too on a cement-like surface and landing spot, increasing the likelihood of a long-term injury.
The lack of a fifth bowler may tempt Misbah into bringing in Iftikhar Ahmed. He is considered an all-rounder by Pakistani standards. According to our standards, an all-rounder is someone who can do little of either – when in reality it should be someone who could still manage to play in the team as a genuine batsman or bowler.
Iftikhar bowls right-arm off break which could cause trouble against the plethora of left-handers in the English side, but his spinning ability and bowling talent is rather limited. He could come in place of the out-of-form Mohammad Hafeez, but dropping him would require some guts.
Batting worries continued as both Azhar and Younis failed to replicate their form from the tour matches prior to the start of the series. Sarfraz Ahmed too, has received less criticism than what he actually deserves. His batting style elicits mixed responses because, while his positive intent and naturally attacking style of batting is a refreshing sign, Sarfraz seems too carefree and into his zone to actually worry about the match situation.
His wicket-keeping has been questionable thus far – dropped Cook at Lord's and Root at Old Trafford. While he would have to do something truly disastrous to lose his place to Mohammad Rizwan in the near future, Sarfraz really needs consistency and maturity in his performances if he is to help Pakistan in challenging England conditions.
For Yasir – 10-141 at Lord's, 1-266 at Old Trafford – the Manchester experience was torrid.
Roughly a week ago, he stood at the pinnacle of his career, only to be shot back down by reality and unreasonably high expectations.
Despite being 30, Yasir is only 13 Tests old. There is no denying that Yasir has been Pakistan's go-to bowler in the recent past, but that should not relieve others of their duties and should most certainly not result in Yasir being overused. The tiredness became strikingly obvious in his bowling too as he struggled to bowl with rhythm – either dropping it too short or gifting away low full-tosses.
If Pakistan is to make a comeback, Mushtaq Ahmed and the coaching staff must release the pressure of performance in Yasir's mind and ensure that he bowls with the same rhythm and enthusiasm and the wickets shall follow.
Another cause of concern for Pakistan is the on-field attitude and performances of Wahab. Wahab, on a flat pitch, was trusted due to his ability to extract more bounce and hit the deck hard. His performance was extremely underwhelming and he looked a defeated man. His figures, that portrayed him as Pakistan's most successful bowler, are a misrepresentation of how poor he was.
Moreover, conditions at Old Trafford offered no reverse swing, making Wahab ineffective with the older ball. Imran Khan has emerged as the suitable candidate to replace Wahab as the third pacer, primarily due to his right-arm angle. While Imran has often been ruled out by many due to his lack of pace, he will find solace in the fact that James Anderson's pace leading up to his wickets stayed within the 78-82 mph bracket. As the pace went down, more movement was extracted by him. Moreover, Wahab's exclusion removes inconsistency and adds the control and calmness of Imran Khan.
The fact of the matter is all the technical and temperamental faults that were exposed at Old Trafford did not arise one or two days prior to the encounter, these problems have been there forever and not enough is being done to overcome them.
Azhar kept trying to work the straighter balls towards leg-side, giving his wicket away in similar fashion. Shan kept edging it away to the fielders in the slip cordon ever-ready to pounce on the ball. England at home was never going to be easy opposition, and although there were times during the match when Pakistan was doing little wrong, England was simply not ready to repeat the same mistakes again and again.