Will England's revised bowling line-up be enough for a victory at Old Trafford?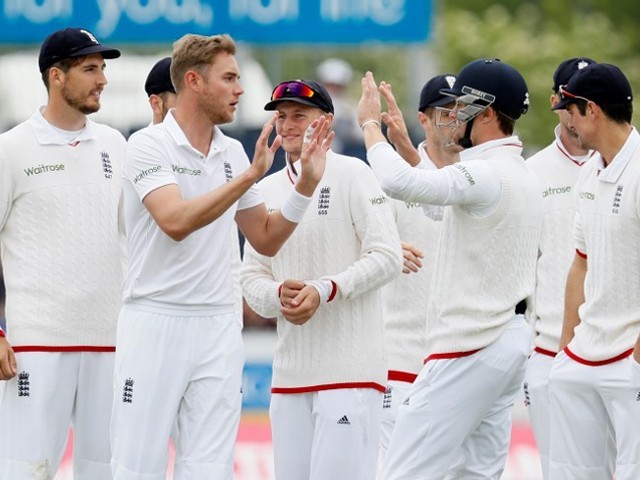 As unbelievable and odd as it may sound initially, Pakistan have indeed beaten England at Lord's, the Mecca of the cricketing world, and that too within the comfort of four days. Too many storylines were involved, too many controversies were fuelled by the English media and questions were asked, but Pakistan seemed to have the most fashionable of answers to everything.
England were, naturally, displeased with the outcome of the much talked about encounter and were sour towards the post-match celebrations. Therefore, it can safely be assumed that England will be at their very best at Old Trafford, in a few days' time, and although this Old Trafford may not be the one that is home to Manchester United, it could also end up being the Theatre of Dreams for Misbahul Haq and his troops.
As the English team prepares itself for the second Test of the series, a number of factors could have an impact on important matters such as team selection. Negatives include the lack of form for Joe Root who threw his wicket away rather cheaply in both innings. Root has, in the past, expressed his disapproval towards batting at number three as he prefers facing a relatively older ball, but with no immediate replacements available for Nick Compton, Root has been forcefully pushed up the order.
Alex Hales and Gary Ballance have not completely justified or consolidated their positions yet, but the management is willing to provide them with extended runs. Jonny Bairstow too, is safe for now, due to the injury of Jos Buttler who is widely regarded as the better wicket-keeper and batsman of the two.
The primary problem for England has been its middle-order that has been fragile and exposed regularly by the spinning ball. Bairstow, after a phenomenal series against Sri Lanka, had his technique challenged by Yasir Shah who has claimed his wicket five out of the six times Shah has bowled to him. England has shown their readiness towards bringing in reinforcements as they have added James Anderson, Ben Stokes and Adil Rashid to their squad.
Bairstow's fine innings of 48 comes to an end. #EngvPak https://t.co/pPA3qjQDFA

— England Cricket (@englandcricket) July 17, 2016
Talking about the reinforcements, there are hardly any doubts over the class, ability and match-winning temperament of James Anderson, the finest Test bowler England has ever produced. Not to forget that Anderson, who will most likely replace Jake Ball, has a psychological edge over Shan Masood. The Englishman had his number when they played against each other in UAE and his inclusion will surely test him.
Call-ups for Ben Stokes and Adil Rashid are interesting ones from England's point of view. Stokes, since returning from injury, has looked only a shadow of what he actually is. In the five matches that he has played for Durham, Stokes failed to enter double figures twice, has only one half-century, and has bowled in only one of these five matches. More interestingly, his most recent dismissal was a soft caught and bowled by 19-year-old Lancashire leg spinner, Mathew Parkinson, against whom he looked uncomfortable. If Stokes is brought back into the side, he could end up being the weak link in their line-up.
Rashid, meanwhile, has been included purely because of what Yasir Shah managed to do with the ball on a dry Lord's track. Rashid is the best leg spinner that England has at the moment and he is familiar with the opposition too. Rashid's inclusion could result in curtains for Moeen Ali, who failed to extract more from a turning pitch and was equally dismal with the bat too. However, Trevor Bayliss has hinted that England will also be considering fielding two spinners at Old Trafford, the most spin-assistive pitch in England.
Moeen, who was wicketless and extremely expensive in the first innings, saw his ball break miles in the second innings as he claimed the prized wickets of Younis Khan and Misbah, two naturally spin-favouring players. Two spinners will be able to extract and benefit more from the roughness of the pitch as the match enters its closing stages.
With England weighing all their options, Pakistan can either persist with their winning combination or make one or two adjustments to their bowling line-up. A right-arm pacer, preferably Imran Khan, could be added to create a different bowling angle for the English batsmen or Zulfiqar Babar could be deployed as the extra spinner in an attempt to extract more from the pitch. Knowing Misbah, and in all fairness too, none of three pacers will be dropped because all three played vital roles in different sessions.
Although, what would be preferable is Misbah's increased utilisation of Azhar Ali's bowling abilities. Azhar is a capable leg spinner, bowls regularly in the shorter formats and could help in reducing slightly the burden on Yasir Shah. Azhar, in fact, emerged at the U-19 stage as a leg spinner rather than a batsman. Along with Azhar, Asad Shafiq too is capable of bowling right-arm off-spin – another option and a different angle for Misbah to consider.
England can seek solace in the fact that they have remained unbeaten at Old Trafford for the past 15 years, but, unfortunately for them, it was Pakistan who defeated them in 2001 by 108 runs. Yasir Shah and his admirers too will be pleased to know that the Ashes Test in which Shane Warne bowled Mike Getting with the Ball of the Century was held at Old Trafford in 1993.
https://www.youtube.com/watch?v=rOVei8iTyM8
Misbah and his men will be hoping to hit the ground with the same spirit and confidence, while Alastair Cook and his boys will try everything within their capacities to regain lost pride. The summer has only just begun.
Loading ...