The Legend of Tarzan: A tedious and utterly insipid rehash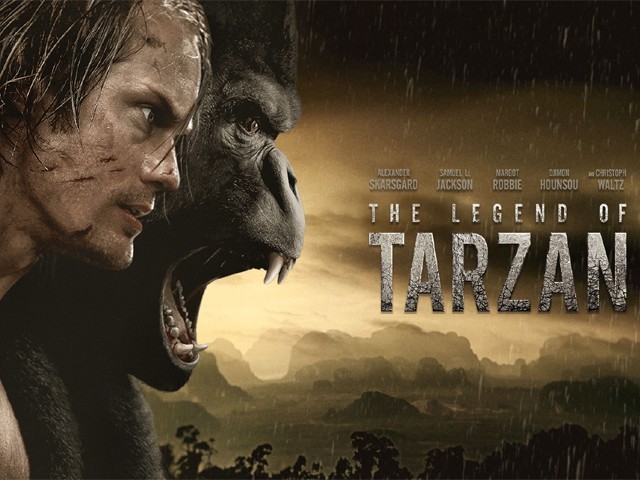 I can't say I walked into The Legend of Tarzan with particularly high expectations. And that wasn't only due to the fact that the character of Tarzan simply does not appeal to me, or because of the character's highly unsuccessful, nearly a century old on-screen track record. But also because, I feel the character and story is an out-dated relic of the past that should have been forgotten, when its author Edgar Rice Burroughs passed away in 1950.
But knowing Hollywood and its primal penchant for rebooting and rehashing anything and everything that has the capability of making even a little money, I'm not surprised we have this tedious and utterly insipid live-action rehash of Tarzan.
Alexander Skarsgård stars as Tarzan, now known by his real name John Clayton, who at the beginning of the film is a distinguished lord living in London and married to Jane (Margot Robbie). The film is more of a sequel to the original Tarzan story, and for those who are unaware of the backstory, the film attempts to half-tell it in snippets of flashbacks.
Since the events of the original story, Clayton has become something of a celebrity, however during that time, political unrest has occurred in Africa, exacerbated by King Leopold of Belgium, who's claimed Congo and then ran up loads of debt. Clayton, who grew up in the Congo, is persuaded to visit George Washington Williams (Samuel L Jackson) and was told that there's an underground slave trade emerging.
Which means it's time for Tarzan to go back to the jungle and do some vine-swinging, gorilla-wrestling and lion-snuggling before the film hits us over the head with its hackneyed sub-plot about colonialism and slavery in the 19th century, led by Christoph Waltz playing the evil colonialist slave trader version of his Oscar-winning character Hans Landa from Inglourious Basterds (2009).
The 'been there, seen that' feeling is definitely there – apart from being highly predictable – The Legend of Tarzan also happens to be an utterly dull and life-less affair. In the age of gritty and self-serious Hollywood blockbusters, it's no surprise that this movie tried to do the same, which actually robbed it of the one quality that could have made it even slightly redeeming – joy.
It's just too dour to be actually enjoyed. And the film's few attempts to feel grounded in reality are hampered by the woefully unremarkable special-effects because neither the backdrop nor any of the digital ostriches, digital gorillas, and digital lions look real. Even the action sequences have absolutely no heft, which is disappointing considering it's directed by David Yates, who directed the last four Harry Potter films and showed great prowess with special effects sequences with those films.
The film also seems hell-bent on using the same slow-motion pause effect for nearly every action sequence until it becomes a complete overkill.
I suppose you can give the actors some credit for trying, even if most of them are there just to cash their pay check. Samuel L Jackson seems to be having some fun and is actually the film's only source of little levity, Margot Robbie really tries her best as Jane but is unfortunately held back by the script she has been given to work with and Christoph Waltz definitely seems more in sync than he was in Spectre (2015) – even if his erudite, smooth-talking villain with a European accent routine is close to becoming a gimmick.
What doesn't work however, is Alexander Skarsgård's stone-faced, bland and staggeringly one-dimensional portrayal of Tarzan, who despite nailing the physicality of the character, does little more than act with his abs.
It's debatable exactly how much of that is his fault, which brings me to my biggest problem with this movie – it's just poorly written. Neither Tarzan nor any of the other characters have any real characterisation to them. The film's political aspect stemming from its subplot about colonialism feels far too forced, while the storytelling feels clunky and predictable and more like a patchwork of lazy exposition and bad dialogue.
I'm not sure whether to blame the filmmakers for making this or the studio for green-lighting it, because at the end of the day, I don't see how you can make a good Tarzan movie without it being silly and corny, or maybe even a good Tarzan movie, period. It is primarily one of the reasons why it's better to perhaps leave it alone instead.
The movie is too dour and political for the kids, too juvenile for adults, The Legend of Tarzan represents a woefully misguided step by Hollywood to reinvent the character for the 21st century.  It may be some time before we see Tarzan swinging through trees again.