Andy Murray – Scruffy Scot primed for top spot?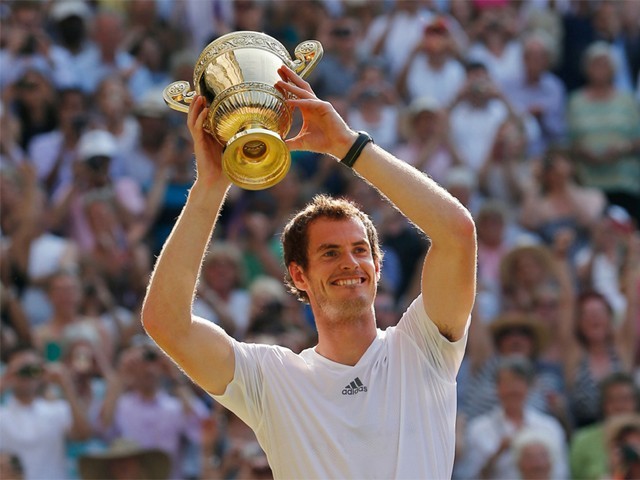 In another era Andy Murray would have been recognised as a 'tennis great' but such is the dominance of Novak Djokovic and Roger Federer – probably the two greatest players in tennis history – that even winning Wimbledon twice does not guarantee you a place amongst the pantheon of racket legends.
Throw in Rafael Nadal and it is clear that Murray has been dealt a tough hand.
Loading ...
This weekend, the Scot was playing in his 11th Grand Slam final and unarguably for the first time he was the clear favourite, having faced either Djokovic or Federer in the previous 10 finals.
Ah! If only things fell into place in my life as easily and effortlessly as they did for Andy Murray in the past fortnight.
Anyway, the draw was already positive for him, placing him in the other half to the likes of Roger Federer, while chief adversary Novak Djokovic has already been the victim of a shock exit.
Has any athlete ever been lonelier than Novak Djokovic right now?

— Joe Posnanski (@JPosnanski) July 7, 2013
Minus his five-setter against Frenchman Jo-Wilfried Tsonga, the British number one didn't have to break a sweat, winning all his matches in straight sets, to reach his third Wimbledon final.
Briton's opponent in the semis was the Czech 10th seed, Tomas Berdych, who was a surprise obstruction on his way to the final; after Stan Wawrinka and Richard Gasquet both fell early.
The world number two was barely troubled by Berdych who forced just one break of serve in the contest.
With Serb Djokovic already out, Murray wouldn't have believed his luck when he found himself against Canadian world number seven Milos Raonic instead of his former Swiss nemesis. Raonic beat Federer in a thrilling five set encounter to book a date with the 29-year-old from Scotland.
Andy Murray made full use of his first Wimbledon final after his 2013 win by dispatching the Canadian 6-4 7-6 7-6 in three sets.
Murray gave a famously tearful speech after losing his first Wimbledon final against the Swiss maestro Federer in 2012.
A year later, he finally ended Britain's 77-year-wait for a male champion, a quest that became burdensome for the whole nation. This Sunday Britain's tennis heartthrob doubled that tally by claiming his third career Grand Slam.
While his 2013 victory ended with him feeling intensely relieved, enduring "so much stress and pressure" to end his country's agonising seven decade men's title drought , this time around the scruffy Scot plans to thoroughly savour the success.
"I feel happier this time. I feel more content this time."
He added,
"Last time it was just pure relief and I didn't really enjoy the moment as much, whereas I'm going to make sure I enjoy this one more than the others."
Murray wasn't also discounting how luck played its part in the triumph.
"There might have been a bit more pressure going into the final because it was an opportunity, without Novak on the other side of the net, but I think my experience helped in the tight moments."
Also remarking,
"I would love to now go on and get to number one in the rankings."
There is plenty of evidence to support Murray's belief that his best is yet to come and with both Federer and Nadal losing their touch with age, the Briton is now primed for the top slot, albeit with a Djokovic sized obstacle in the way.
Loading ...