Teenage dreams and crunchy chilli and corn aaloo cutlets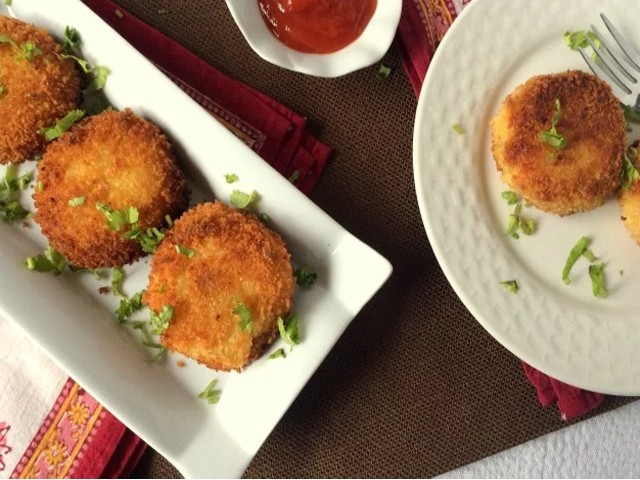 One of my brothers likes to tell the story of how when he was back in Karachi during one of his college breaks, he walked into the kitchen to find a girl he had not seen before with her head submerged in our deep freezer, furtively foraging for something to eat. When he asked her who she was, she responded by asking him who he was to which he said,
"I live here."
To which she exasperatingly replied,
"I've never seen you before."
My poor brother then retorted,
"Well, I haven't seen you either."
Once they has resolved their impasse and she had told him she was one of my friends he asked where I was and she said "not home" and continued to rummage through the deep freezer until she found these Corn and Green Chilli Aaloo Cutlets.
Moral of the story:  Food first. Always!
With their crunchy exterior and creamy spicy interior nubbed with corn these are one of my mother's trademark cutlets/kebabs. The friend above was not the only one who would drop in after school to snack on these babies. They were pretty much a hands down favourite of most of my friends. Some of my happiest memories from those days are the ones that were made in my sweltering kitchen, friends sitting around the table, plates with cutlets and ketchup smears and lots of the unrestrained laughter that is the hallmark of teenage years.
As an adult, one who is forever 'behind' in the things that need to be done, I can really appreciate how much work it would have taken for my mother to keep that freezer stocked for the hungry teens that were always welcome in our house – whether we were home or not. My hope is that by the time my girls are older they too can have that same experience. I don't think it's 'cool' for kids to hang out at each other's houses when Starbucks is an option, but I would like to think that if you cook it they will come.
Recipe note:
This recipe makes a lot, which is great because these cutlets freeze beautifully. The mustard powder flavour isn't extremely pronounced, but I suggest you start with the ¾th amount, try it and see what you think. The cheese melts into the potatoes for some extra flavour, but if you are looking for some gooey cheesiness then just cut the cheese into small blocks and make the cutlet around it!
Ingredients:
Yukon/yellow flesh potatoes – 3 lbs
Melted butter – 3 tbsp
Milk – ¼ cup
Salt – 1 ½ to 2 tsp
Mustard powder – ¾ to 1 tsp
Black pepper – ¾ tsp
Corn – ½ cup
Cheddar or Monterey Jack – 1 cup (shredded)
Green chillies – 4 to 6 (minced)
Bread crumbs, Panko recommended – 3 to 3 ½ cups
Eggs – 2
Instructions:
Cover the potatoes with water and bring to a boil.
When they are tender, drain the water and peel when they are cool enough to handle.
Transfer to a large bowl and toss in your butter and milk.
Sprinkle over the three powders and mash away.
Taste for seasoning. Please do remember that for a delicious kabab/cutlet you want the mixture to taste a little salty, not positively briny but just a little salty.
When the mixture is fairly smooth add your corn, cheese, chopped chillies and stir to combine. Line a tray or baking sheet with parchment paper or foil, pour your breadcrumbs in to a dish and whisk your egg in another with a splash of water. I think soup plates are ideal for the egg and breadcrumbs, but use whatever you fancy.
Once that is done, I prefer to make almost golf ball sized balls cutlets and fill my tray up with them.
When the potato mixture is finished, with my left hand I pick one up, give it an egg bath, move it into the breadcrumbs, roll it around with my right hand and move it to the tray (also with my right). So left is my egg hand and right is my breadcrumb hand.
When you are ready to eat them then pan fry on medium-high heat for two to three minutes on each side or till golden brown.
Notes:
It is always a good idea to do a 'test' cutlet before making all of them so roll a spoonful of potato mash into a ball, flatten slightly, dip in egg, roll in bread crumbs and pan fry. Taste and adjust seasoning if needed. Yes, I am a compulsive seasoning adjustor.
These cutlets freeze beautifully. To freeze them just flash freeze on the tray you made them and transfer to a freezer safe ziplock bag for up to six months. Just remember to thaw them a little before frying, either in the microwave or at room temperature.
All photos: Sarah Mir
This post originally appeared here.