Raman Raghav 2.0 – Kill, coke, sex, lather, rinse, repeat!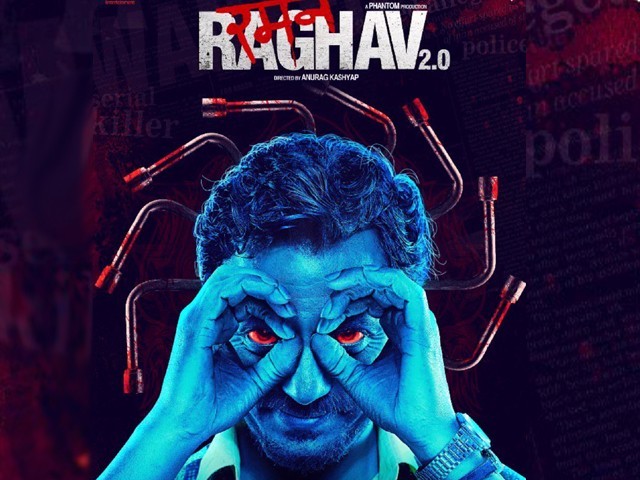 'Some men just want to watch the world burn.'
There is a scene during The Dark Knight (2008), when Bruce Wayne's trusted butler Alfred, alluding to his nemesis cites a little tale about how a bandit in a forest north of Rangoon wasn't in the crime business for anything logical, rather he was simply doing it because he thought it was good sport.
"Do I really look like a guy with a plan? You know what I am? I'm a dog chasing cars. I wouldn't know what to do with one if I caught it! You know, I just …'do' things!"

– The Joker
For Heath Ledger's Joker, read Nawazuddin Siddiqui's Ramanna.
"Sabko kisi na kisi ko maarna hota hai. Koi dange ki aad mein apni bhadas nikalta hai to koi wardi ki aad mein to koi Syria jaa ke. Mai logo ko maarta hun kyunki mujhe maarna hai. Mujhe isi mein mazaa aata hai."

– Ramanna

(We all have this innate tendency to kill, but unlike others who need an excuse and slay in the name of riots, uniform or religion, I have the courage to murder intentionally. I do it because I want to, and unashamedly without any apologetic pretext!)
Much like Batman's archenemy, Ramanna doesn't bother justifying his actions, he just enjoys them.
Loading ...
Anurag Kashyap, after the magnificent disaster that was Bombay Velvet (2015), is back doing what he does best.
Based on the notorious serial killer Raman Raghav (Psycho Raman) who had Bombay on the edge in the 60s, Kashyap's Raman Raghav 2.0 traces the life of a fictional modern-day copycat murderer Ramanna (Nawazuddin Siddiqui) who kills for fun.
But wait, that's not it!
Occupying the same side of the cinematic coin as the titular psychopath is the eponymous Raghavan (Vicky Kaushal) a coke-snorting, junkie of a policeman who does pretty much the same thing, but is shielded by his badge.
While Ramanna is compelled to kill by the sadistic joy he extracts watching life seep out of another, Raghavan's violent exploits, alternatively, are more about drug fuelled rages. Acts analogous in their randomness!
It's as if Kashyap, who is renowned for his dark and morbid subject matters, has deliberately split the real Raman Raghav into two distinct but yet not too dissimilar characters and the film then becomes a voyage to a metaphoric completion.
With a familiar shtick of a premise drawing parallels between the personalities of cops and crooks, Raman Raghav 2.0 is a relationship drama that charts a cat and mouse game between Ramanna and Raghavan, where you can't actually make out the hunter from the hunted. The former virtually has a kinky level affinity for the latter and the slayings and slaughters then turn out to be mere pitstops in the inevitable converging of the narrative arc of these two characters standing on opposite sides of the spectrum.
The stylised thriller makes the most of its Tarantino-esque eight-chapter structure as it plunges episodically through a nihilistic cesspit of havoc and mayhem.
Director Anurag Kashyap's latest venture contains no juxtaposition of the good and the evil, we don't get complex characters where we get to revel in the pleasure of watching their layers peel off. Our anti-heroes are simply rotten to the core, period!
And this is precisely where the movie lacks. We don't have an intriguing plot that helps wrap these devil caricatures in a truly fascinating package.
We submit to the unwatchable in the hope that we will learn something about ourselves as imperfect creatures. But what we get in return by studying these revoltingly sickening beasts is a shallow yet stirring spectacle full of tension.
Despite the rousing proceedings, we are none the wiser!
In a celluloid equivalent of the shampoo algorithm, all we have is skulls being smashed, coke being snorted, girls being banged, and then some more heads being bashed, looping ad infinitum.
Kill, coke, sex, lather, rinse, repeat!
But what elevates this fare from the ordinary is 'the character chameleon' of Bollywood and his antics.
With a dash of Anton Chigurh from No Country for Old Men (2007), a sprinkle of Se7en (1995)'s John Doe and drizzle of the Joker from The Dark Knight, Nawazuddin Siddiqui is the cherry atop this hit and miss cake.
Undeterred by lacklustre plotting, Siddiqui has managed to provide us cinephiles with one of the greatest B-Town baddies. It's still no Gabbar mind you! But in Ramanna we have a film noir villain who is creepy yet charismatic.
His deliciously eerie turn as an iron rod wielding, nuanced psychotic slayer is easily the biggest strength of Raman Raghav 2.0.
While not as spine-chilling as the menacingly brilliant counterpart, Masaan (2015) famed Vicky Kaushal holds up his end notably as the trigger-happy, dope-addled cop who has some major daddy issues.
In spite of some extremely strong performances from the lead duo, there is really no exposition as to 'why they are, the way they are'! This regrettably is yet another blot on this particular cinematic canvas.
Raman Raghav 2.0, a character study at heart, however does jolt you with the realisation that there are satanic tendencies in everyone. Staying true to his signature style, Kashyap doesn't actually show violence onscreen. He only alludes to it and allows you to chillingly fill in the spaces. You simply see all the killings unravelling in your head and that's what frightens you the most – your own capacity to imagine evil.
Each time a victim is added to the killer's death list, the film forces us to inspect our own fascination with the homicidal maniac. What is it that even permits us to feel anything else besides disgust for someone who bludgeons his own sister and his young nephew? While we squirm, quiver and shudder at his brutality in one scene, is it then morally correct to laugh our collective asses off at the mind games he plays with the cops in the next?
The film's cinematography is bang on while the music is broodingly hypnotic that goes well with the theme of the visual piece.
Raman Raghav 2.0, despite being vile, is perversely enjoyable and consistently absorbing, but it doesn't really get under your skin like some of Kashyap's previous flicks, particularly Black Friday (2004), Gangs of Wasseypur (2012), and the criminally underrated Ugly (2013), of which personally I am a huge fan.
But such is the dizzying thrust and energy which Raman Raghav 2.0 possesses; you are willing to overlook some of the missing pieces of the jigsaw that could have potentially placed it amongst some of Anurag Kashyap's truly great works.
Almost there, but not quite!

Loading ...