What would you do if your professor called you at night and told you he'd like to see you in a sari?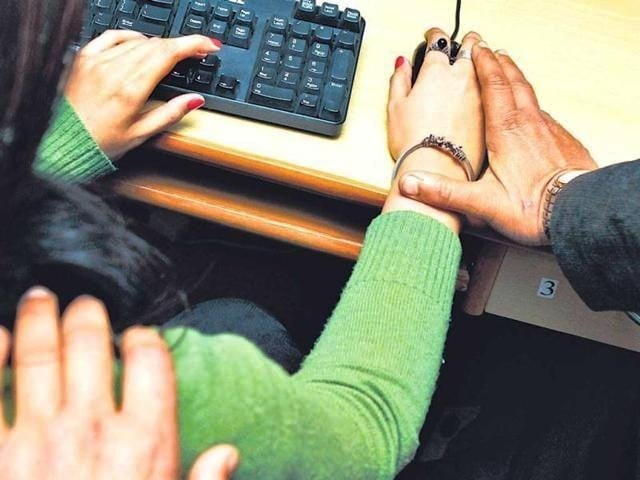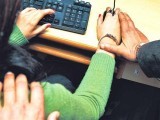 It was just another day at the University Of Karachi (KU). I gathered my books in my bag, carefully putting my fingers between the dog-eared pages of another journal to get them copied from the photocopier near the computer lab. As I handed the journal to the photocopier, I noticed a man; his eyes were fixated on me as he busied himself with his genitals.
Visibly disturbed, I tried to look away only to realise that the window's reflection wasn't of any aid as I could very well see how he was able to harass me even though he was standing three feet away from me.
Reflecting back on the incident which took place two semesters ago, I have come to realise that I am not the first student on campus to have been a victim of sexual harassment.
And to add insult to injury – I won't be the last either.
It was during a session arranged by a body of students against sexual harassment at educational institutions that I came across numerous girls; each with her own horrific tale to tell.
Sexual harassment continues to victimise students at educational institutions. Students remain busy in routine academic activities, be it taking classes to doing assignments, studying at the library or enjoying some leisure hours with their peers. Students end up spending most of their time on campus – from morning till late in the evening.
And yet, astoundingly, from the teachers' room to classrooms, computer labs to departmental libraries and libraries to lavatories; there is not a single place I could consider as safe for students.
In the absence of a sexual harassment cell and students voices on the issue, abusers and harassers roam freely, victimising multitudes of students on their way.
Motivated solely by their conviction to rid students of a menace that has been haunting them for decades, students belonging to the National Students Federation Pakistan (NSF), along with students of the Pakistan Study Centre, took up the responsibility of raising much needed awareness amongst their peers. They work to engage students all over the educational sphere of Pakistan on this cause, diligently pursuing the cases of sexual harassment on campuses and struggling to successfully pass indispensable amendments to the Protection against Harassment of women at the Workplace Act, 2010.
The group comprises of well-read, determined and hard-working students from various departments, daring enough to call a spade a spade. The engagement of students from various departments increases the outreach of the group and ensures vast networking on the issue. Since it is led and organised by students, it guarantees confidentiality. Within a short span of time, the group has managed to garner the confidence of students who shared their personal experiences of sexual harassment, amenable to become a part of the cause.
Despite such occurrences, many were left aghast when one shared her experience of receiving a call from a teacher at odd hours,
"It shocked me to the core when a teacher called me during wee hours at night, to share his perverted desire of seeing me in a sari."
Another highlighted how it is easy to be cat-called by men when students use university's transport,
"As I stepped out of the university point, a confident catcall 'Shawl tou uataro' (take off your shawl) left me stunned."
Four successful gatherings, two at KU and two outside the campus have been arranged by the group, so far. Students from various educational institutions including the Habib University, CBM, SZABIST, Agha Khan University and Federal Urdu have also actively participated in the discussions.
Consequently, the struggle of students involved in the committee has resulted in universities from all over Pakistan including, the University of Punjab, Lahore University of Management Sciences (LUMS) and Quaid-e-Azam University, having expressed their willingness to join the cause and carry it forward in their own campuses as well. Demonstration of solidarity by initiatives such as 'Girls at Dhabas', 'Qaaf se Qanoon' (a legal advisory group), theatre groups and various student bodies equates a tenfold increase in the strength of the cause.
Apart from mobilising students all over Pakistan on the cause, the committee is involved in the proceedings of several cases of sexual harassment at KU. Momentarily, the committee is pursuing the case of Dr Navin G Haider, assistant professor at KU, sexually abused by visiting faculty professor Sahar Ansari, a renowned Urdu language critic.
Owing to a highly biased investigation carried out by the seasonal inquiry committee looking after cases of sexual harassment on campus, the accuser has been exempted of all charges by the university administration, a normative outcome of all such reported cases on university grounds. Students, however, negate the judgment and are seeking justice.
A recently accused teacher at the Department of Islamic History, along with another case reported last year at the Department of Social Work is also under stern vigilance of the group.
With student unions having been out rightly banned in 1984, all thanks to the dictatorial regime of General Ziaul Haq, it has become immensely difficult to build a narrative that would counter the status quo, since students reject campus politics. The university administration does not recognise student bodies challenging their perversion, questioning their efficacy and holding them accountable, something which was vital three decades ago when student unions were active in educational institutions of Pakistan.
As expected, this committee encounters the similar unwelcoming attitude from the administration. But instead of wasting their time and effort to change that, the group is instead canvassing students and are explaining their rights to them via sessions, theatre, open-dialogues, flash mobs etc.
At the moment, what the students in Pakistan need to realise is the strength they hold. They need to be able to claim ownership of their university and their issues because, if they don't, cases of students unfairly submitting to harassment will only increase. This is the time to confront the harasser, not submit.
Loading ...