Why is a white or Arab guy playing Rumi?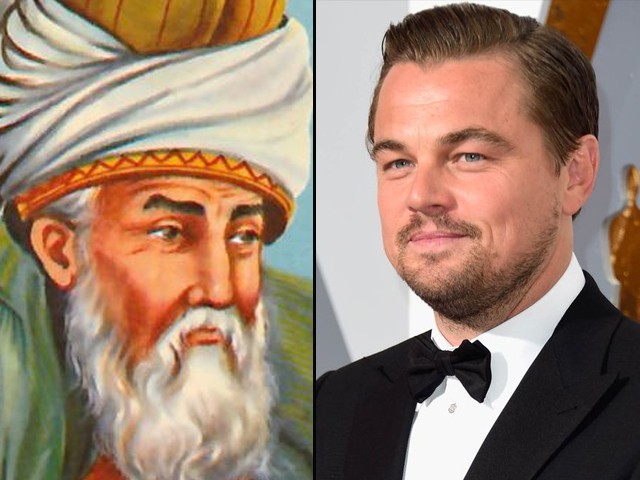 Jalāl ad-Dīn Muhammad Rūmī, better known as simply Rumi, is one of the most beloved poets of all time from Asia to the United States. An Islamic scholar, thinker, and Sufi mystic, he was born in the Eastern part of the Persian Empire – now Afghan territory – which is why it is surprising that Hollywood wants to cast Leonardo DiCaprio, an actor of Italian and German descent, to play him.
What's more, Hollywood wants to cast Robert Downey Jr as Shams Tabrizi, who happened to be Rumi's spiritual instructor, close friend, and a source of inspiration for his work.
The intentions behind the Rumi film certainly seem noble. According to The Guardian, Stephen Joel Brown, the producer of the film, and David Franzoni (Gladiator) the writer, both believe that their film will challenge the stereotypes of typical Muslims in Western cinema.
Franzoni says that Rumi should be held in the same esteem as Shakespeare,
"He's a character who has enormous talent and worth to his society and his people, and obviously resonates today. Those people are always worth exploring."
Both Franzoni and Brown are certainly doing their homework, having visited Rumi's mausoleum in Konya and consulted Rumi experts in Istanbul.
Much of Rumi's life, such as him fleeing from Afghanistan after the Mongol invasion, and traveling through Baghdad, Makkah, and Damascus towards Turkey is undisputed, and should make for compelling viewing. Other aspects, are heavily dipped in legend, and will give those working on the film the artistic license to strongly craft his characterisation.
Let's just hope they tackle it in a nuanced manner. The filmmakers see Shams as a 'chaotic influence who distracted Rumi from his teachings and family,' which is a sign of the sort of chemistry we expect to see between the two characters. As long as they don't turn Shams into a villain, this should work out well.
But though the intentions are clearly good, the decision to cast big name Hollywood actors of European descent in the role of an Asian character is disappointing. Especially when the powers that be say they want to use the film to change how Western audiences view people from this part of the world. Is Hollywood really telling us that they want to use non-Asian actors to portray Asian characters in a better light?
As expected, Twitter was outraged by the casting news, and #RumiWasntWhite quickly began trending across the world.
Don't "challenge Muslim stereotypes" by trying to change fact and history #RumiWasntWhite

— Khushii (@____Zugzwang) June 6, 2016
NO HOLLYWOOD IS NOT GONNA RUIN THIS ONE HE WAS AN ETHNIC PERSIAN AND MUSLIM #RumiWasntWhite

— Mohammed Haidar (@Arshloc) June 7, 2016
So they want a white man to play Rumi, a SUFI PERSIAN poet, but when they need a terrorist they find Muslim actors so easily #RumiWasntWhite

— Aayesha (@AayeshaJ) June 7, 2016
This leads to a bigger concern. Asian, black, and other minority actors earn disproportionately fewer roles in Hollywood according to numerous statistics. What's worse is that the roles these actors earn are of a poorer quality in terms of exposure and billing. This whitewashing is evident in the Academy Awards where for two years in a row, only white actors were nominated, which is highly improbable statistically. An example is how two black films, Creed and Straight Outta Compton, powered by numerous black actors and black producers, only received Academy nominations for the non-black talent. For Appolo it was Sylvester Stallone in a supporting role (the black cast was ignored), while for Straight Outta Compton it was the two white screenwriters (the dozens of black actors and producers were ignored in a story about black hip-hop artists in a black neighbourhood).
Asian and Arab actors have it even worse, with very few roles. The whitewashing is so obvious that in films set in the Middle East or Asia, the bad guys are all played by Arabs and Asians, while the good guys, even when Arab or Asian, are sometimes played by American actors of European descent. I can recall several videogames and Disney movies, where the villains were brown and carried thick Arab accents while the Arab heroes had lighter skin and spoke in soft British or American accents. Of course, who can forget the biblical drama, Gods and Kings, where the major Egyptian characters were anything but Egyptian.
I have seen a few tweets like this one, where the outraged are upset that an Arab actor isn't being considered for Rumi:
Guys. Seriously. #RumiWasntWhite How hard can it POSSIBLY be to find an Middle Eastern actor? Hollywood. Please. STOP. #whitewashing

— J.A.K. Lacroix (@jaklacroix) June 7, 2016
I know these tweets mean well, but there is just one problem. Rumi wasn't Arab either. Let's give this role to an Asian or Persian actor. Just let me know when casting begins.
Loading ...