Lapland: The closest you will ever get to a real Winter Wonderland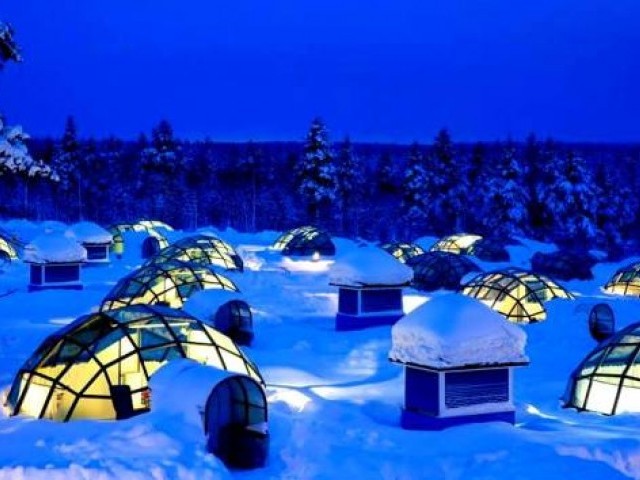 After a fun Friday that was spent exploring Helsinki, early next morning when many were still making their way back home after a night out on the town, we were on our way to catch a flight to Ivalo, Lapland – the northernmost airport in Finland. It was also the closest one to our dreamy destination, Kakslauttanen Arctic Resort.
I still remember the day I saw a travel page's post about this fascinatingly cool arctic resort. It went straight from somewhere in the middle of my newsfeed to the top of my "wander-list". We were expecting a really small plane, but to our surprise it was relatively large, and full too. I think the Japanese myth that a baby conceived under the northern lights is blessed with good fortunes might have to do something with it.
As soon as we began our descent into Ivalo and peeked out of the airplane window we realised it was the closest we'll ever get to a real Winter Wonderland. The mostly monochromatic and untouched landscape as far as our eyes could see was just incredible. And, the air was so fresh that we could actually hear our lungs thanking us for breathing it in. With no luggage checked-in and a small airport, we were out in 10 minutes and were met by the resort rep who drove us down to Saariselkä – home to Kakslauttanen. The 40 minute drive was just stunning.
Kakslauttanen: A cool concept 
Kakslauttanen is an arctic resort in Northern Lapland, which has two villages, the original East Village and the recently expanded West Village. The two villages are about 10 minutes' drive apart and a shuttle runs between them throughout the day. Both villages have the unique glass igloos famous for aurora viewing right from your bed, and traditional log cabin type accommodations. Many people split the stay between the cabins and the igloos to get a flavour of both. The two villages offer the same amenities, facilities and activities, but the West Village is newer and therefore has a more open feel to it, the igloos and cabins are also updated.
Reservations can only be made on a half-board, per-person basis, and the novelty definitely comes with a premium. Glass igloos were the main reason behind our visit so we naturally chose the igloo over the cabins for our stay. We arrived at the West Village around 8:30am after a quick stop at the East Village to drop off some of the passengers.
Nope, the igloo was not ready, and no, we were not on the morning Safari, which meant we had to wait for a bit. Bummer! They were nice enough to offer us complimentary breakfast while we waited, and it was a nice way to get away from the large, but chaotic reception area with people checking in/out, tour guides coming in and people leaving for all the different day activities available to choose from.We knew it was highly unlikely that we would get to check-in early because of the high demand and limited supply of the glass igloos. Even so, we were hoping that they had us on the morning Husky Safari that we had pre-booked through the resort so that we would not have to wait for it.
After breakfast we left our bags in the luggage room to go for a walk around the resort. It was a clear, sunny, but brutally cold -22 degrees celsius day; perfect conditions for aurora sightings, so we were hopeful. It was the kind of cold that every time you inhaled, the inside of your nostrils froze until you exhaled the warm air out. I never thought I'd be in a place this cold and yet be so happy.
With not a single dust particle in sight, the surroundings were pure and perfect. We walked past the cabins and spotted a reindeer farm; I could not help but go on another guilt trip (the ultimate downfall of a desi parent) and think of our kids and how they would have loved them.
The igloos are not very big; there was just enough room for two people to sleep on beds in the middle, which could be adjusted to your liking for aurora hunting right from the comfort of your bed. They are made entirely of glass so there was access to privacy while lying in bed, but not so much when we were standing up inside – something to be noted. After a 20 minute walk (and before our ears froze and fell off) we went back to the reception and were happy to know that our igloo was ready, which meant we had about an hour and a half to rest up before our Husky Safari in the afternoon. We desperately needed it after the early morning flight. The igloos were a short walk away in a secluded part of the resort for light pollution free views of the night skies. We did not have much luggage, but they had these neat wooden sleighs to help guests carry the big and heavy things.
The toilet was in one corner which was also made of glass, specifically frosted glass. The downside was the lack of private showers. They don't have these because they end up fogging the glass igloos.We knew about this before we had made our booking and since we were only staying for a night, it was not a huge deal for us. I am not a fan of shared showers and saunas that are a five minute walk away in the bitter cold, but I understand there are technical reasons behind it. Overall, it was an extremely unique experience, but know that you will be paying a hefty price to get novelty, not luxury.
The rest of our break was refreshing and we were ready for the two hour safari. All of a sudden it was not so sunny and the skies were not so clear anymore. That was not a good sign, but our fingers were crossed and we were too excited for the safari to get worried about the auroras at that point. Thankfully, the safari people provided us with gigantic thermal snow suits and boots to keep us warm enough to return alive.
We were given a quick lesson on "how to drive a husky sleigh"; it is not rocket science, but you do need to know how to make them go faster, slower or stop. The huskies can be pretty wild, loud and intimidating at first. It was quite interesting when one of our dogs set himself loose before we even started. It seemed as though they were just hyper and rearing to go. But the moment they were set free they were as quiet as can be.
It was amazing how calm and content they were the moment we took off. I was the driver for the first half because my partner in crime was too nervous to be the first one to try it. And, I preferred driving the sleigh rather than being a mere passenger because I found it more enjoyable. Plus, this way I had a better view of all the breathtaking beauty around us.
The safari was an unbelievably enriching experience and something that we will cherish forever. Just us, the huskies and nature in its most untainted and unadulterated form. The whole experience left us wondering how time can seemingly stand still,yet fly by so fast considering two hours were over in the blink of an eye. We got to interact with the huskies for a little while after the ride, and meet a puppy over warm tea and snacks. We were all smiles; frozen smiles that is.
We returned to the resort to have more drinks to warm up and rest up before dinner. The preset dinner was actually very good and trying Lappish cuisine went unexpectedly well. I was constantly checking the aurora forecast and it was looking bleaker and bleaker. The skies were not going to clear up anytime soon. The resort itself looked gorgeous at night, but despite endlessly gazing down into the infinitely vast cosmic void, the northern lights betrayed us. We went all in with a one night gamble and lost. Not all bucket list items can be checked off easily, and we knew that was always a very real possibility. But knowing that did not make it any less disappointing. The one thought that cheered us up was that our aurora hunt will have to continue another time, on another fascinating trip.
The next morning it was nice to not have an early morning flight for a change. We slept in and had a nice and relaxed breakfast before we made our way back to Ivalo around noon to catch our flight back home. We would LOVE to go back to Lapland to try some more of the countless activities it offers.
God willing, we plan to return soon for a longer stay maybe around the Lake Inari region of Finland to hopefully improve our aurora odds, and the next time we will make sure we don't leave our two lucky charms behind.
All photos: Seher Khan Rao