19 girls, one car: I was one of them!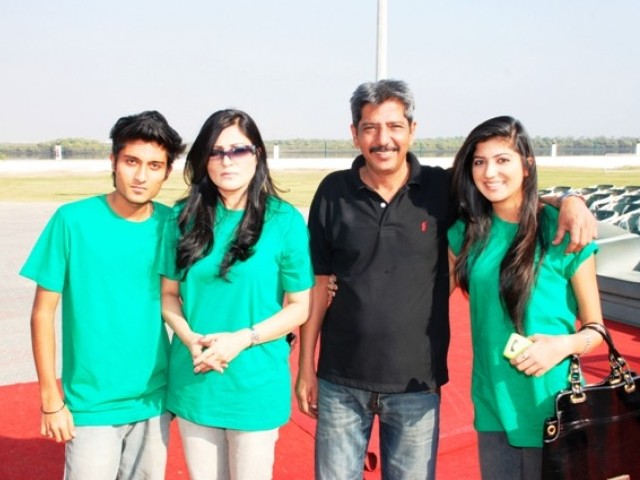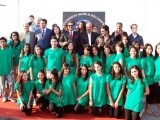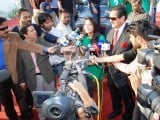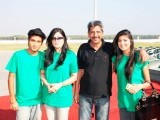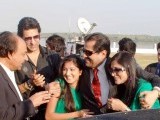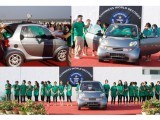 Challenges make you discover things about yourself that you never really knew. They are what make you go beyond the norm.
The same applies to what my team and I achieved on the December 15, 2010 when we successfully set a new Guinness World Record by fitting into a Standard two-seater Daimler Benz Production Smart Car.
Doing something smart with my smart car
I realized that I possess a Smart Car which is a rarity – at least in Pakistan. In fact whenever I took it out on a drive I was followed by inquisitive admirers. While browsing newspaper headlines in my living room, I came across a story on the world's largest cake. This story aroused my curiosity and soon enough I started searching on the internet to see what records were set by my car. After a quick search on Google, I came across a video of 18 people from Australia crammed into a smart car. This was inspirational and I started working on it.
Of course initially whoever heard of it, laughed it off, but I was resolute -I knew something could be done. I started contacting my friends and convinced my parents that something like this could be attempted. Seeing my determination, my parents, Saleem Yousuf and Shereen Saleem, who believed thoroughly in my conviction agreed to help me. Apart from my parents, my brother, Sharam Saleem and both my uncles Dr Mirza Ikhtiar Baig and Ishtiaq Baig supported me and encouraged me throughout my journey. Now there was no looking back.
Preparing for our challenge
After encountering certain teething problems, we were at it. I contacted the officials of the Guinness Book of World Records, and collected the necessary data. With their permission to carry out the record breaking attempt, my team and I started the drills night and day. From the beginning all their requirements were kept in mind including media coverage, height, video footage and a credible jury.
Initially, collecting girls that met the standard requirement for the feat was a challenge itself. Furthermore the examination season posed problems to assembling all of them together. Yet with gaps and glitches, we continued. At one time it seemed that we could not go beyond 12 girls! Slowly we increased the number. We actually had to watch very closely – from hairdos to diets. My mom took the responsibility of not only being the chaperone but also taking care of the details like providing us with deodorants to control body odour and making sure that all the girls were properly showered and had clean hair!
It was fun but the challenge was becoming more and more daunting. Here I would say that without the complete cooperation of my team this would have been impossible. We wanted to show the world that the Pakistani youth, especially the girls, can do what no one else in the world can – and so we did!
Although it was a novel idea – it was challenging. And challenges are what Pakistani youth must think of taking up. My parents, family members, teachers and friends are proud of my team and I. But it's not my victory; it's the victory of our nation. I am happy that my team and I have set this new world record for Pakistan. We are proud Pakistanis today and with a world record attempt in my folio, I hope to conquer the world after I get a degree from a prestigious international university!
Long Live Pakistan!
The 19 participants-without whom this would have been impossible:
Muneezeh Jamal

Sana Javed

Sarah Ahmad

Rabbya Kamran

Rida Ashraf

Eman Samir

Neha Sadruddin

Sana Currimbhoy

Zoya Currimbhoy

Zashanne Malik

Fatima Ismail

Tanya Pabani

Sana Ghazi

Nadia Khan

Anum Afridi

Dania Fayyaz

Hala Faruqi

Hafsa Naveed

Alina Akram