Housefull 3: Awful, painful, and anything but cheerful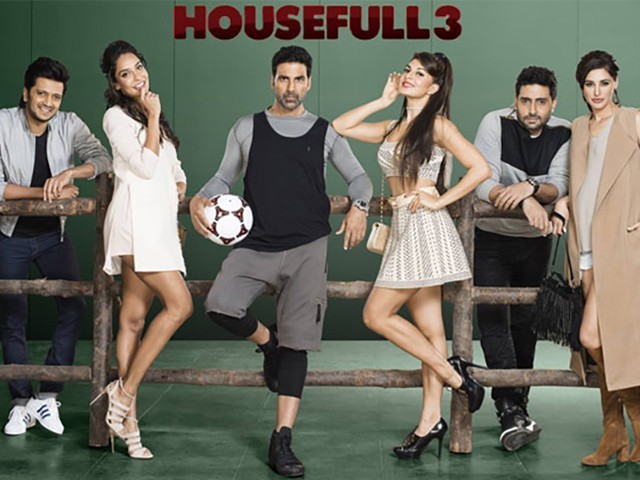 How is it even possible that you go watch a movie with zero expectations, but yet walk out of it feeling utterly let down. And that my friends, is precisely the kind of feat the third instalment of the Housefull series managed to pull off.
Promoted as a rib-tickling screwball comedy, the only reaction Housefull 3 got out of yours truly was that of head-scratching. It surely must be a record of some sorts making a 145 minutes long comedy where not a single joke lands.
So in between all the failed attempts at humour, there is this laughably ridiculous plot where you have got three greedy men who hope to strike it lucky in life by marrying wealthy women.
Now these rich lasses all happen to be offspring of an affluent Gujju businessman in London, Batuk Patel (Boman Irani). Now this Batuk chap doesn't want to marry off his three supposedly sansakri (cultured) daughters – Ganga, Jamuna and Saraswati (Jacqueline Fernandez, Lisa Haydon and Nargis Fakhri respectively) – because of some ludicrous curse that spells doom for the family.
But there is more to the girls than meets their papa's eyes and that amongst other things is to have a boyfriend each. A footballer called Sandy (Akshay Kumar), a rapper called Bunty (Abhishek Bachchan) and a car racer called Teddy (Riteish Deshmukh).
The boys do manage to gain entry to the girls' mansion but by playing crippled, mute and blind. But there is another twist to this already dreadfully twisted fare when there is a shuffle in role playing. The crippled has to turn blind, the one playing mute has to become crippled and the blindness faking guy now plays mute, because of a big baddie, Urja Nagre (Jackie Shroff) to whom their girlfriends' dad owes a king's ransom. What follows is some more senselessness to an already absurd premise.
The jokes that form the basis for the Housefull 3 script have shamelessly been picked up from WhatsApp groups and Facebook memes, but the worst part is that the filmmakers weren't even competent enough to copy the better ones.
Oh, and it took three people to write this movie. Three people. Yes THREE! That is three fully formed human beings, with Rajan Agarwal credited as the Additional Screenwriter completing the troika along with the director and the writer duo of Sajid–Farhad.
Now, put any three people in a room for a few hours, let alone individuals who are actually paid big bucks to write and chances are at least one of them will come up with at least one usable joke. Hell, put three monkeys in a room and you are likely to get one funny gag at the very least. And yet this never happened once during the scripting of Housefull 3. A hundred and forty-five minutes and not one good punchline! How is this even humanly possible?
A 10-year-old equipped with a WhatsApp enabled smartphone would have written a more humorous script than the trio!
No one would go looking for logic in the Housefull franchise but motivating madness and sublime stupidity is definitely worth demanding.
A lot of people would find cracking jokes at the expense of physically challenged, different coloured etc. tasteless and crass of which there are aplenty in this particular fare. I admit I am not that overtly sensitive, but what I am is someone who simply won't put up with an extremely lame sense of humour, something that this movie brazenly throws at us.
Did they really expect us to laugh at this juvenile attempt at comedy where three silly girls are inanely translating English phrases into Hindi; 'Hang out' becoming "latakte hain", "Naukri neeche" meaning 'Calm down' and "Paal-pos ke oopar ja" translating into 'Grow up'!
Then there is Ritesh Deshmukh's character Teddy who keeps mixing words because of the persistent slip of the tongue – wife turns into tawaif (courtesan), virodh (dissent) becomes nirodh (condom) and jawab (answer) converts to julaab (laxative). Even kids will find this brand of hilarity babyish.
Akshay Kumar is known for his impeccable comic timing. But there is a thin line between acting and loud acting and his character's split personality act which takes cue from Fight Club's Edward Norton goes overboard and is just plain obnoxious.
Riteish Deshmukh has only played this kind of comic role for the millionth time while Abhishek Bachchan is just awkward
The ladies, Jacqueline Fernandez, Lisa Haydon and Nargis Fakhri have nothing to add but to look pretty and act dumb.
Boman Irani once again wears a bad wig and is donning an accent whereas Jackie Shroff's character displays more personality than the rest of the cast put together, wish there was more of him.
Housefull 3 is simply a joke of a film where the joke isn't even funny. It is so unfunny that there should probably be a law against seeing it. The penalty: seeing it again.
And if you are still hell-bent on watching this woeful Housefull, check into one of your WhatsApp groups instead. You would find it more cheerful!
Loading ...