Teenage Mutant Ninja Turtles: Possibly Out of the Shadows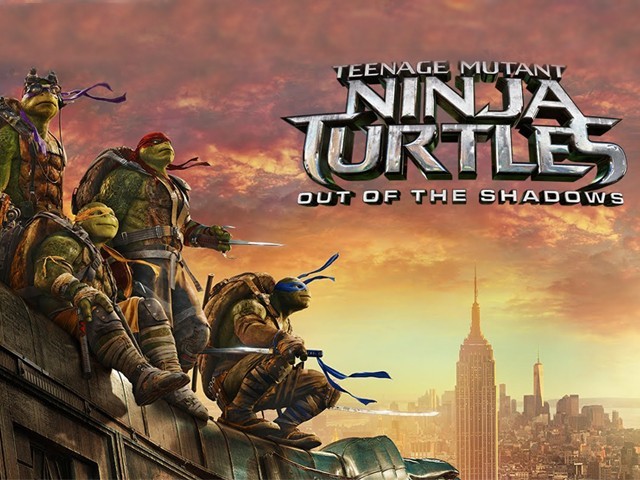 Despite being reviled critically, the Michael Bay produced Teenage Mutant Ninja Turtles took in close to $500 million at the box-office which was supposedly enough to warrant a sequel. But while the 2014 reboot of the 80's comic book about a group of talking, genetically mutated, pizza loving teenage ninja turtles was too dull or bland to be enjoyed in the slightest, its successor, Out of the Shadows thankfully manages to improve considerably. And despite its flaws, it manages to standout as an enjoyable piece of summer popcorn entertainment.
After saving New York City from the wrath of Shredder (Brian Tee), turtles Leonardo (Pete Ploszek), Raphael (Alan Ritchson), Michelangelo (Noel Fisher), and Donatello (Jeremy Howard) are unable to take credit for their heroism, offering all the glory to Vern (Will Arnett). When April (Megan Fox) picks up on strange business being conducted by brilliant scientist Baxter Stockman (Tyler Perry), she calls in her ninja friends for help, soon sharing frustration with NYC law enforcement standards with former cop Casey Jones (Stephen Amell).
Once Shredder is sprung from prison with Baxter's help, the villain enters another dimension, learning of alien brain Krang's (voiced by Brad Garrett) plans to bring his feared war machine, The Technodrome, to Earth to destroy all life. Joined by his mutated henchmen, warthog Bebop (Gary Anthony Williams) and rhino Rocksteady (Stephen Farrelly), Shredder makes plans to open a permanent dimensional porthole with Baxter, forcing the turtles out into the open to prevent disaster.
Out of the Shadows trades in previous director Jonathan Liebsman for Earth to Echo director Dave Green, and while it's hard to see him replacing Michael Bay's heavy hand, there is a noticeable brightness to the sequel.
For one thing, the film actually tries to embrace the silliness of these characters in a way the 80's cartoons did best, which is why they were so successful. Unlike its predecessor, the film doesn't try to be gritty and self-serious; instead it tries to have some actual fun.
Another improvement the sequel makes over the previous film is that it actually gives the turtles distinct personalities instead of them just being a group of interchangeable turtles, separated only by the colour of their eye-bands. Their characters and their world feels more familiar, which is far more faithful to the original source material.
The story feels far more ambitious and entertaining, this time around as well – there's a degree of dumbness, but I guess that's inevitable in a movie like this – the pacing feels tighter, and despite supposedly graduating from the Michael Bay school of visual and sensory overload, director Dave Green is able to craft a couple of really clever and exciting action sequences which flow with great fluidity. The tight pacing does leave room for levity, and surprisingly enough, a lot of the movie's humour actually does hit and the playfulness and the lightheartedness does feel earned.
The new additions to the cast really help to elevate the film as well, which includes Arrow star Stephen Amell who plays the hockey-stick wielding former cop turned vigilante Casey Jones whose charm and energy is really refreshing to watch. There's Gary Anthony Williams and WWE superstar Stephen 'Sheamus' Farelley who play the genetically mutated yet highly incompetent and dumb as nails henchmen Rocksteady and Bebop. The former being a mutant Rhino, while the latter being a mutated Warthog. Both bring the much needed comic relief to the film, that's almost always amusing.
What doesn't work though is Megan Fox returning as reporter April O'Neill, who phones in as much of a comatose performance as she did in the last film, but again she's not really there for her acting, is she?
Laura Linney and Will Arnett are sadly also wasted, which is disappointing given that they are two of the best actors in the cast. Linney fails to do much in the role of a one-dimensional police captain, while Arnett is given a lot of screen-time reprising his role as the cameraman turned celebrity Vernon Fenwick.
And while Rocksteady and Bebop turn out to be welcome additions, Brian Tee's Shredder's is a total bore, doing even less than he did in the previous film and barely even posing as a threat to the turtles. The film's final battle also feels very much like a rip-off of the Battle for New York at the end of the first Avengers movie, but I guess it's something that's easy to forgive, given how much this movie tries to improve from the previous one.
Altogether though, I think Out of the Shadows is a lot of fun and a superior sequel to its hopelessly dull predecessor, it definitely has its flaws and Michael Bay's overhearing creative control can be felt from the very first scene where he somehow manages to get Megan Fox to slip into a sexy schoolgirl outfit, and there's undoubtedly no depth or substance here whatsoever. But I guess this film is similar to good junk food. You know it doesn't add any value to your body, but you enjoy it nonetheless.