Chernobyl Prayer: A chilling walk through nuclear disaster struck lives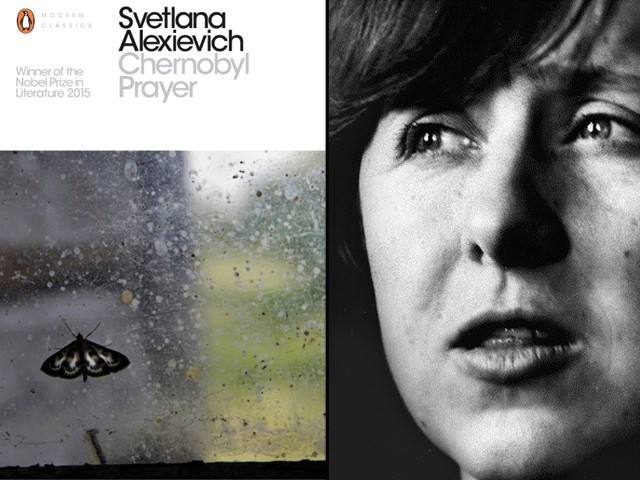 On April 26, 1986, at a nuclear plant in Chernobyl, a restricted district in Ukraine, a slapdash scientific experiment ignited a fire that exploded the plant and unleashed a heavy mass, almost 50 tonnes, of radioactive element into the atmosphere. The radioactive contamination swiftly spread towards much of Western USSR and Europe.
The highly excited nuclear particles infested fields, landscapes, forest, villages and cities, leaving the area highly radioactive for hundreds of years to come. The Chernobyl disaster is one of the worst and most catastrophic nuclear accidents in the history of mankind; hence, it was no surprise that the Soviet authorities tried their best to conceal the disaster.
The Chernobyl nuclear disaster serves as a melancholy backdrop in Chernobyl Prayer, the fourth book by Svetlana Alexievich, a Belarusian journalist, who was awarded the Nobel Prize in Literature last year. Alexievich's Nobel win was pleasantly surprising. In more than 1oo years of its history, the Nobel Prize has primarily been awarded to novelists and poets. Last year, the Swedish Academy awarded the prize to a purely non-fiction writer after more than five decades and this has opened up new avenues, and expanded our idea and definition, of literature.
This book, first published in English in 2oo5, was called Voices from Chernobyl and it's fair to say that this title does more justice to the book, because this is what the book consists of: voices; voices of ordinary people, the victims of the disasters, their families; husbands, wives, children, mothers, lovers. However, after Alexievich's Nobel win, the book has been reissued this year, in a much more impeccable, pellucid and approachable translation, as 'Chernobyl Prayer'.
In the construction of this book, using her natural journalistic instincts, Alexievich adopted a documentary approach; she conducted hundreds and hundreds of interviews with the victims and survivors and weaved them beautifully to form this moving and haunting collection of monologues.
The book begins with a woman's account of the days following the disaster, during which she watches her husband, a firefighter who was burned and injured during the accident, physically disintegrate and deteriorate in a hospital bed. The description of her husband's death from radiation poisoning, after two horrendous weeks of increasing agony and festering wounds, was so deeply harrowing and visceral that I doubted my ability to read on.
However, what compelled me to proceed was the woman's strength and her indelible and relentless love for her dying husband and for the child she was carrying in her womb. In the end, she loses both, her husband and her child; however, it's the power of love and bravery that allows her to live on, and for the reader to read on, an iridescent sense of redemption lingering around the murky corners of tragedy, of loss.
The degree of the devastation, its ensuing damage and trauma, and its menacing nature are perhaps beyond our perception and in this book when we are exposed to such insidious realities, reading this book becomes an extremely despondent experience. It brings us so close to these first hand voices, that we can actually touch the words and eventually the ominous worlds that they create. Alexievich's technique is a potent and alchemical mixture of eloquence and reticence. She distances herself from the text and yet describes the failure, triumph, heroism and grief with such empathy, and she weaves a history that the reader, can relive, revisit, through the minds of her interviewees.
Alexievich's approach of documenting the voices of her interviewees gives us a radiant and vivid sense of their experiences and sometimes to read firsthand accounts of such grueling suffering becomes unbearable. However, there isn't a better and more democratic way of assembling a book of this power and scope. The blatant lack of Alexievich's authorial voice is remarkable. It makes us realise that she has exposed herself to danger, she has traversed an irradiated and contaminated landscape to collect the scrapes of suffering, she has immersed herself in danger, for the sake of giving these voices a new life, in ways that no living author has ever done or will do.
The hundreds of heart-breaking and poignant voices in this book talk about the same experience, the same sort of suffering and anguish. But at the same time each one of the testimonies is fairly distinct and against the overlap in their experiences, these voices retain their own sadness, their own particular misery. This adds to depth and humanity of the book and the remarkable scope and ambition of Alexievich's technique. It's dejecting to read and experience, but by allowing these voices to spill the concealed truths, she has created a powerful historical narrative, which is much more potent and moving as a form of oral history than it would have been in a traditional fact based history book.
In this hypnotically surreal, devastating and spellbinding book, through her powerful and painfully tender exploration of fatality, Alexievich has deepened and amplified our understanding of the conditions of the post-Soviet individual. She has given us a haunting history of suffering, a history of emotion and the soul, and in doing so, she has rightly, deservedly and timely been awarded, in the words of the Swedish Nobel Academy,
"For her polyphonic writings, a monument to suffering and courage in our time."