A spooky treat: Pakistan's first believable found-footage film, Aksbandh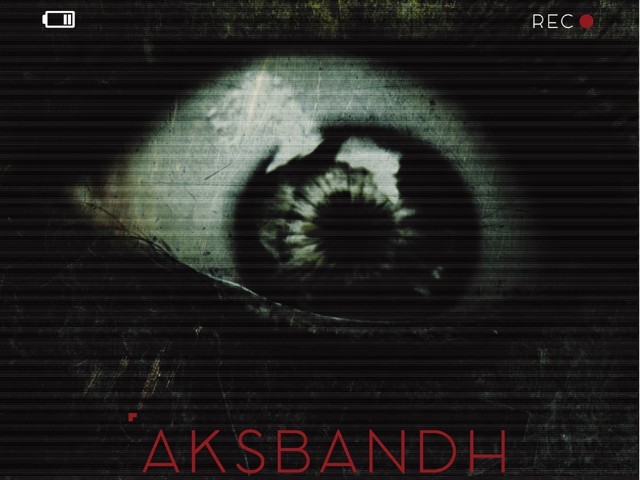 Aksbandh, Lollywood's first-of-a-kind horror movie, which has been inspired by the found-footage format in American supernatural horror movie series Paranormal Activity, hit cinemas on May 20, 2016.
The movie, which is also similar to the Final Destination series, was made in partnership with Hum TV, Urdu1 and Express News, and has been directed by Emram Hussain and co-written by Ayaz Samoo.
The story revolves around a group of amateur college-going film-makers who wish to make a movie of their own. To shoot their project, they decide to go to the Mangrove forests of Larkana (Sindh). The group starts its adventure in a frenzy of excitement. However, as they go further onto their expedition, their fervour begins to waver.
The movie starts with the main characters, Ayaan (Daniyal Afzal Khan), Saadia (Shehzeen Rahat), Alia (Mahrukh Rizvi), Raheel (Bilal Yousufzai), Shehzad (Saud Imtiaz) and Sunny (Ayaz Samoo), introducing themselves on camera.
Ayaan and Saadia are the directors of the project; Alia and Raheel play their roles in scene one. A dog-tired comedy but reasonable wit also weaves its way through the 'very horror' (pun intended) film as Alia is asked,
"What kind of boys do you like?"
But Saadia comes to the rescue and saves her from being embarrassed.
As the movie progresses, the plot solidifies as well. The suspense kicks in when Ayaan, the 'director', refuses to believe that there is a sinister supernatural presence in the area of their guest house. It's only when he experiences some activity first-hand that he realises how wrong he was.
Ayaan is a violent bully and usually the first one to point fingers and label people as cowards. Despite being passionate  about his so-called 'dream' project, he backs out. This is where the title of the movie Aksbandh or 'inner reflection' is realised.
But I'll leave the details for the viewers to find out.
The prowess of the director and producer of the film lies in their knack of enhancing the cinematic experience; producing a horror movie whilst retaining the element of believability is a truly commendable skill. The difference between filmic reality and role-play is depicted with a clarity that is remarkable.
The film concludes with the director's script becoming a reality – submerging fiction with reel-reality, leaving the audience overwhelmed. The film did not emit the kind of response that was expected from the audience.
Despite all efforts put into it, the movie was not received as expected. Some people found it to be 'ridiculously funny' while others said it was 'far from being horror'. This could be because the horror genre has a niche following worldwide and Lollywood is still a newbie in the game.
However, I feel our cinema has the potential to improve. Comparing it to Bollywood, where item songs, emphasis on good looks, absurdly skinny figures, ridiculously high standards of beauty, and vulgarity are the main focus, Pakistani cinema comes up with contemporary yet meaningful storylines.
I strongly recommend this film to all those who enjoy a believable horror movie. A must watch it is!