My family's most treasured recipe, Tamatar Gosht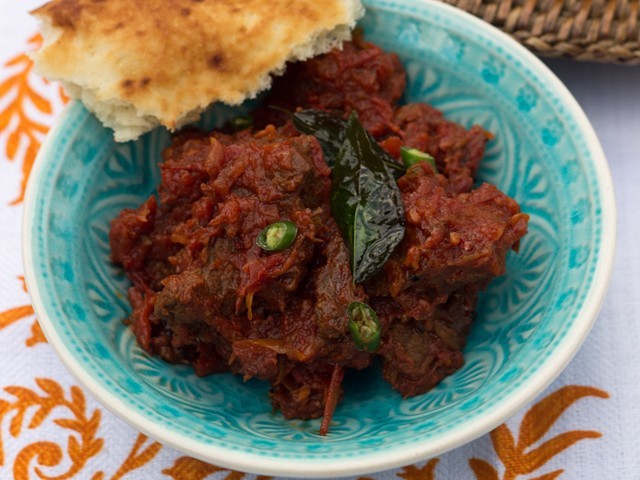 Pakistani meat dishes to me are a celebration of local produce. Combining fresh seasonal vegetables with tender meat is the ultimate in rejoicing my land. Tamatar Gosht, which literally means 'Tomato Meat', is my most treasured family recipe.
My mother combines many cooking styles and this recipe speaks just that; meat cooked with vegetables – a Punjabi idiocyrancy – together with her adopted North Indian habit of 'Bhuna' or well-stewed meat with Sindhi nuances of the use of curry leaves and the use of Indian 'Panch Puran' mixed spices. This is just the kind of Pakistani cuisine I grew up eating.
What I love most about this recipe is that it's not a generic curry. It's more like a dry stew with a thick tomato paste enveloping the lamb. The tartness of the tomatoes which are sweetened with the slow cooking, results in melt-in-the-mouth lamb. The piquancy and meatiness is moorish and utterly sublime. The final tempering is unusual and is my mother's trick. It adds a distinctly identifiable flavour but one which will keep you guessing its unusual taste.
You do need to cook this one a bit. The idea is to get all the water from the tomatoes and meat to evaporate and it is then that the work begins. You cook it till you can smell the mouth-watering homely aroma of fried tomatoes and meat – the smell lingers in your home. To me, it smells like my mother's well-seasoned kitchen and lovely warm summer days with lavish lunches and sounds of family chatter across a well adorned dining table.
Ingredients:
Vegetable oil, corn or sunflower – 1/2 cup to 1 cup
Coriander seeds – 2 tsp
Cumin seeds – 2 tsp
Cinnamon – 1 large stick
Onions (large) – 1 to 2 (chopped)
Ginger and garlic paste – 1 tbsp
Tomatoes (medium) – 10 to 12 (roughly chopped)
Lamb for casserole – 0.8 kg/ 1.76 lbs (diced)
Salt to taste
Green chillies – 3
Red chilli – 1
Tomato puree – 1 to2 tbsp
Tempering:
Panch Puran (a Bengali whole spice blend of fenugreek, nigella seed, cumin seed, black mustard seed and fennel seed in equal parts, can make up yourself or buy from any Asian grocer) – 1 tbsp
Vegetable oil – 1 tbsp
Curry leaves – 5 to 10 (dried but preferably fresh)
Garnish with fresh coriander leaves
Takes about one to one and a half hours to prepare and cook and serves about three to four people served with rice or even with naan.
Method:
1. Heat a large saucepan with the oil and once hot, fry the cumin, coriander and cinnamon. When the spices start spluttering, add the onions and cook until translucent. Then add ginger-garlic paste. Fry until the raw garlic smell leaves. Be careful not to burn the contents. Add the chillies now too.
2. Add the tomatoes and cook. Keep stirring until the water runs half dry and then add the lamb. Cover and cook for 30 minutes covered, on low heat. Stir occasionally.
3. When the water runs quite dry, turn up the heat and fry and add the tomato puree at this point (10 minutes or so). Keep frying until you are left with the thick, red, fragrant paste surrounding the lamb and the lamb is cooked through.
4. In a small frying pan heat some oil, add the panch puran and curry leaves until they splutter and add to the lamb. Serve with a garnish of coriander leaves and rice or naan and some Greek yoghurt.
Tips:
Keep in the fridge for up to two days, it is better the next day.
Frozen on the same day, becomes even better once defrosted and slowly re-heated on low flame.
Photo: Sumayya Usmani
This post originally appeared here.