Watch Azhar if you are a Mohammad Azharuddin fan, don't watch it if you are a cricket fan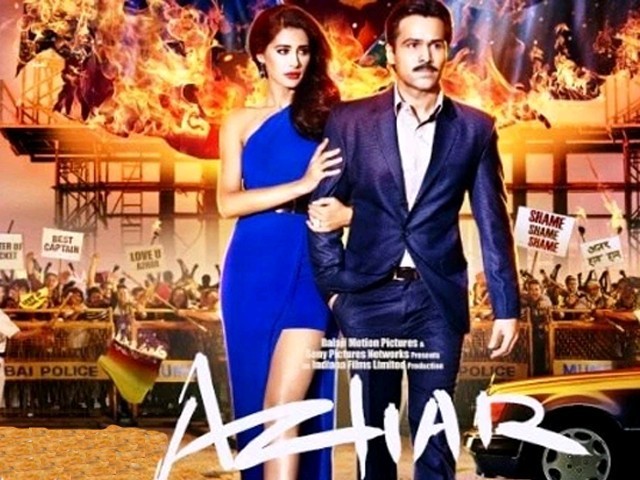 Bollywood has had its own share of fascination with biopics and sports movies alike, and most of the films in both genres have suffered from various problems.
Biopics have suffered because of the glorification of the heroes, making them much larger than they actually were in reality. This is evident in Bhaag Milkha Bhaag, The Dirty Picture or the countless Bhagat Singh movies. Even though Milkha Singh won accolades and awards across the country, the exaggeration in his character development was painfully evident.
Sports films, on the other hand, have suffered from the lack of technical knowledge of the sport itself. Goal made a mockery of football and Kai Po Che did not even know the field placements in cricket. Even Aamir Khan, the perfectionist, overlooked the fact that English cricket used a five ball over in 1893 and moved to six ball overs in 1902, even though his film Lagaan is set in 1893. Never mind Awwal Number.
There are exceptions such as the biopic Paan Singh Tomar and sports movies like Chak De India, but then there are also accidents in Bollywood. Azhar is a combination of a biopic and a sports movie; which means the producers face the challenge of glorifying the life of the lead and technical aspects of the sport as well. The question is whether Azhar is an exceptional film like Paan Singh or does it just add to the list of hyperbolic biopics from Bollywood?
By the end of the review, we will have the answer.
Concerning technical parts of cricket, it's a hit-and-miss. Mohammad Azharuddin's statistics have been accurately shown, including his first three centuries. The transition of cricket kits is an interestingly picked detail, as trousers have moved from button to string over the years. But at the same time, showing a white ball for ODIs during the 80s in the sub-continent is a big miss. The cricket bats in question have thick blades with curved tops which have only been a phenomenon of the last decade, after Azhar's retirement, not before his international debut.
Though the real problem lies in the glorification of Azhar's character, played by Emraan Hashmi. Not being impartial in one's biography is one thing, blatantly depicting him as an angel is another. Azhar is not just a good cricketer and leader; he is also a saviour of damsels in distress and knows how to con the criminal bookies; all of which is proven by gutsy hard hitting dialogues.
Interestingly though, it is not only Azhar whose character has been glorified. Sangeeta Bijlani (Nargis Fakhri) is shown nothing short of a saint in the film, which is highly debatable. Azhar's first wife, Naureen (Prachi Desai), is also shown as the most accommodating person ever, even during the time when the mistress comes in, while in real life Azhar had to part ways with a bit of cash surplus and real estate to close that particular chapter of his life.
I have nothing against Sangeeta or Naureen, but showing them in a real light would have added a realistic touch to the film which was completely missing in the biopic. Yes, it was a biopic, but with a handful of believable parts.
Debutant director Tony D'Souza has picked up Ekta Kapoor's usual suspect in writing, Rajat Arora who also penned The Dirty Picture and Once Upon A Time in Mumbaai, both of which were biopics. This time, though, Rajat has gone too far with creative liberty.
The script is weak in general and knowledge of the subject matter, cricket, is shaky and the sincerity towards all angles of Azhar's court drama is incredibly biased. Even the way the dots of the script were connected is extremely chaotic. The movie hardly opens any new perspectives to the viewer other than simply showing Azhar's perspective. The courtroom scenes are flat, uninteresting, lengthy and quite fake. To add salt to the injury, the narration is not simple either and is webbed with flashbacks and the present timeline.
The climax is weak and hasty, if the conclusion was as simple as shown, the case would not have continued for years. Tony's treatment of the screenplay is shaky and requires a lot of refinement. The film has a strong premise of courtroom battle proving Azhar's innocence or guilt; however, it has been made like a love triangle and patriotism drama. Azhar could have actually been shot entirely in court, like Danny Boyle's Steve Jobs. That is, obviously, too much to ask for from a Bollywood masala biopic.
Characterisation is also a mix of ups-and-downs. While Manoj Prabharkar's portrayal is excellent, Ravi Shastri's is good; Kapil Dev's is rather uninspiring. Sangeeta Bijalni had a lot more aura and charm than Nargis Fakhri can demonstrate in her entire life time.
The biggest failure was Azhar's lawyer, a nonsensical comic Andhra character called Reddy, played by Kunaal Roy Kapoor. Lara Dutta's portrayal of Meera, the prosecutor of the courtroom drama is yawn inducing and wasted. Make-up and costumes are poor in general and show no progress over a period of 30 years from the 80s to 2011.
Emran Hashmi's work needs praise. He has mastered Azhar's body language to perfection. His signature walk coupled with neck movements, raised collars and use of barray bhai, just like the real Azhar; make for a very precise depiction of the cricketer and shows that some research has been put in developing the reel Azhar from the real Azhar.
Despite the good work, there is still a question of the best possible casting. Hashmi did not copy Azhar's vocal tone that well; the real Azhar speaks much faster. Also, Hashmi is also approximately four and a half inches shorter than Azhar. Perhaps Akshay Kumar would have done it better than Emran? I guess we will never find out.
Azhar might bring in numbers, but on the whole, it's a hit and miss film with a lot of things going against it. Watch it if you are an Azharuddin fan, don't watch it if you are a cricket fan.
Loading ...