Will I ever find an incentive to keep paying my taxes every year?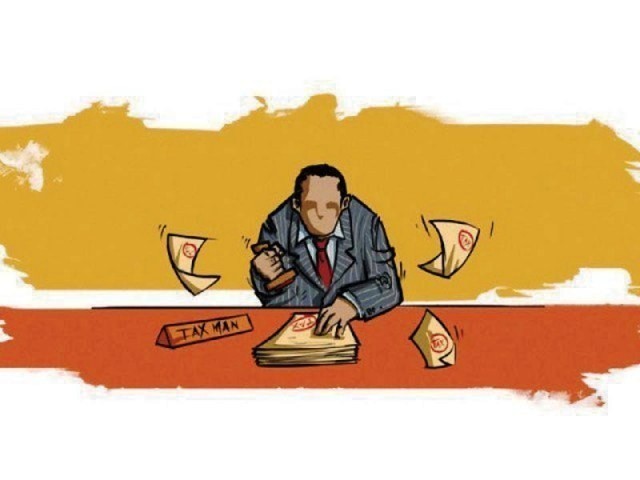 As an employee who lives his life from one pay cheque to the next, I rejoice with the fresh set of energy that generates in the last few days of every month. Fortunately, I work for a private firm which follows a strict set salary cycle every month, compensating employees on a timely basis. The bank credit text message received every month, confirming my salary's transferred into my bank account, contains a figure that translates into an immeasurable emotional elation every time I see it in my inbox.
However, a significant portion of my salary gets chopped away in lieu of taxes before I can even smell the scent of my hard earned money. Being an optimist, I, like many professionals, look at the brighter side and consider this as a duty to my homeland. Not only that, I also willingly go through a double taxation exercise where, in addition to my income tax, I pay a bunch of other taxes at various junctures which include general sales tax, withholding tax, federal excise duty (FED), Sindh sales tax, wealth tax, property tax, motor vehicle tax, capital gain tax, capital value tax, airport tax and a long list of surcharges which are part of my monthly utility bills (and which many people like me overlook completely).
Our taxes every month help the country, its government and various welfare functions to operate seamlessly.
But is that really true for Pakistan?
Let's drop the optimism and look at the real deal.
For us, these taxes are the government's source of income which it extracts from the populace to benefit them in ways untold.
Do I pay taxes to get the basic necessities in life or does it go the other way? Just looking at a few examples from my daily life where results of my paid tax are evident – there is nothing but sheer remorse that awaits me.
In summers, access to non-stop electricity and running water is considered a luxury for even the affluent classes. In winters, hearing someone using a gas heater at home is an unreal thing. I have to buy generators or a UPS and its batteries to keep myself alive in the summers when there is no electricity. I have to buy water tanks/containers to hoard extra water at home while begging the tanker mafia to fill my ground tanks when, one fine day, the water decides to disappear from the taps (which persists for several days).
I have to buy LPG cylinders or pay its rent to ensure that my wife can cook food so that we may sustain ourselves during the bone chilling winters. I have to set the alarm for 3am in the cold winter nights so the family can wake up and cook food for the next day – all because the gas pressure is ideal at that ungodly hour. Interestingly, I have to pay more taxes to avail all the above facilities, as they are taxed heavily due to surging demands during peak seasons.
Moving on, I drive myself from and to office but I have to keep a mental map of all the menacing road pits, unwanted ditches and threatening road cracks which are waiting to devastate my car any day. Underestimating any of these ominous beings can result in misaligned wheels, body damage and parts breakdown for which I will have to go to a mechanic or showroom for service. The service charges will be accompanied by a new set of taxes applicable only to auto parts and services.
A basic right of any citizen is security to life and possessions. Since I know that the chances of getting mugged increase exponentially on any road denuded of street lights, I have to stay vigilant more than ever. Carrying extra phones, avoiding display of unnecessary accessories and ensuring there is extra cash in my wallet, are some of the measures that I need to take for servicing any mugger that comes my way. Most muggings go unreported as the police, who by the way are compensated by the taxes we pay, do not give two hoots about their foremost duty.
The beauty of the entire episode is that, after getting mugged, I end up at a mobile shop buying a new phone, along with a prepaid card to upload my balance, only to pay more taxes to the government that further increases its taxation on the Telecom industry, burdening it even more.
Recently, even accessing my own money has become a problem, considering it is automatically transferred into my bank account. If I approach an ATM to withdraw my own hard-earned money, I'm informed that if I exceed a certain amount, the rest cannot be drawn free of charge. The irony behind this is that if I cross the prescribed limit, I have to pay a tax for being overly extravagant. This law now applies to all forms of online/offline transactions, benefitting banks which now have the assurance of keeping deposits over a longer period of time.
As a predominantly young and convenience seeking nation, the growing trend of eating out is on the rise in Pakistan. This sector has experienced one of the highest growth rates over the past few years. Therefore, it's obvious that this too, is taxed in colossal proportions.
The bill that arrives at the end of a meal in a restaurant is conveniently inclusive of the 17 per cent general sales tax, penalising you for this gourmet venture. The smart restaurateurs never highlight this facet and those that do, do so through a small (read: unrecognisable) asterisk, immediately shocking us at the first sight of the bill. Social dictum of our society disables one from arguing on such matters in front of the family/friends who have been invited in the spirit of generosity.
The above are just a few examples that highlight the frustrations that a tax payer has to face even after fulfilling his/her duties. The middle class, the backbone of any economy, have to pay the highest price in this situation. With a limited salary and an uncontrolled economic environment, a salaried person has to fight many battles. Be it his depleting savings rate every month or the ever increasing inflationary pressure evident at the end of every grocery shopping venture; or getting battered by new taxes every budget year or getting mauled by government machinery incessantly on utilities – the worst is never over for us.
With a 180-200 million strong population with 3.6 million registered tax payers, I wonder if I will be rewarded in the afterlife for diligently paying my taxes now considering I have not reaped its benefits thus far. With millions of tax evaders getting lucrative incentives for declaring their hidden assets/real income, will I ever find an incentive to keep paying my taxes every year? 
Loading ...