The problem is not with the PTI jalsa, it is with our misogynistic mindset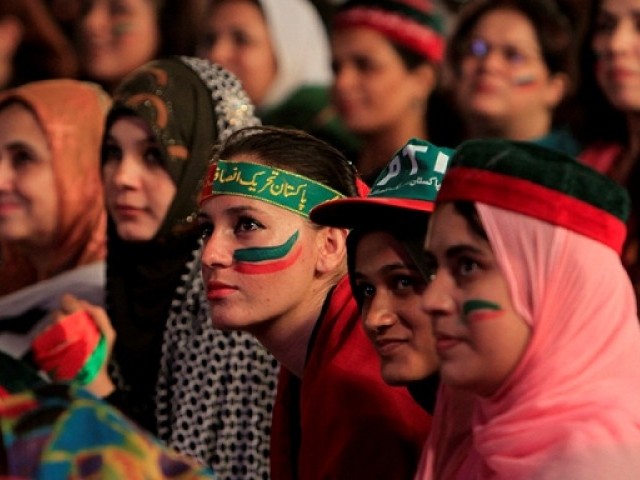 The women harassment incident at a public demonstration by Pakistan Tehreek-e-Insaaf (PTI) in Islamabad was taken by storm on social media. The news didn't only spread like wildfire but invited scorching criticism from all and sundry. The condemnation spree was so intense that the Chairman of PTI, Imran Khan, had to offer a public apology, one that was rightly due on his part, to appease the critics.
Besides an apology, he assured that there would be an investigation into the matter and that the culprits would be taken to the task. He further assured that more precautionary and rigorous arrangements would be ensured to protect the women participating in his party's rallies. The party's activists and disciples claimed the reports to be highly exaggerated whereas the counter voices termed the reports to be true. Nevertheless, no excuse ranging from the limitations of crowd management to the lack of enough security can be presented as an argument to such an unfortunate episode.
The misogynist and patriarchal minds feel no qualms in labelling women present in political rallies as 'be-haya' (immodest), going as far as to say that, 'women asked for it'. A lot of political scoring is hidden under the garb of filthy statements that are undermining the right of women to support and participate in political movements.
A vast majority of conservatives and, surprisingly, even a few liberals – are slandering PTI rallies as a platform for 'naach gana' (song and dance) and accusing its political movement as a medium of spreading 'fahashi' (obscenity).
The ugliness doesn't end here.
The political opponents of PTI, including the female representatives, are brazenly smearing female supporters by saying, 'women go to PTI rallies to seduce men'. In a further attempt to malign PTI, it is being attributed by its political opponents as the party that not only possesses, but promotes the culture of women harassment which is downright wrong.
What I fail to understand is why are we even blaming PTI or women, when it's our Pakistani mentality that's at fault here?
Islamabad is regarded as the most literate, civilised and safe city of Pakistan. Yet, having been born and bred here, I can assure you that if a lady is made to stand alone anywhere, she will be preyed upon by lust-hungry men within minutes. Not that there's any physical touching involved, but 'nooch khaany wali nazrein' (lecherous looks), cat calling and cars stopping by asking, 'jana hai?' is emotionally violating.
I recall a friend telling me about a personal incident where a taxi driver approached her where she stood at the bus stop saying,
"Jana hai? Chalo, I can pay".
Quite recently, I was at Centaurus mall, when a man pushed himself into an already overloaded lift. He showed no concern for personal space, and rather, placed himself right in front of my face. I had to coil my arms around my chest whilst enduring the suffocation of his presence. I could hardly breathe.
If our men have still not learned a simple civic ethic of regarding personal space, how can we expect anything more?
Women harassment is a mental and behavioural disorder. It's a mind-set. It's a societal issue. To confine the prevalence of this mind-set and social evil to any political party is grossly unjustified.
We live in a society where objectifying women and stamping character certificates against them is our most convenient hobby. Harassment of such sorts is not new; misbehaving with women or harassing them is an attribute we have inherited from our progenitors and the legacy we are passing on to our offspring.
Our awareness is brought back with every fresh incident until the news bubbles down and our sentiments become dormant, then more news makes headlines; we complain, we fuss over on social media, and then our concerns die with the news. It's cyclical but a permanent solution has yet to be proposed. Nobody lets their fingers touch the roots of this demon. Nobody bothers to identify how to actually remedy this.
The deeply embedded sickness can't be treated by locking up or fencing women behind concrete walls. Women staying indoors or outdoors, going or not going to political rallies can't cure this disease. An open sewer (a man's mind) spewing this ugliness can't be clogged up by putting barricades around women. These thorny-wires and barriers can probably stop the physical encroachment but, what about the mental encroachment? How would barriers fix the mentality where men think 'taarna' (ogling) is their birth right? If countered, with sheer chutzpah, they say,
'Allah ki makhlooq hain, ab dekhein bhi nahi?' 

(They are God's creation, how can we not look?) 
Can any tangible barrier stop that?
The treatment of this disease lies in parenting and schooling. The cure to the mind that is conditioned to flirt, stare, hound, ill-treat, demean and objectify women lies in educating our children, especially boys, from a very young age. The conviction of women-respect is the most powerful antidote to women harassment. And the birth of this conviction will take place in our homes, when all the fathers begin to respect their daughters, husbands will respect their wives and brothers will respect their sisters; when we realise that respecting women doesn't only entail the women residing in our homes or bear a blood relation.
The public representatives should also act upon the social and moral responsibility of educating the masses by transcending political differences; encouraging women participation in politics; and seizing the voices that disgrace, vilify and discourage it. All political parties should aid the growth of a culture where women involvement in politics is not only respected but, is widely cheered; that is where the strength of the democracy lies.
PTI has postponed its rally in Faisalabad because of this encounter. I hope that when the next rally does take place, we do not witness another gross mistreatment of women. Just like any other patriotic citizen, they are there to fight for a cause, not to seduce anyone.
Loading ...