Can The Night Manager be as good as a small-screen James Bond?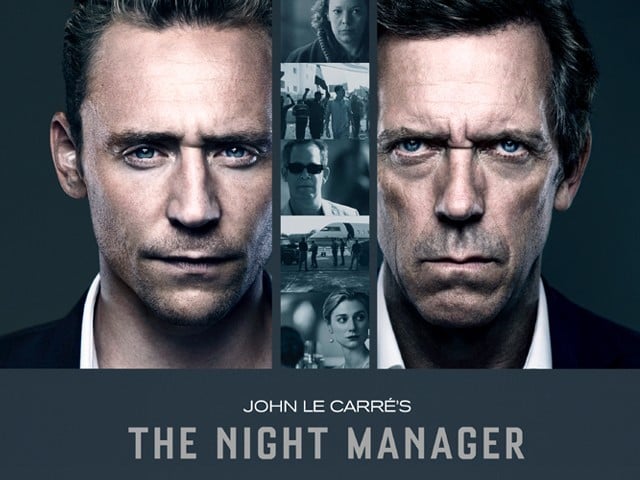 The Night Manager is one of the many adaptions based on the work of the bestselling espionage novelist, John le Carré.  The Night Manager, the book, was published in 1993 and was brought to TV by BBC and AMC as a mini-series comprising of six episodes.
This mini-series is directed by Susanne Bier, staring  Tom Hiddleston as Jonathan Pine and Olivia Colman as Angela Burr.
Jonathan Pine, a former British soldier, currently working as a night manager of a hotel in Egypt, is hired by intelligence agents for an exciting yet dangerous mission. He has to navigate an alliance between the intelligence community within Whitehall and Washington DC, and also infiltrate the inner circle of an international arms dealer, comprising of Richard Onslow Roper (Hugh Laurie), Jed, his girlfriend (Elizabeth Debicki) and Corkoran, his ad associate (Tom Hollander).
The director was wise to adopt this as a mini-series and not a movie, because the result would have been disastrous had he attempted the latter. Each episode of this show is fast paced and nail biting. I must say, I was mildly surprised when I heard that Hugh Laurie, who usually plays the good guy, was playing the villain. Being the maestro that he is, he manages to nail the role and it's hard to imagine anyone else portraying this conniving bad guy.
Tom Hiddleston's portrayal of Jonathan Pine is top notch and his scenes with Hugh Laurie are a treat for the viewers. Hiddleston comes across as the small screen's James Bond. The supporting cast has done a commendable job as well. Elizabeth Debicki perfectly fits the troubled girlfriends' role, while Tom Hollander makes viewers hate Corkoran with all their heart.
The sleek guns and bubbling champagne coupled with the mesmerising background music make the opening credits a visual treat. The show's £30 million budget allowed the filming to take place in countries such as Spain, Devon, Morocco and Switzerland, making it an exotic adventure, adding to its allure.
The world of elite criminals, intelligence officers, conspiracies, betrayal and revenge is showcased in this brilliantly written TV show. I guarantee these six episodes will leave you wanting more. I have my fingers crossed in anticipation of season two being as great as this one.