Has Pakistan already turned its back on Afridi?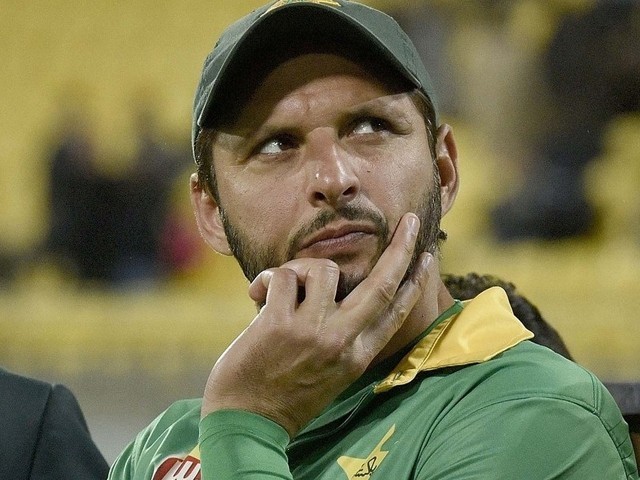 Pakistani cricket is facing yet another controversy, but this time around it isn't related to the players or the board, it involves the corporate world as well.
This unique controversy began taking shape when a fake Twitter account impersonating  Pervez Khattak, the Chief Minister of Khyber Pakhtunkhwa (K-P) tweeted the K-P Government was granting honorary citizenship to the West Indian skipper, Darren Sammy.
Apparently, this was done on Peshawar Zalmi's owner, Javed Afridi's, request. Needless to say, the tweet went viral which resulted in the K-P government clarifying that only the federal government has the authority to offer any type of citizenship to an individual.
However, this was not the first time this Twitter account has caused problems for the K-P government; a few days ago, a tweet announced Javed Afridi's nomination for the Presidential Award, owing to his contribution to the field of sports.
Since both tweets had originated from the same account and sounded vaguely similar, it raised a red flag and I decided to dig deeper, hoping to get some answers. My mission led me to unearthing plenty of interesting facts such as the link between Shahid Afridi, Farhan Virk, Javed Afridi and Darren Sammy.
There's more to this mystery than what we know.
It is common knowledge that Shahid Afridi introduced the industrial tycoon, Javed Afridi, to the cricketing world. Apparently, both Afridi's shared a special bond.
But, what exactly led to their relationship fraying over time?
Even though Islamabad United had successfully won the auction for Shahid Afridi, his request to join Javed Afridi's Peshawar Zalmi was granted instead. This cements the fact that Javed Afridi and Shahid Afridi were close friends.
But perhaps, Javed Afridi was too quick to assume that Shahid Afridi's request to join his team would delay his retirement, scheduled after the T20 World Cup. Maybe the two weren't as close as Javed Afridi thought they were, considering Shahid Afridi's response to this was far from cordial.
Shahid Afridi, as a professional international cricketer, expressed immense dissatisfaction on Twitter, declaring that only he makes decisions regarding his career.
All talks about my retirement are baseless. I havent taken anyones advice yet. Focusing on the Asia cup and then will decide later.

— Shahid Afridi (@SAfridiOfficial) February 25, 2016
My career decisions will be made solely by me only keeping in mind whats good for my country and its people. #Zindabad

— Shahid Afridi (@SAfridiOfficial) February 25, 2016
Shahid Afridi's firm response led to Javed Afridi aligning himself with Darren Sammy, also a member of Peshawar Zalmi. Irritated by his response, Javed Afridi announced Rs2 million cash prize for the West Indian skipper in support of him and his "excellent team spirit".
And so the cold war between these two continued.
More than one source, including a Lahore based player of our National Cricket team, claimed that Shahid Afridi has already decided not to play for Zalmi in the next season. Sources also claim that Sammy may be appointed as the new skipper for the team in the next PSL session. What exactly is brewing in this pot, nobody knows.
Shahid Afridi, best known for his unpredictable performances and his vocal stance about the Pakistan Cricket Board (PCB) managers; may soon be seeing an end to his decade long career.
Even though PCB hasn't decided Boom Boom's future, it seems that his career is in jeopardy as his friends-cum-promoters have started turning their backs on him. This enigmatic character may soon become just another name in Pakistani cricket.