On a quest for the ultimate brownies? Well look no further!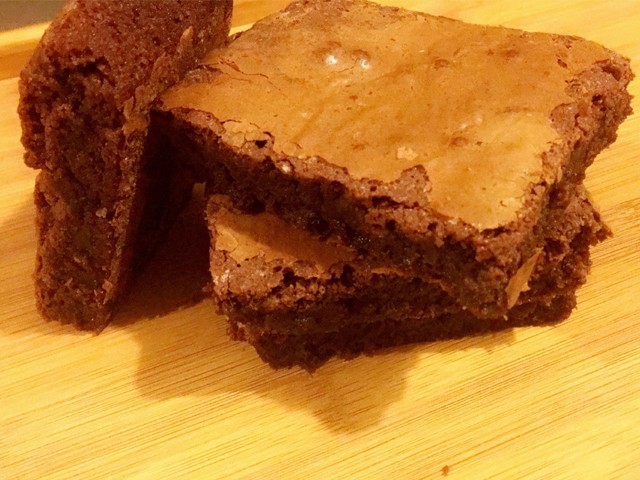 If given a choice between cookies and cake, it will always be brownies, any given day!
The biggest concern when baking these scrumptious sweethearts is whether they will turn out to be chewy, fudgy or even dry like a cake for that matter. The secret behind getting them just right is to make sure that the batter is of the perfect consistency. My penchant for brownies led me on the ultimate quest, during which I ended up wasting a chunk of groceries and got scolded multiple times by my mother for making a mess in her kitchen, but I finally found my lost love.
This easy peasy recipe is for my favourite type of brownies, the sweet and chewy kind. These are made with a higher ratio of chocolate, eggs and butter.
Note: This recipe is lethal. Heavy breathing is usually a consequence. Broken hearts are known to be fixed.
Ingredients:
Butter – 115 grams or ½ cup
Chocolate – 10 oz or 285 grams (I used Dairy Milk's Bubbly)
Flour – 1 cup
Eggs – 3
Sugar – 11/3 cup
Cocoa powder – 2 ½ tsp
Coffee (mixed with water) – 2-3 tbsp
Method:
1. Pre-heat oven to 180 degrees.
2. Melt the chocolate and butter together in a double boiler. Make sure not to burn the butter by overheating it.
3. Beat sugar and eggs in a bowl until fluffy.
4. Add the dry ingredients into the egg and sugar mixture and mix well.
5. Add the melted chocolate and butter into the mixture and mix well.
6. Line a baking tray with parchment paper. Transfer the mixture onto the tray and pop it in the oven.
7. Bake for 40-50 minutes. Time may vary according to the oven. When the brownies detach from the side of the tray, you know they are done.
Helpful tips:
– Use a metal tray rather than a glass one as the brownies bake quicker.
– Do not cut the brownies unless they have cooled properly.
– Do not over bake the brownies.
I love having these beauties ala mode or with a scoop of vanilla ice cream.
All photos: Mahrukh Nadeem