If you love chocolate chip brownies, this is the recipe for you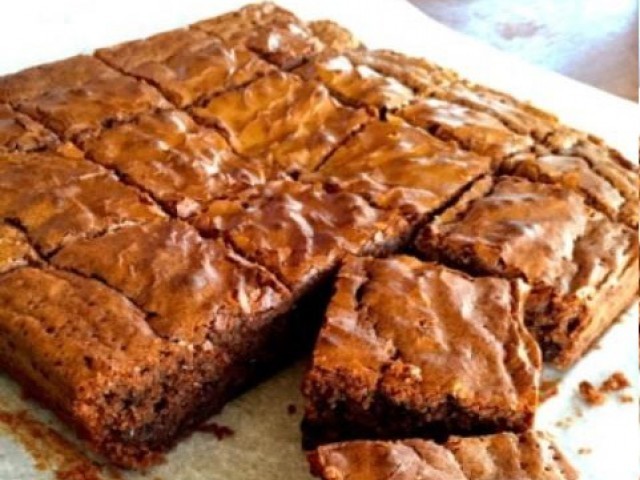 With Ramazan coming up, I typically like to have some friends over for Iftar. I always have to make lasagna for these friends on special request. They've been on my case to make lasagna for them again this year. But so far, I've been useless in getting down to making it.
I guess it is time to do so now. Anyway, this is totally off at a tangent, I'm not talking about lasagna here, I'm meant to be talking about brownies.
So back to the brownies.
I needed a dessert – something nice and simple that was also easy to pick up and eat. I love brownies; I love chewy, moist and soft brownies with a nice top.. They are not usually as satisfying as they should be, hence my brownies have to be perfect in the chewy way – not too fudgy and not like a cake. As you must have figured out by now, I'm incredibly picky about brownies.
It should be like a boxed brownie, but better. I admit I love boxed brownies but I refuse to make them.
If you are into brownies, this is the recipe for you. If you plan on sharing them, beware, they will be gone immediately and you will be left with none. I'm still regretting not secretly saving one for myself. But it definitely gives me a good excuse to make some more.
Ingredients:
Flour – ¾ cup
Salt –  ½ tsp
Baking soda –  ¼ tsp
Sugar –  ¾ cup
Oil –  ¾ cup
Vanilla extract – 1 tsp
Water –  2 tbsps
Eggs –  2
Chocolate chips – 1 cup  (melted)
Chocolate chips – 1 cup
Method
1. Combine the flour, salt and baking soda in a bowl and set aside.
2. Melt the chocolate chips in the microwave – it should take about a minute, otherwise continue in the microwave for another 30 seconds and mix.
3. Mix the eggs, sugar and oil together in a different bowl. Then add water and the vanilla extract. Add the dry ingredients and the melted chocolate and incorporate all of it into a delicious batter.
4. Later add in the chocolate chips for an extra treat for the brownies. Pour it into an 8×8 pan after either greasing the pan or lining parchment paper over it (my preference in the paper, so easy to remove and cut then).
5. Place it in the oven and bake at 176 Celsius (325 Fahrenheit) for 30-35 minutes.
Yum.
All photos: Ayla Iqbal
This post originally appeared here