An evening with the Girls in Green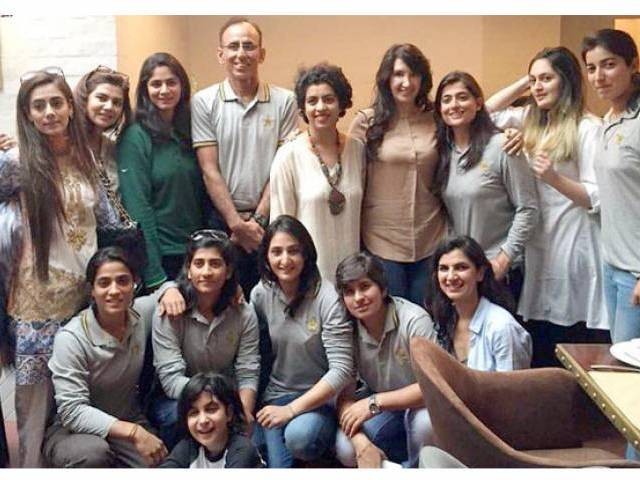 Since the success of the Pakistan women's cricket team at the T20 World Cup, there's been a lot of interest in these young women. Who are they? Where do they come from? And what is it that's made them overcome so many obstacles to become sporting heroes to millions of Pakistanis of all ages?
We had a chance to ask them these questions at The Second Floor, where Girls at Dhabas had arranged a meet and greet session with seven current and former members of the team and their coach. Captain Sana Mir, Nain Abidi, Batool Naqvi, Ayesha Zafar, Javeria 'Jerry' Khan, Muneeba Ali, and former member Urooj Khan as well as Coach Mohtasim Rasheed sat in front of a packed audience – women and men, girls and boys had all come to get a glimpse of the team members and hear their insights about playing for Pakistan.
First, we were treated to an excerpt from Sadia Shepard's documentary The Other Half of Tomorrow which focused on the team itself. A full-length documentary is in the works, but the 15 minutes that we saw was a brilliant insight into these women and their journey. My eyes filled with tears as footage of the women practicing, playing, winning, travelling together and singing rolled across the screen.
I kept thinking of how impossible it would have been when I was their age to even think of playing international cricket for Pakistan. In fact, when sisters Shaiza Khan and Sharmeen Khan attempted to start up a women's cricket team in 1996, they got death threats and court cases, the main objection being that women playing cricket was 'against Islam'. Twenty years later, we now have a team that plays at the international level, and won against arch rivals India in the recent T20 World Cup.
Yet the path ahead is still bumpy. The team has nowhere near the amount of sponsorship it needs.
"If we got proper sponsorship, it would raise our confidence levels," said Mir at the event yesterday.

"We'd be able to concentrate on our diet, on our fitness levels."
Pay is also an issue, the women receive 1/9th the pay that the men's team does. The team has no opportunity to play domestic cricket in the off season, as the West Indies team does in Australia and New Zealand. And the team needs more media exposure; their matches are barely screened on PTV when they play.
Support comes from different quarters: Zeb Bangash, the well-known singer of the band Zeb and Haniya befriended the team since 2011 and has pushed for them to be better recognised. In conversation with the team, she revealed that she has recorded a song for them which has still not been launched, again because of lack of sponsorship. Another huge support is Bushra Aitzaz, the chairperson of the women's division of the Pakistan Cricket Board. Coach Rasheed is an ally and a friend, whose gentle demeanour belies a commitment to see these women achieve everything they've dreamed of in the world of international cricket.
And yet it's the fierce determinations of the women themselves that shines out in everything they do, say, and are. They are not big girls; slight, wiry, of average height for the most part (none of them is exceptionally tall or broad or muscular). Yet their performances on the field showed world-class bowling, batting, and fielding; several of the team members are world record holders.
But cricket isn't everything in these women's lives. They are all well-educated, having gone through or going through higher level studies. One is a dentist with a full practice. Ayesha Zafar
is studying at IBA.
"That was on my father's insistence," she said. "Studies come first."
Two of the team members were married with infants. Captain Mir spoke about the necessity of educated women entering the field of cricket.
"You're an ambassador, so it's very important that you should be educated in order to handle the media and international exposure well."
Each woman also talked about the importance of family support, and of balancing family responsibilities with their individual ambitions. Each had had to obtain the permission of their families to play cricket, not just the immediate family but also the elders. Once their families agreed, though, they became their biggest supporters, with parents showing up to matches. One of the team members also had her mother in attendance at the event, and pointed her out to the audience.
Yet as I listened to this, I knew that despite the support, it will be a long time before Pakistani women can chase their dreams without having to negotiate the minefield of family approval, permission, and propriety. Not so for the men, for whom a life in sports is not just acceptable but fantasised about in many Pakistani families. Becoming a sportsman is a dream come true for the families of Pakistani men; becoming a sportswoman can be a nightmare as families worry incessantly about their daughters' futures, marriages, and families.
But these women are unstoppable. And they're thinking about a future, too – the future of Pakistani women's cricket. Urooj Khan has now become a selector for the PCB; there were wishes expressed by the audience that Sana Mir should one day become its chairperson. A young girl stood up to ask how she could start playing cricket; Mir gave her information about the Zaheer Abbas cricket academy for women and the Under-17 academy that would start its next session this month.
This is the way forward for women's cricket in Pakistan; investment in building the infrastructure and finding talent; investment in the players themselves in the form of sponsorships; media support; and support from Pakistanis for the team. As I watched the team members relate their stories and interact with the audience, there was only one word that kept coming to my mind, and it wasn't in English: bahadur, or brave. These are brave women. They deserve to be recognised not just by Pakistan, but by the world.
All photos: Bina Shah
This post originally appeared here.
Loading ...