US presidential elections: What is the role of the media?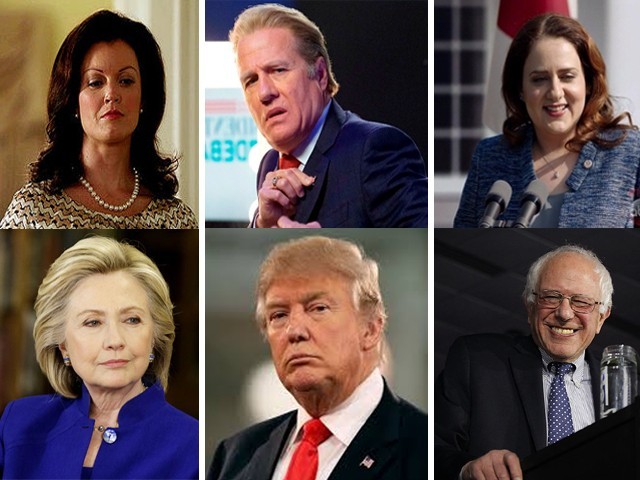 Given the current disposition of the 2016 US elections, shows like Scandal have rightfully depicted and drawn inspiration from the onscreen presence of many real political leaders and their quest for winning the presidential seat in the months to come. The media continues to play a significant role in shaping public opinion based on the rhetoric many television networks oppose or support, thereof. 
The recent episode of the political-thriller show Scandal titled 'The Miseducation of Susan Ross' portrayed a rather realistic presidential debate among the nominees with characters emulating the real contenders for the US presidential election.
One contender is Mellie Grant, the former First Lady, and whose husband had an affair during his presidency. She comes across as stoic and direct in her public appearances and constantly battles with trying to soften herself in the public eye. Sounds familiar? Who else could she be inspired by but Hillary Clinton. Just like Hillary, she is on the verge of writing her first book explaining her overall experience in the White House.
Similarly, Hollis Doyle, the Trump of Scandal has a prolonged, shady history on the show. He owns a Texan company and has been married five times. Does that ring a bell? If that isn't enough, Doyle played an important role in rigging the US Presidential Elections.
That leaves Susan Ross' reasonable yet chummy character on the show that depicts Bernie Sanders' current stature in politics. She shines in her simplicity by clinging strongly onto her beliefs and speaking her mind, just like Bernie Sanders.
The heated debate focused on Doyle's proposal to have a reformed immigration policy (reminiscent to Donald Trump's abhorrent remarks on the problem). On the other end, Mellie Grant kept her cool and went after Hollis Doyle while Susan Ross kept quiet throughout the debate until the end when she won everyone's hearts by telling the story of her husband dying in Afghanistan.
In last week's episode, Mellie Grant was annihilated by her fellow opponent, Hollis Doyle, during the debate and that is precisely what the show stands for; the truth. Believe it or not, Trump seems to be winning in most Southern states of the US and that hardly excites any of us. Sadly, social media, TV channels, shows and debates continue to feed their rhetoric to the public. Take a look at the Republicans and Libertarians. On one hand, channels such as FOX News will endorse the Conservative Party while other channels will support the Republicans. And why is that people like Michelle Malkin come up with nonsensical narratives on live television and that too on FOX News?
The messages passed through these mediums are valuable only because they greatly influence the decision making of masses. Moreover, it is important for television shows, news channels and social networking websites such as Facebook and Twitter to channel news feed that is accurate and unbiased.
Backing political parties known for perpetuating corruption can adversely affect voting patterns and lives. Despite that, the media endeavours to influence its viewers' opinion through convincing facts and figures.
Now most of us are aware of Trump's ludicrous agenda that is subject to change every other day. In my humble opinion, the entertainment industry should produce more shows that are realistic and not stereotyped. What we need to remember as fact is that not every TV show can depict a political scenario in its truest form – it should also not endorse a particular political campaign, unless it is done so responsibly. Scandal managed to depict the nasty, dim-witted personality of Donald Trump as he stood on the rostrum and blabbered his way through the entire debate. But any other show may not have been able to do that.
However, Mellie Grant's loss in the debate mobilised the audience's perception about the current US elections; some were influenced while the rest were unaffected. It all boils down to the reaction of the masses. As studied in Mass Media, the gripping concept of 'Spiral of Silence' psychologically affects our perception about a given topic. Take for example, a classroom full of students sharing their opinion about gun control. Some individuals will be in favour of guns being legitimised while the rest will oppose them. The minority vote will most likely be defied.
In a nutshell, it is incredibly important to enlighten viewers and readers about issues that are of utmost importance; women's rights, child abuse, politics, society, education and economy. Instead, the mass media is hell bent on altering perceptions and brainwashing people.
Where the US presidential elections are concerned, the key is to choosing the candidate who genuinely stands for his/her country and has a reasonable agenda, not the one who throws the most money at the said media house.
In view of the discussion, for me the winning candidate is neither Hillary Clinton nor Donald Trump. I, for one, support Bernie Sanders.
However, my viewpoint should not affect yours. Stick to who you think is right for your country, but please make an educated, responsible decision.
Loading ...