Ki & Ka reinforces the very stereotypes it set out to negate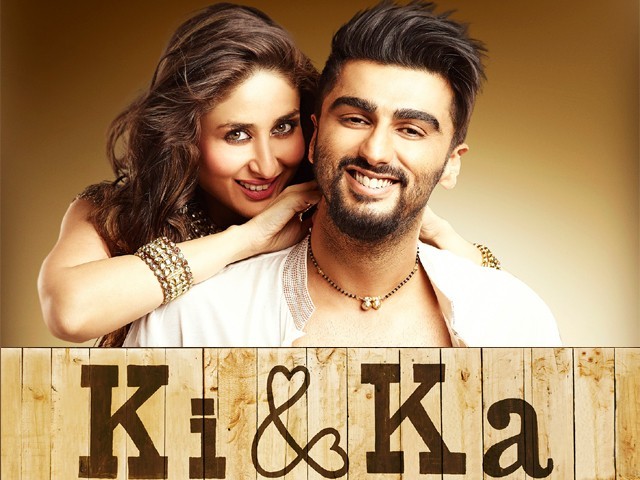 Ever found yourself involved in a heated debate where the arguer is trying to prove his point by being obnoxiously loud, regurgitating the same information over and over again and, worst of all, diluting his own case due to a total lack of subject comprehension by providing supporting arguments that totally fly in the face of what he is arguing for.
This is precisely how I felt watching Ki & Ka, where Cheeni Kum (2007) famed director R Balki completely soured an intriguing premise of gender role reversal by a mishmash of a screenplay.
Ki as in larki (girl) as in Kia (Kareena Kapoor) is a 'corporate robot', who is hell-bent on being top dog of a company, rather than be queen of the kitchen, thus a conventional Bollywood caricature of a hard-core feminist.
Ka as in larka (boy) as in Kabir (Arjun Kapoor) on the other hand, is a topper from India's version of Harvard Business School and also heir to his father's successful business empire. But since he is so fond of his late mother he wants to be like her, and what better way to pay homage to your late mother than to be exactly what she was; a housewife!
Loading ...
Ki and Ka's meet-cute fittingly happens in a flight since the writing takes a massive nosedive after this particular point. They meet, they click and they get married. The pair agrees that Kia will continue following her corporate dream and be the breadwinner while Kabir will do all the household work; something he always wanted to and be the breadmaker.
Over time, the role reversal puts the focus on Kabir and jealousy starts to rear its ugly head. This is precisely the point where the big idea of reversing conventional roles starts losing its hook and all is downhill from here.
Credit where credit is due, the film's concept deserves a huge round of applause. The movie had so much potential to steer away from your typical Bollywood garbage but filmmaker's failure to delve deeper to understand the real issues surrounding gender equality proves to be the bane of this potentially promising fare.
Arjun Kapoor's character had the potential to be truly revolutionary. Here is a guy who willingly wants to stay at home and unconditionally supports the career ambitions of his wife, but then all of this comes crashing down when the film bewilderingly paints Ka with a Bollywood brush.
His not so subtle insistence on his house-husband tendencies to not be considered gay is borderline homophobic while not liking the colour pink possibly inferring that a particular hue can in any way be emasculating, is just plain shallow. For the record, one my favourite wardrobe items is a button-down which is, yes you guessed it right, 'pink' in colour. Haters gonna hate!
To further add insult to the dim-witted injury, there is a totally random scene where to prove Ka's masculinity, he thrashes a couple of baddies in front of Kia and consequently turns her on.
It's as if this film can't possibly imagine a guy being masculine who doesn't want to stress himself with the corporate rat race and instead prefer being a stay-at-home husband.
Ki & Ka pretends to be avant-garde with its commentary on gender stereotyping, but what it does not realise is that it requires a certain level of maturity to deal with this sort of subject, which it clearly lacks.
The movie might even have a good message at the end of it all but to screamingly preach it right in our faces starts reinforcing the very stereotypes it set out to negate.
As for the discussion on the lead actors, Arjun Kapoor must be commended for selecting a role that on the face of it was ground breaking. But unfortunately for him, turns out he was saddled with yet another trite Bollywood character. Kareena looks like Kareena, which in my reckoning is bad news for any typical B-Town lady since their whole career in the industry is solely based on physical appearance. And that's the thing with looks, unlike acting there is only so much variation you can come up with in this regard before you are dated. And sadly for Bebo, she is already way past her sell-by date.
There is, however, one evergreen couple that the movie can boast of, that of Amitabh Bachchan and Jaya Bhaduri Bachchan. The pair appears in a cute cameo discussing the complexities of gender equality evoking memories of Abhimaan (1973), one of the best Indian films made on the aforementioned subject.
It is so unfortunate seeing a film with such a progressive outlook on man-woman relations resorting to regressive Bollywood clichés to elicit emotions out of the audience. But still the peculiarity of the idea makes Ki & Ka noteworthy, but that regrettably is damning it with the faintest of praise.
Loading ...