Is the food at your child's school canteen safe?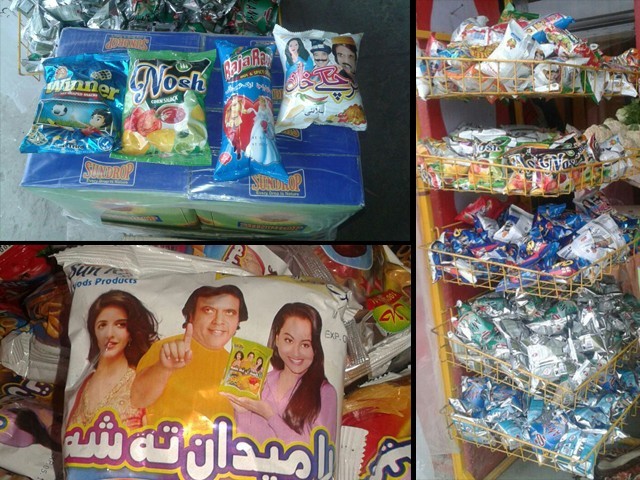 According to the World Food Programme, 
"When a person is not getting enough food or not getting the right sort of food, malnutrition is just around the corner"
But while trying to define the 'right food', one is instantly made aware of all the 'wrong' food that is being consumed. It's shocking how excessively such low quality and injurious food is multiplying in the local markets and school canteens – devoid of any supervision by the concerned food authorities.
The effects of junk food are evident amongst our children who face various forms of ailments. Recently, my nephew was diagnosed with obesity and a skin disease that generated white marks on his body. Upon consultation, a doctor spoke in detail with him about his food habits, drawing the conclusion that his health issues were closely linked to his excessive intake of packed chips and carbonated drinks.
What people do not realise is that these food items are packed with carbohydrates, fat, aerated water, low quality sugar, salt, hazardous artificial flavours, artificial colouring and deep-fried stale items. Junk food being made readily available in the streets, parks and schools prevents children from maintaining a balanced diet. This regulation of poor nutrition makes them susceptible to a wide range of ailments including respiratory infections, diarrhoeal episodes, abdominal pain, skin diseases along with obesity related problems. This is why paediatricians strictly warn youngsters on consuming junk food as it severely reduces their immunity against diseases.
This poor quality junk food, that is widely advertised are produced by huge national and multinational companies, is marketed in the poor neighbourhoods and rural areas. This locally produced junk that has stormed the local markets was produced in poor hygienic conditions with unhealthy ingredients, weird packing and bizarre titles. It is even more dangerous and has more detrimental and injurious effects on children's health. Go to any school canteen or small shops in front of schools and parks and you will find them full of substandard junk food and fizzy drinks.
School children in particular have a high junk food intake as they splurge the school canteen in bouts of hunger instead of having packed lunch from home. Since canteens look at revenue rather than health, they stock up processed food, rather than providing students with food made with fresh ingredients. Consuming this much processed food is not only expensive for the consumer, but also damaging to health.
Making such food this accessible puts a dent on eating habits; children become addicted to sugar and such nutritionally bereft food. Unfortunately, canteens are available in all kinds of schools; even if some government schools do not have a fully functional canteen, we see tuck shops that have established themselves outside, especially to target children as their consumers. Junk food shops are prone to selling cheap rather than nutritionally sound food and drinks, thus enabling children and their access to such products.
What we fail to understand is that our body is made up of nutrients and require certain kinds of vitamins and minerals to keep itself healthy and strong to fight off any foreign bodies and regenerate. Our bones and teeth need calcium and muscles need protein. The body needs vitamin A, C to strengthen the immune system. It's made up of 50-75 per cent water and it constantly needs to be hydrated so it can flush out all the toxins from our body. Consuming high sugar foods and processed food not only deprives us of these necessities, it also makes our insulin levels spike, causing us to instantly turn all the sugar we have consumed into fat.
The question remains, how do we expect our body to be healthy if we feed it everything except what it actually needs?
Another consequence of this junk food production is the wrappers proving to be hazardous to the environment. One can see streets, parks and markets shamelessly piling up with garbage in empty plots and even sanitation pipes. There seems to be no care or awareness on how to prevent this garbage being thrown on the streets and no corporate social responsibility, either by the small shopkeepers or huge national or multinationals that produce and sell these products. Even at famous picnic spots from Islamabad to Murree and from Swat to Tharparkar, you can see heaps of empty wrappers strewn everywhere. Even the shores and waters of the beach have been adorned with garbage.
Following devolution, the provincial governments introduced food safety laws such as the Khyber Pakhtunkhwa Food Safety Authority Act 2014 and the Punjab Food Authority Act 2011 and established authorities like the K-P Food Safety Authority. However, one fails to see the impact of the legislation and establishment of the implementing bodies on ground. The K-P Food Safety Authority has been empowered with licensing of food business, serving improvement notices, prohibition orders and establishing food laboratories. Offences under the law include selling of food not in compliance with the law, unsafe food, false advertisement, false labelling and failure to comply with directions.
Now the question is,
How do we save our children from the substandard foods that they are being targeted with?
I believe parents, schools management, private sector, media and civil society along with concerned government officials are required to play their due role to protect our children from such hazardous food items.
Widespread awareness regarding the ill-effects of such food should be created among children themselves, parents, teachers and shopkeepers. Schools administration should supervise the kind of food that the canteens are providing. The private sector should play a role in ensuring the quality of these products and shed light upon the negative effects these items have on children's health. They should also play a responsible role in preventing environmental hazards caused by their products by partnering with local governments and the media to run awareness and cleanliness campaigns. Above all, the government and respective food authorities should improve their inspection system. Furthermore, a complaint mechanism should also be established so the general public can approach them if they see any businesses promoting substandard junk food and drinks for children.
The newly established local government must safeguard our children from such substandard foods. Parents should ensure that the food items being consumed by their children are of good quality and nutritional value, along with educate their children on healthy eating.
All photos: Arshad Mahmood
Loading ...