It's down to India, West Indies and England, who are you betting on?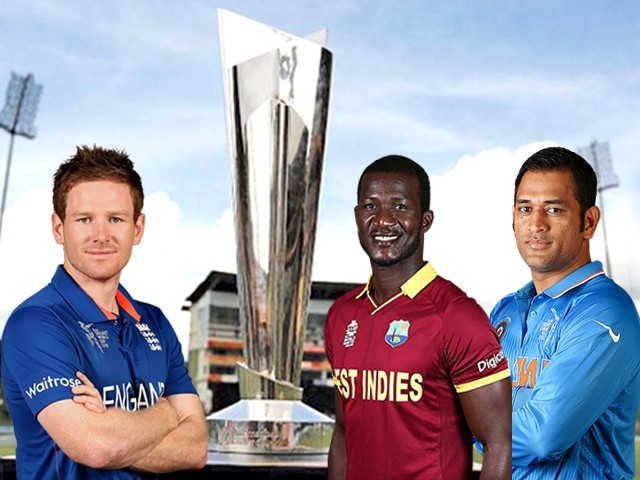 Amidst the pandemonium of leaked reports, press conferences, media bashing and, most importantly, Kulbhushan Yadav, the World T20 tournament in India is quietly and swiftly moving towards its conclusion.
Not many Pakistanis tune into sports channels these days considering D-Chowk and Numaish Chowrangi are more entertaining. But ardent fans find their way to their TV sets to watch cricket being played in its truest form at the T20 World Cup. No adrenaline rush is equivalent to the thrill of watching cricket.
A few days ago, I was quite disturbed after Pakistan crashed out of the match against Australia. My disturbance further transformed into diarrhoea while watching three Bangladeshi batsmen playing like Tamil heroes. It felt as if two of them were trying to smash the ball from India to Dhaka and the third one was giving Flash a run for his money.
If that wasn't enough, Australian bowlers and fielders were acting like characters from a B-grade Indian movie while Virat Kohli was batting like a star, making the Aussies look like mere extras.  And of course, no match is complete without MS Dhoni hitting the winning shot in his trademark helicopter style. Only this time, the ball took a couple of bounces before crossing the line. However, the commentators declared that a six. Hmmm… Interesting!
I am not implying that most of that was orchestrated. I mean all India had to do was qualify for the semis, that's easy right? If they wouldn't have qualified for the semis, the tournament wouldn't remain financially viable for the International Cricket Council (ICC) and Indian cricket fans would definitely lose interest in the upcoming Indian Premier League (IPL) if India had been kicked out before the semis.
Anyhow, the fact of the matter is, India is in the semis and will be facing the most unpredictable team in the tournament, the West Indies. A team that absolutely blew England, Sri Lanka and South Africa away with their performances and then lost to Afghanistan – which reminded me of Pakistan's loss to Bangladesh during the 1999 World Cup.
The Afghans were more cordial to the Caribbean boys than the Bangladeshis were to us though. It was such a humbling moment when the Afghan players gather around Gayle to take a picture with him. Gayle was no less of a great sportsman. He complied with them with all the enthusiasm. Were it a Pakistani in Gayle's place, he would've been termed a traitor by the media, and Javed Miandad and Sarfaraz Nawaz would have done to him what Luis Suarez did to Giorgio Chiellini.
Coming back to cricket, England has definitely been the dark horse of the tournament. Even though they have won seven out of 11 matches, including last night's semi, England was never considered a favourite at the start of the tournament.
For some, they still aren't.
But they've completely silenced their critics with some stunning performances. They certainly stunned Faf Du Plessis and company with their heroic run chase in Mumbai as well as put the Kiwis on their flight back to Wellington last night.
So, we're down to India, West Indies and England. After today's match, we will be left with two contenders vying for victory. India have home advantage along with players like Kohli. The West Indies are amazing and can do wonders on any given day. England is on a winning streak that is certainly going to give them the confidence to go into the finals and play their hearts out.
My money is on the West Indies winning the title this time, who are you rooting for?
Loading ...