Namakeen gosht kadhai: Mouth watering at sight, tempting in taste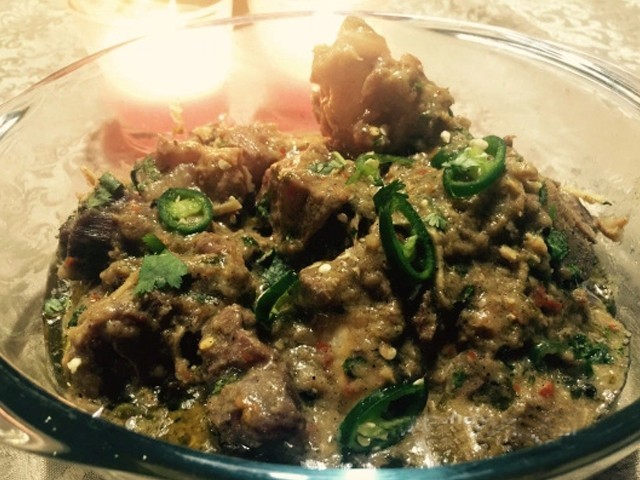 Namakeen gosht karahi is a Pakistani dish, most famous in the northern areas of the country. Although it is a favourite in pretty much all provinces, it is savoured in the north because not many people from the north eat spicy food, hence the salt. Preparing this dish is always a pleasure for me, especially since it's considered a treat at home and makes everyone at the dinner table super happy. It may look daunting to make, but follow this recipe and the aroma of the meat, mixed with the spices, will have you making it again and again. 
Ingredients:
Goat or lamb meat – 2 kilos (mix of chops, leg and shoulder meat)
Onions – 4 (large sized, sliced)
Water – 1 cup
Yoghurt – 2 cups
Oil – 1 cup
Ghee – 2 tbsp
Spices
Salt
Red chilli flakes – 2 tbsp
Cracked black pepper – 2 tbsp
Coriander powder – 2 tbsp
Garam masala – 1 tbsp
Cloves – 3
Cumin seeds – 1 tbsp
Masala
Cloves garlic – 5
Ginger – 2 by 2 inch
Green chillies – 2
A bunch of coriander
For garnish
Ginger juliennes
Green chillies thick cut
Fresh coriander chopped
Procedure:
1. In a pressure cooker add one cup of water, meat, salt and onion and cook for 45 minutes on medium low heat.
2. Meanwhile prepare the masala for the curry.
3. Crush all the ingredients for the masala in a mortar and pestle (crushed well but not ground). Add all the spices to this mixture, except black pepper and garam masala.
4. Carefully remove the lid of the pressure cooker and check if the meat is tender and cooked to 3/4th strength.
5. Melt ghee in wok or kadai heat oil. Add 1 tbsp of ginger garlic mixture and fry until it starts splattering. Add meat pieces and fry them for five to seven minutes.
6. Now add remaining mixture in the pressure cooker (onion and broth).
7. Mix for two minutes and add rest of the ginger garlic mixture.
8. Whip the yoghurt until its creamy and add it to the meat. Mix well, then cover to cook, on low heat for 20 minutes or until the oil comes up. Add ginger, chillies, black pepper, garam masala and coriander and serve hot with naan or roti.
It looked like this when I made it last time. Share your pictures in the comments below after you give it a go!
Happy eating!
This post originally appeared here.