Shame on you, Manchester United fans!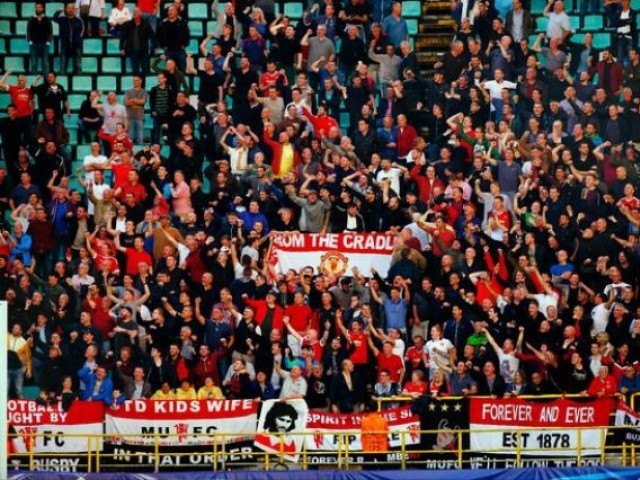 Imagine ourselves hosting India in a significant cricket world cup fixture at the Gaddafi amidst an electric atmosphere. The green caps are chasing a relatively easier target with consummate ease, pinning the blue shirts completely against the proverbial wall with an exhilarating display on the pitch.
Our arch rivals have all but lost the match in their heads, with Dhoni and company, praying for an external intervention to somehow save their collective back sides. Intrusion arrives, but not in the form of rain. Instead, vile chants regarding the Army Public School massacre start pouring down from the travelling support.
If that had been the case, how would you have felt about the opposing side's depraved fans?
There are many, many reasons for the people of subcontinent opponents to dislike each other, but using the loss of human life to score points over a sporting foe is not just unacceptable, it's downright deplorable.
And when this happens in a supposedly civilised country, one is simply left scratching his head.
On Thursday, March 10, 2016, Liverpool hosted Manchester United (Man U) in a riveting UEFA Europa League encounter at Anfield. Now while Man U's performance was hugely disappointing, there was something infinitely more appalling and that was the revoltingly disgusting behaviour of many of their fans.
A sizeable section of United's supporters were heard chanting sickening songs referring to the Hillsborough disaster.
For the uninitiated, despite being the name of a stadium, since 1989 the word Hillsborough is more strongly associated with Britain's worst sporting disaster.
On April 15, 1989, at the start of an FA Cup semi-final, a human crush and a mass stampede on the steel-fenced terraces of Sheffield Wednesday's ground caused the deaths of 96 people and injured 766 others.
How United followers found it acceptable to spend much of the contest screaming out unsavoury chants relating to the aforementioned event is completely beyond human comprehension, regardless of how badly things were going on the pitch.
Following the match, this despicable behaviour was roundly condemned by a legion of football fans across the globe and Man U was likely to be hit with sanctions by the European football governing body.
There is a history of nasty chants being heard during the fixture but the game being the first ever bout between the two heavy weights of English football in a continental completion, it was all the more expected that UEFA would punish the red devils for this most devilish of acts.
But UEFA, much to the dismay of sport fans all over, has now said that it would not be taking further action after United condemned fans who mocked the reds supporters about the 96 deaths.
A United statement at the time said,
"It has always been the position of Manchester United that chants of this nature, which refer to historical tragedies, have no place in the game and do not reflect the values the club holds. We are in discussion with our fans' groups to seek their support in preventing this type of behaviour in the future."
If the European football governing body had the backbone along with the will to root out this sort of behavior from the sport, it simply had to study security cameras, since there would have been plenty of faces for them to identify as perpetrators. And from there on, each and every person involved could have been banned from entering any football ground again.
Now that would have been massive statement of intent but alas UEFA like FIFA is too corrupt and disloyal with the game, to have come up with a decision that actually helps football.
Terrace banter has been one of the primary sources of delight for match-goers in football crazed nations for well over a century now. But there is a moral line that simply cannot be crossed. And unfortunately for Manchester United, a faction of its support has dragged down the club rock bottom of the ethical list.
Finger crossed, that sanity prevails and the vile behaviour is not repeated in the reverse fixture taking place at old Trafford tonight.
All photos: thejournal.ie
Loading ...