London Has Fallen along with Hollywood standards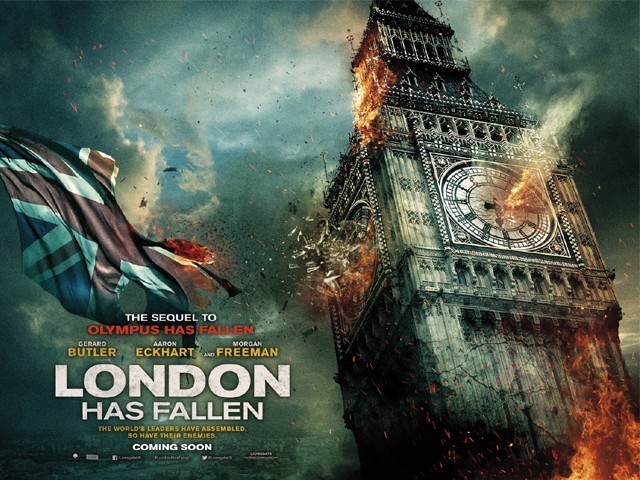 Here we go again, yet another tediously mindless sequel. If torturing us with the 2013 action thriller, Olympus Has Fallen, wasn't enough the producers come up with a bigger and dumber version.
Was there even a demand for it?
I mean come on, is anyone in here even aware of the predecessor let alone calling out for a sequel? Why, just why?
The original featured terrorists taking over the White House, with Secret Service agent Mike Banning (Gerard Butler) having to rescue President Benjamin Asher (Aaron Eckhart) while averting a nuclear cataclysm.
Banning's battlefield has now shifted to England's capital. Blowing up an American city is a little old-fashioned now and London is currently the city most en vogue, in terms of destruction. Case in point, both Thor and GI Joe franchises with their contribution in forcing the London bridge fall down.
I personally get all excited whenever I happen across anything that's to do with Pakistan in a foreign language film, but unfortunately, nine times out of 10 the excitement is short lived, since the reference somehow or the other has roots in terrorism. London Has Fallen didn't disappoint with the stereotyping either, with Pakistani connection strong with the antagonists.
If we are talking genre, London Has Fallen is in essence a siege movie, a cheap knockoff of the greatest siege movie ever made, Die Hard (1988). If you ask me, even mentioning London Has Fallen in the same sentence as Die Hard should be a criminal offence but, nevertheless, I begrudgingly concede that London Has Fallen is basically an appallingly bad Die Hard in the city of London.
The narrative kick starts into motion when the British PM suffers a fatal heart attack and the US president accompanied by Banning, along with other world leaders, fly into the capital for the funeral at St Paul's Cathedral. Now right before the funeral, a carefully orchestrated series of attacks take out five heads of state and mayhem ensues. Banning manages to get the US president out of harm's way, but what follows is a tiresome game of cats chasing the mice. The proverbial feline gang is virtually the whole city whose police and secret service agents have either been infiltrated or compromised by terrorists.
The story really only acts as an excuse to put Butler and the gang in front of more baddies with guns, with no consideration whatsoever paid to character and plot development. But for anyone out there who is still reminiscing those ripped eight-pack King Leonidas sported in 300 (2006), we've got loads of Butler. He's gruff and ruthless, and occasionally funny too which is probably the sole reason this movie is remotely bearable.
It's as if there's not enough real-life terrorism out there for us that we needed the wearisome London Has Fallen to fill in the gaps. And you know the worst part, you can bet this isn't the last we'll see of this jingoistic eyesore.
Loading ...