How safe will Pakistan's cricket team be in India?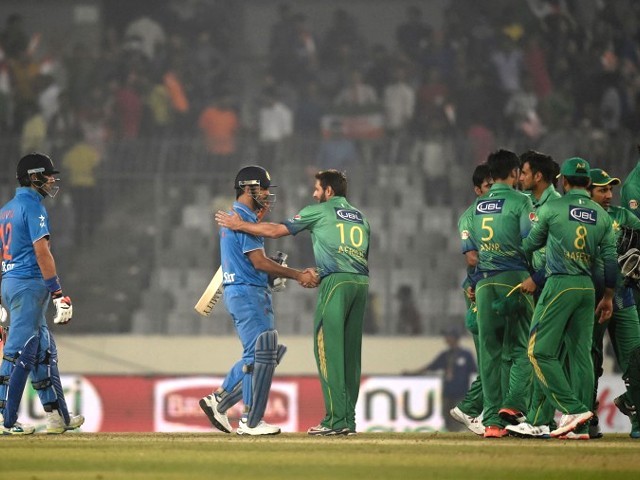 Since the dawn of modern time, sports have been weaved diligently into the diplomatic affairs of a state and seen as a means to bridge gaps between chasms of differences. Not only does it do the aforementioned, but the message of goodwill that sporting events propagate has helped to bolster communal relations between states in a way that surpasses all differences of culture, ethnicity and religion.
Sports can bring hostile nations together and help to temporarily stave off the plethora of discrepancies that might spark out in battlefields. For this very reason, sport diplomacy is amongst one of the very efficient diplomatic practices and one that has been exercised for decades. However, for any sort of diplomacy on this matter to excel, willingness and receptive attitude needs to be shown from both sides.
On March 1, 2016, the Himachal Pradesh Chief Minister announced he would not provide adequate protection to the Pakistani cricket team during the scheduled T20 World Cup match against India on March 19, 2016. It is prudent to mention that the venue was decided approximately a year ago.
This recent blunder on India's part only serves to bolster Pakistan's claim regarding the unstable security situation in India, especially the safety of the cricket team. It should also be noted that the Indian Provincial government is playing politics based on its image as a country, rather than the game itself.
In the past, incidents ranging from hostile statements of government officials to the skirmishes at the border have shown that the situation between the two neighbouring countries is far from dainty. It is in this hostile environment that the Pakistan Cricket Board (PCB) chief, Shahryar Khan, went to India to discuss the chances of cricket series between the two countries.
After PCB's unwavering support with the controversial "Big Three", the Board of Control for Cricket in India (BCCI) had promised to engage in cricket tournaments with Pakistan. The workers of Shiv Sena, an Indian extremist political party, attacked BCCI headquarters to protest against the arrival of Mr Khan. The aftermath of this resulted in the meeting with the BCCI's chief being cancelled.
There is no pretending the message behind these actions was ambivalent, it was a clear and hostile sentiment towards Pakistan. Threats were made to Aleem Dar, who is not only one of the best umpires in the world, but is also a member of the International Cricket Council's (ICC) Elite Umpire Panel. This resulted in his exclusion from the umpiring panel of the recent series between India and South Africa.
This was followed by members of Shiv Sena attacking  Sudheendra Kulkarni, Chairman of Observer Research Foundation and book launch organiser for Khurshid Kasuri's, Neither a Hawk nor a Dove: An Insider s Account of Pakistan s Foreign Policy.
In this unfortunate series of events, next came the cancellation of Pakistani ghazal singer, Ghulam Ali's concert.
With the upcoming T20 World Cup, PCB must do all that it can to present a strong case to the ICC. Under Prime Minister Narendra Modi's regime, the Indian extremists have nothing to fear as both Bharatiya Janata Party (BJP) and Shiv Sena are tightly knit.
The ICC Cricket World Cup 2011 was set to be played in Pakistan, India, Bangladesh and Sri Lanka, yet it was only played in the other three countries because India got the ball rolling, so to say, on the countries objecting to play in Pakistan.
The government of the hosting Indian state has refused to provide protection for a team that they know is going to constantly be under threat. And since the safety of our team is of utmost importance, no compromise is acceptable in this regard. I believe it should be taken as an insult that such common etiquette of hosting a sporting event is not being observed, just for Pakistan.
It is not difficult to piece together the above mentioned events and conclude that India does not wish to share their pitches with Pakistan. How else should the Indian government express they are not interested in playing cricket with Pakistan?
While I clearly denounce a hostile attitude towards our neighbour, I strongly feel communal relations are only to be practiced to the point that our self-respect, dignity and lives are not compromised. Playing with India is perfectly acceptable, as long as they are receptive to the idea of mutual respect and security. However, if the other side continues to display such a repelling behaviour then Pakistan should also be relieved of any obligation to practice cordially.